Teachers in Wales set for 2.75% pay rise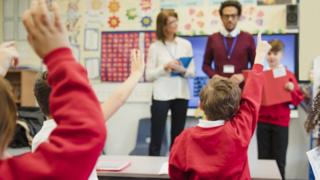 School teachers are set to get a pay increase of 2.75% in Wales with a 5% rise for entry level teachers earning the minimum.
The Welsh Government has taken over setting teachers' pay after the powers were devolved last summer.
The announcement follows the publication of the first report of the new Independent Welsh Pay Review Body which recommended a 2.4% rise.
But unions are not happy and are concerned about how it is to be funded.
The National Education Union said the rise put Wales in line with England.
Welsh Government Education Minister Kirsty Williams said she wanted to "continue to promote teaching as a profession of choice for graduates and career changers".
"That's why we're proposing an uplift to the minimum pay point for teachers by 5%, which will help us continue to attract high quality teachers to the profession," she said.
Last week, it was reported that teachers and school staff in England were set to receive a 2.75% offer.
Tim Pratt, director of the Association of School and College Leaders (ASCL) Cymru, said he welcomed the increase for newly qualified teachers, but he was "disappointed" with the award for other teachers.
"We called for 5% across the board in order to boost teacher recruitment and retention and tackle the erosion in the real value of teachers' pay in recent years, and this is a long way short of that figure," he said.
Funding concerns
Chris Keates, from NASUWT union, said the increase would not "make any significant headway into closing the teachers' pay gap".
And David Evans, secretary of the National Education Union Cymru, said even at 2.75%, "teacher pay will again fall in real terms... and fall further behind pay increases in the wider economy".
He also said he wanted assurances the increase would be "fully funded" by government so local authorities did not have to pick up any shortfall.
Dilwyn Roberts-Young, general secretary of Welsh union UCAC said it was a historic day being "the first time that Wales has determined the salaries of its own schoolteachers".
But the union also raised concerns about how the rise would be funded.
The general secretary urged both the UK and Welsh governments to fund pay rises for teachers "in full". "Anything less will represent a further cut to education budgets, which will have an impact on job security and workload," he said.
In a written statement to AMs, Kirsty Williams said that "schools and local authorities will rightly ask how the increase is to be afforded, as well as recognising the value and importance of our teaching workforce".
"The UK government has not yet provided the Welsh Government with any forward indications for its budget," she said.
"As part of the consultation I am committed to discussing with local government leaders the implications of this proposed way forward."
Plaid Cymru education spokesperson Sian Gwenllian said: "The pay increases are to be welcomed but much more needs to be done than simply raising salaries to recognise the important work done by our teachers.
"We need a purposeful, long-term plan for the recruitment and retention of teachers, a reduction in bureaucratic paperwork and a review of every external body that teachers must report too as there is currently far too much duplication and unnecessary reporting."
The pay increase in Wales is subject to an eight week consultation.
Analysis by BBC Wales education correspondent Bethan Lewis
When devolving teachers' pay was first on the agenda, some unions were worried that it would lead to a worse deal for teachers this side of the border.
The government promised that would not happen so they have rejected the recommendation of a lower increase and matched the English settlement.
While that may show the limits of devolution in this area, the education minister says a better deal for new teachers shows its benefits.
The key question of who funds the increase is also tied up with decisions in Westminster.
If the Treasury finds extra money for pay rises in England, there will be money to fund the uplift here too.
If not, there will be pressure on Welsh ministers to find the cash so the burden does not fall on cash-strapped schools.