People with autism and learning disabilities star in exhibition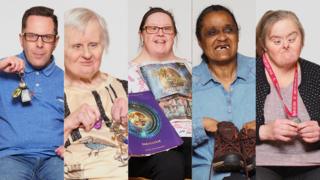 There is nothing overtly special about Ros Mountjoy's set of keys.
But to her they mean everything, the keys a symbol of her privacy and the keyrings mementos from people she has met over the years.
She features in an exhibition that explores how seemingly everyday objects can be vitally important to people with autism and learning disabilities.
The Power of Ownership features people living in Cardiff and will be at the city's Temple of Peace until 2 August.
Russ Kennedy, regional director of Dimensions Cymru - the not-for-profit support provider launching the exhibition, said: "Everyone has objects that may seem mundane to others, but to us are more precious than gold.
"The knick-knacks many of us take for granted are evidence of lives well lived.
"Too often, we see people arriving at our services without any possessions... this is why it's incredibly important that we... support people in a way that allows them to build ordinary lives and gather possessions that ultimately help tell their stories."
Wendy Enfields
Wendy Enfields, who cannot communicate using words, has struggled with anxiety.
Her support workers say she becomes visibly happy whenever she sees her walking boots .
Since she took up hiking, her anxiety has reduced dramatically leading to a reduction in her medication.
She walks a few miles every day, is going on a walking holiday to Pembrokeshire and hopes to go abroad in the future.
Marie Alderman
Marie Alderman is a musical theatre mega-fan and holds her collection of programmes dear.
She said: "I'm into musicals big time, whenever I see a show it's like my dream come true.
"I have been to see Grease recently which was amazing, and Hairspray at Cardiff Bay and Donny Osmond was good too.
"There are way too many good ones for me to choose an ideal show but I would love to see the Lion King or a show in London."
Dave Lloyd
Dave Lloyd is very proud of his car keys.
He said: "These are the keys to my first car. I got it last year - it's a bright red Vauxhall.
"I love my car, it gives me freedom to visit people. It makes me very proud to have independence."
Geri Stephenson
Geri Stephenson has designed her own take on a bucket list - "60 before 60".
Her most significant object is her Race for Life medal.
She struggles with walking and the medal is a reminder of her incredible achievement of walking the 5km (3.1 miles).
Ros Mountjoy
Ros Mountjoy's privacy is very important to her.
Her most meaningful objects are her keys, held together by her key rings, which allow her privacy in her bedroom.
She collects keyrings that people have given her over the years.
Her favourite was given to her by a woman she meets every time she shops at her local Asda - they became close friends.
The keyring has a photo of the two of them together so, when the woman is not working, Ros can still see her when she is doing her shopping.