Wales' hottest day of 2019: Temperatures rocket to 31C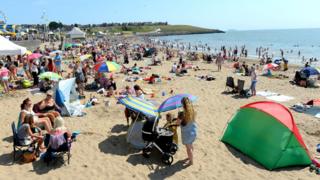 Wales has seen its hottest day of the year, with temperatures hitting 31C.
Cardiff and Usk, Monmouthshire, both recorded highs of 87.8F on Tuesday and the Met Office said the UK would see another "pulse of high temperatures".
However, it has issued a yellow warning for thunderstorms across Wales until 09:00 BST on Wednesday, saying there was a slight chance of power cuts.
Wales' highest temperature on record is 35.2C (95.36) recorded at Harwarden Bridge, Flintshire, on 2 August 1990.
Usk also recorded the second highest temperature in Wales so far this year on 29 June - 29.9C.
The Met Office's chief meteorologist Paul Gundersen said: "The UK will experience another pulse of high temperatures this week, with the possibility of records being broken for not only July but also all-time records.
"The weather set-up is broadly similar to the pattern that brought high temperatures to much of continental Europe at the end of June.
"As well as high temperatures during the day, overnight temperatures will also be notably warm and could also break records."