Christopher Kapessa death probe 'a manslaughter investigation'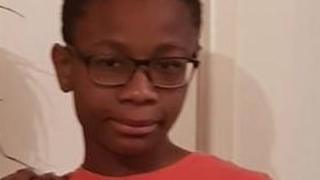 The inquiry into the death of a 13-year-old whose body was found in a river is being run "along the lines of a manslaughter investigation", a race campaigner supporting the family says.
Christopher Kapessa's body was found in Fernhill, near Mountain Ash, on 1 July.
Police have not confirmed it is a manslaughter inquiry but said the investigation is now being handled by a major crime investigation team.
The police watchdog is investigating a complaint made by his mother.
Hilary Brown, from Race Alliance Wales, said it had been "traumatic" for Christopher's mother, Alina Joseph, to learn police were considering manslaughter as an explanation for her son's death.
"We understand that the investigation is going along the lines of manslaughter. That is how it's being investigated," Ms Brown said.
"It's very difficult for Alina to get to grips with initially this was being investigated along the lines of an accident. 
"And now, for whatever reason, the police are investigating along the lines of a manslaughter investigation. That in itself is very, very difficult for Alina to get her head around."
Ms Brown claimed police had interviewed "a substantial amount" of young people, some more than once.
'Challenging'
South Wales Police said a teenage boy had voluntarily gone to a police station to assist with inquiries.
Ch Supt Dorian Lloyd said the investigation had been "challenging" and that following a consultation with the Crown Prosecution Service, "it is appropriate now for the investigation to be taken forward by the major crime investigation team".
The force said it was continuing to support Christopher's family, and was working to ensure "that support is also in place for all those young individuals who have been deeply traumatised by recent events".
BBC Wales reporter Stephen Fairclough, at the scene in Fernhill
Police are re-examining the scene in the Cynon Valley where Christopher Kapessa was found, focusing on a bridge over the River Cynon, near Mountain Ash. 
Specialist equipment is being used by the force.
The scene is located on a former industrial site, owned by the coal authority, and the river is surrounded by steep, wooded banks.
There are signs on fences surrounding the bridge, reading: "Danger unstable ground keep out".
A discrimination complaint against South Wales Police was lodged by charity The Monitoring Group on behalf of Ms Joseph on 17 July.
It claims the initial investigation had not been conducted properly and that the family were discriminated against "because of their ethnic origin".
In a statement, the Independent Office for Police Conduct confirmed it would be investigating the complaint.
"As part of the investigation we will consider whether South Wales Police acted in accordance with relevant policies and procedures in investigating a sudden death," a spokesman added.
Ms Brown added Ms Joseph had received a lot of support from the community, including people who had come forward to assist police.
"And as a result of people giving police an account of what they saw or heard, the police have now changed their method of investigation," she added.
"We only had the funeral last Friday. And that in itself was extremely traumatic, seeing so many young people tearful and upset. Many members of the community came out to support her.
"Every time there is an update or every time there is some further information, it plays through her mind. And it just keeps reminding her that there is some way to go yet before we get all of the answers."
Rhondda Cynon Taff council leader Andrew Morgan said he was "extremely proud of the way the community has rallied around supporting the family".