Contaminated Blood Inquiry: Cardiff campaigner branded 'thick'
A man who contracted HIV and hepatitis C was described as a "moaner" and "thick" by a support trust as he fought for justice, an inquiry has heard.
Haydn Lewis died in 2010 after developing liver cancer from hepatitis C and was also infected with HIV.
His brother Gareth, also given HIV and hepatitis C in contaminated blood products, died later the same year.
An email from Peter Stevens of the UK government-appointed Macfarlane Trust called the family a "lot of moaners".
The trust was set up in 1988 to support haemophiliacs.
However emails from the trust's Mr Stevens, shown to a public inquiry into the infected blood scandal, described a tactic used to deliberately annoy and frustrate the "Lewis contingent".
In a separate message to Martin Harvey, also of the trust, Mr Stevens said: "It's irritating that someboyd(sic) so thick can come up with such meddlesome suggestions."
The Macfarlane Trust was wound up two years ago and its work transferred to other bodies.
Giving evidence to the inquiry in Cardiff, Haydn's wife Gaynor Lewis said he had been determined to find out the truth of the scandal and had been "spurred on" by the death of seven-year-old Colin Smith, who died from Aids in 1990 having been infected as a baby.
The inquiry heard Haydn, from Cardiff, had been told of his diagnosis in February 1985, though he had first tested positive for the condition in July 1984 without being told.
His wife also contracted HIV, despite the couple using contraception after Haydn's diagnosis in 1985.
Mrs Lewis said: "It could've been when the test was done in 1984. There was a window of opportunity.
"It [her diagnosis] devastated him. I saw a change in him from that day. He felt guilty and he felt awful.
"I was obviously devastated as well. I had small children. We just tried to get on as best we could."
Like other victims, the couple faced stigma for their condition and were attacked.
"We had been to a barn dance and we were coming back," said Mrs Lewis.
"But someone punched Haydn. There was an ambulance and he had a broken nose and he was hospitalised.
"My sister went to the police and said they probably won't say anything because of the HIV and then they got in touch with us and said 'you shouldn't pursue this because the assailants could probably sue you for not telling them you have HIV'."
'Unlawful and unethical'
Just seven months after Haydn's death, his brother Gareth died in December 2010 after a massive stroke.
He had been diagnosed with HIV in 1984, and hepatitis C in 1993.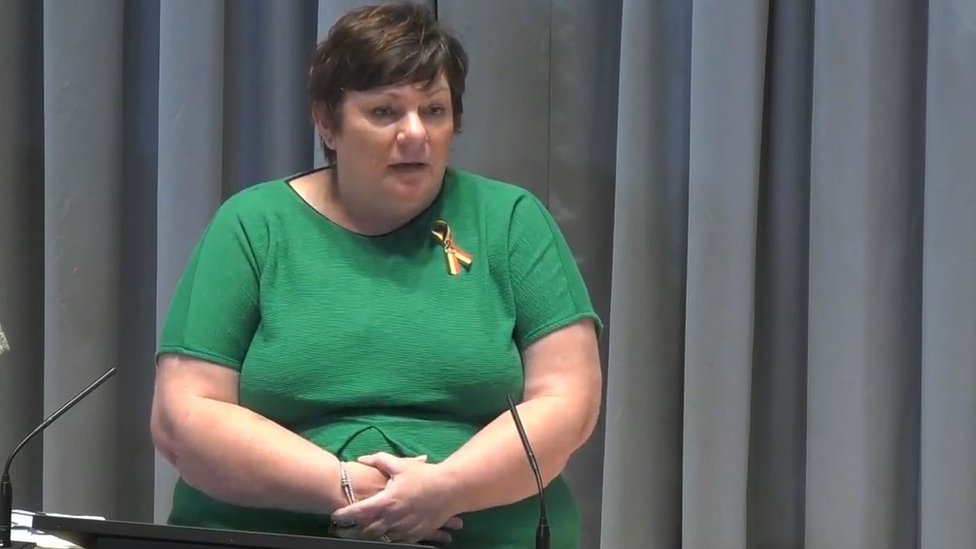 Infected Blood Inquiry
Cost cutting, unlawful, unethical experimentation and international commercial profit-making on blood products treated as a commodity are the main drivers of the tragedy we now see
Their sister Bev Tumelty told the inquiry: "I do not accept that they received the best available treatment of the day, or the viruses it caused were unfortunate coincidences.
"Cost cutting, unlawful, unethical experimentation and international commercial profit-making on blood products treated as a commodity are the main drivers of the tragedy we now see before us.
"The search for the truth has been a complicated and laborious one, obstructed by the hand-washing of officials and health experts and downright indifference of health officials and politicians who thought those affected would die before the enormity of the events were revealed."
Gareth tested positive for hepatitis C in 1991, two years before he was formally diagnosed in 1993.
He campaigned relentlessly for justice after being "devastated" by the death of Colin Smith.
Ms Tumelty said: "His grief when Colin died was phenomenal, it affected him massively. He looked at that little boy as a little brother. It was harrowing to see that grief."
A neurological nurse, she also told the inquiry that the doses of anti-HIV drug AZT were "far too high" and damaged people's immune systems more than the virus.
It was the final day of hearings in Cardiff, as part of an investigation into the UK-wide contaminated blood scandal.
At least 300 victims from Wales were left with chronic or life-limiting conditions such as hepatitis or HIV after receiving contaminated blood products in the 1970s and 80s.
Mrs Lewis thanked the inquiry for helping "dreams come true".
'I felt really low, but I was determined to see it through'
A man who contracted hepatitis C after being given a blood transfusion following a skin graft has called for preferential medical treatment for those affected by the scandal.
Huw Thomas, from Swansea, also said victims of the infected blood scandal in Wales should receive further compensation.
He said: "The financial compensation isn't anywhere near enough. I have lost hundreds of thousands of pounds.
"The government should give us parity with the English victims because they had a hell of a lot more than us and we've been through the same thing.
Mr Thomas was infected with hepatitis C in about 1974 when he was transfused with two bags of blood following a skin graft replacement.
As a result of his condition, he underwent a liver transplant in 1999 but went into a coma a week later. It took 10 months for the liver to work and he was told the liver would work for 10 to 12 years.
He described his health as "never better" but said he is concerned for the future.
He said: "My wife almost divorced me. It made me nasty. I just wasn't fun to be around, I wasn't nice to anyone. I felt really low, but I was determined to see it through to the end.
"I feel like I've got a Damocles around my neck. It will go wrong at one time as far as I'm aware."
'Pandora's box'
A man whose wife died after contracting hepatitis C as part of her leukaemia treatment said there were "statistical shenanigans" going on to cover up the cause of his wife's death.
Tony Lane's wife Trish died in 2015 aged 71 - 30 years after she was diagnosed with leukaemia.
Her death certificate cited pneumonia as the primary cause, but Mr Lane said hepatitis C should have been considered a secondary cause, along with leukaemia, rather than as just a minor cause.
He is concerned other deaths related to contaminated blood have been recorded incorrectly.
He said: "There's a certain amount of statistical shenanigans going on because looking at that, the average person would say she died of pneumonia and there's a possibility that's in the statistics."
Mrs Lane was given blood in 1986 by a person who had tested positive for hepatitis C.
After completing his evidence, he told the chairman of the inquiry, Sir Brian Langstaff: "You've opened up Pandora's box.
"Please don't let the government of any political persuasion close the lid on you until you have come to your conclusion."
Mr Lane provided the last evidence to be heard outside of London.
Chairman of the inquiry, Sir Brian Langstaff, has already heard evidence in England, Scotland and Northern Ireland. The next hearing takes place in London on 8 October.
The BBC is not responsible for the content of external sites.