Abuse accused Jonathan Kay 'claimed to be paedophile hunter'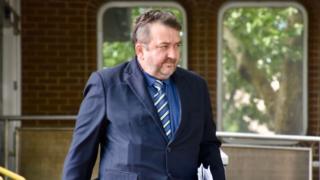 A man accused of paying to watch parents make their children perform sex acts said he was a paedophile hunter, a court heard.
Jonathan Kay, 54, is accused of paying parents in the Philippines so he could watch the acts via webcams.
Mr Kay made 190 bank transfers to the families but said it was to stop children being exploited, Merthyr Tydfil Crown Court was told.
Mr Kay, of King Henry V Drive, Monmouth, denies 10 charges.
These are seven of arranging the commission of a child sex offence, two concerning the possession of indecent images and one of perverting the course of justice by throwing away a laptop computer, which was never recovered.
After returning from the Far East, he admitted paying Chinese women to perform sex acts on webcams.
Prosecutor Clare Wilks said Mr Kay told police he felt sorry for children he saw in the background.
The court was told he made extra payments of between £20 and £40 urging them to stop them prostituting their children.
Ms Wilks said: "Kay said he was a paedophile hunter who was trying to trap people exploiting children."
The defendant claimed he had written to the UK's National Crime Agency about his concerns over child exploitation abroad, but no record of the letter was found.
'As young as three'
While the contents of his computer were never seen, cybercrime officers found on other devices the negotiations between Mr Kay and adults in the Philippines, the court heard.
Ms Wilks added: "He was in effect ordering child abuse online.
"Once he had paid his money he would instruct a third party to abuse the child in the way he wanted.
"Every time Kay transferred money to the Philippines it was to watch the abuse of children, some as young as three."
Mr Kay admitted paying women in the Philippines to perform "depraved" sex acts as he watched online, but said the women were always over 18.
He told the jury: "I'd always check to make sure the children were safe and at no point did children enter the room when live sex shows were going on with adults."
He said the payments were for food, rent and birthday gifts.
"It [the money] was to help keep a roof over their heads. To protect the children and discover more about the network - the paedophile ring," he said.
Mr Kay told the court he engaged in "pretty gross" text discussions online about the availability of watching sexual activity with under-aged children in order to "entrap" others.
He added: "Inside this nest of vipers, I had to become a viper in order to provide evidence for the police."
He said he believed he was under police surveillance but wanted the police to be knocking his door, adding: "This was my 'help get me out of here cry'."
The trial continues