National Eisteddfod 2019 kicks off in Llanrwst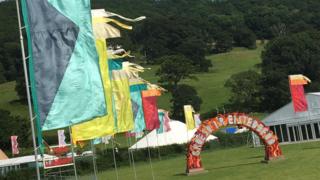 The 2019 National Eisteddfod in the Conwy valley has got underway.
This year the eight-day travelling festival is being held in Llanrwst and is expected to attract up to 150,000 visitors.
The first production was Y Tylwyth, which turned the main pavilion into a contemporary circus for the first time.
Sioned Edwards, deputy artistic director, said they wanted the festival's audience to be "spellbound".
In 2018, the eisteddfod took place in Cardiff, with a record 500,000 visitors.
Betsan Moses, the festival's chief executive, said they have been working for two years to realise the event.
"The whole of Conwy county and beyond will be here to appreciate it," she said.
This year's festival has proved more challenging to put together than any others Ms Moses has worked on.
A change in its site was announced in March due to flooding fears.
"At the beginning of the year, it was very problematic," she said.
"We had to find another site for the eisteddfod, but I can assure everybody that the site itself - the main site and the car parks and caravan parks - they're on land which isn't a flood risk area."
Trystan Lewis, chairman of the organising committee for this year's eisteddfod, said the Welsh Government should consider increasing its grant towards the festival in a bid to encourage more Welsh speakers.
"If the government are serious about achieving their target of a million speakers, then they have to provide more funding for the eisteddfod," he said.
A government spokesperson said it had "provided extra money this year in order to appeal to a wider audience".
In 2017-18, it provided a grant of £739,900.