Fly-tipping: Council dumps four tonnes of rubbish in stunt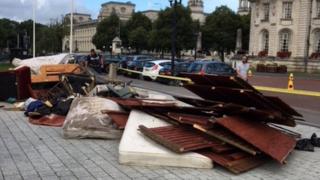 A council dumped four tonnes of rubbish outside its own building to raise awareness of so-called "waste-cowboys".
Large items including mattresses, fencing and used furniture were left outside Cardiff's City Hall on Thursday.
The council said it wanted to "remind residents that they are responsible for disposing of their waste correctly".
It said it was collecting 20 tonnes of fly-tipped material each week which cost taxpayers thousands of pounds.
Councillor Michael Michael, cabinet member for clean streets, recycling and environment said: "If we find any evidence among fly-tipped material which leads back to a resident, then unfortunately they face being fined £300 for it.
"If we locate the trader that dumped it then they could be fined £400."