Welsh trains: 'No answer' down the track to overcrowding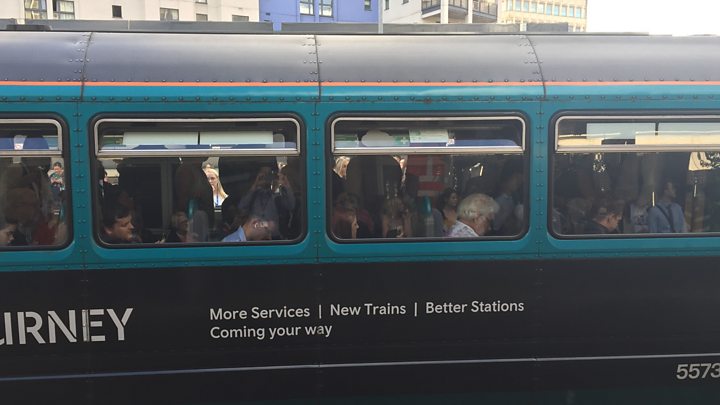 When a new train operator took over the running of many services in Wales, passengers were hopeful it would mean an end to delays.
But 10 months on and passengers are still facing cancellations, delays and reduced capacity on some routes.
An industry expert is warning there is "no immediate answer" after years of under investment.
Transport for Wales (TfW) said it was "confident" things would improve in the long term.
It took over running the Wales and Border rail franchise in October from Arriva Trains Wales.
In November, it apologised when storm damage put a third of its fleet out of service, but said in January passengers would see improvements "every year for the next three to four years".
The recent problems are being blamed on repairs and taking trains out of service to make sure they meet accessibility requirements.
But there is increasing frustration from commuters who often end up late for work.
Delays to services in recent weeks have seen some of those commuters unable to board trains home.
Poppy Shillabeer, 26, from Cardiff complained about the cost and quality of services.
"They haven't enough staff or enough space on the trains so you don't know where the money is going," she said.
View from the platform
"Horrific"
That is Gareth Clement's experience of using trains in south Wales. The support worker from Merthyr Tydfil commutes five or six days a week and says nothing has changed since TfW took over - and in fact says it has got worse.
"Late trains, trains cancelled. I'm just glad I only have to travel a few stops. And not have to commute to Cardiff.
"The trains are the reason I don't. It's shambolic."
Mr Clement used to work in Cardiff and said he paid £1,200 a year for a service that would regularly mean no seat, and leave him late for work.
He said he took a pay cut to work closer to home and while he still looks at jobs in Cardiff, says it is "simply not worth the hassle".
However Steve Fletcher, who set up the popular Arriva Trains Fails site which recorded problems with the former rail operator, said he thought overall things had improved since TfW took over, despite the recent problems.
He commutes from Lisvane in north Cardiff to the city's Queen Street station, which has been at the centre of some of the recent issues.
He told BBC Wales: "I would say it's a little bit better than it was back then, but unreliable still.
"I think they started from a very low benchmark. I have not had as many issues with my morning commute, the evening commute is worse. It's normally delayed five to ten minutes."
TfW apologised for recent problems, blaming upgrades and repairs to damaged trains.
But Stuart Cole, professor of transport at the University of South Wales, said there was "no immediate answer" to the problems.
"Many of the issues involved are legacy issues - not necessarily the fault of the Arriva Trains, because they had a constraint of a no-growth franchise."
"It was a service always designed to work downwards so it would eventually close. That didn't happen. The Welsh public decided they wanted to travel by train," he said.
He said TfW should have considered withholding its branding from its service until improvements have been carried out.
TfW has committed to investing £738m on valleys lines and a further £800m ensuring 95% of journeys will be on new trains from 2023.
Prof Cole said he believed TfW was maturing into a successful organisation, similar to Transport for London, and had "every chance of making a good job" of improving the Welsh rail network.
But he added: "There's no getting away from it - the peak trains are overcrowded.
"At stations like Radyr and Llandaf heading into Cardiff people are left behind.
"We're not going to get any immediate answer to this."
Railfuture, which campaigns for better rail services, said TfW was "attempting to offer a service but with the rolling stock that they have available it's very difficult for them to offer a service at the moment that is 100% reliable".
'Improve reliability'
Some of the more recent problems have been down to trains having to be taken out of use for work to be carried out on them.
Six trains are currently off the tracks to be adapted to ensure they meet accessibility requirements.
Work is also being done to prepare trains for the autumn and other scheduled and unscheduled maintenance is taking place.
Colin Lea, customer experience director at TfW, said: "We recognise that some services have been more crowded than usual in recent days and we would like to apologise to customers for the difficult conditions.
"This is down to a combination of carrying out essential accessibility upgrade work and the fitting of new technology which we are confident will improve reliability in the long term.
"A number of our trains have also suffered damage whilst in service and our engineers are working hard to repair these."