GCSEs: A* to C pass rate increases after dip in 2018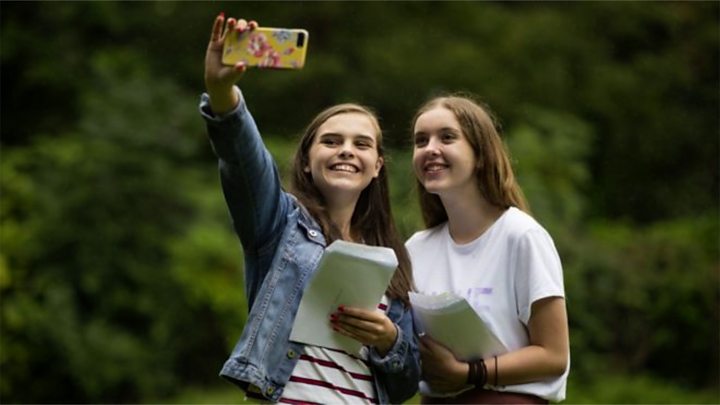 GCSE performance across Wales has improved on last year, with 62.8% of pupils getting A*-C grades.
The results show the number of pupils receiving good GCSE grades rose 1.2 percentage points compared with 2018.
It means results are the same level as 2017, but it is still one of the lowest performances of the past 10 years.
Those getting A-A* grades dropped 0.1 percentage points to 18.4% while the proportion achieving an A*-G is up 0.8 percentage points to 97.2%.
GCSE performance by subject
% rate of A* to C
| Subject | 2017/18 | 2018/19 | % change |
| --- | --- | --- | --- |
| Maths | 60.4 | 58.8 | -1.6 |
| Maths numeracy | 59.6 | 58.1 | -1.5 |
| English language | 63.3 | 59.2 | -4.1 |
| English literature | 79.4 | 74.6 | -4.8 |
| Welsh language | 74 | 73.7 | -0.3 |
| Welsh literature | 76 | 76.4 | 0.4 |
| Welsh as a second language* | 74.8 | 63.1 | -11.7 |
| Biology | 88 | 89.2 | 1.2 |
| Chemistry | 89.5 | 90.4 | 0.9 |
| Physics | 89.4 | 90.9 | 1.5 |
| Double award science | 50.9 | 52.2 | 1.3 |
Qualifications Wales said the number of GCSEs sat in Wales this year rose from 271,761 to 295,690, and national overall results were stable.
However, Eithne Hughes, director of the Association of School and College Leaders (ASCL) Cymru, said they were "extremely concerned" about the decline in the percentage of 16-year-olds passing English Language and Welsh Second Language at A*-C.
"We are today calling on the Welsh government and regulators to work with us to understand the reasons," she said, adding it was important to recognise the results followed an overhaul of GCSE specifications.
On a visit to King Henry VIII School in Abergavenny, Education Minister Kirsty Williams congratulated students and thanked teachers.
"Last year we saw a dramatic increase of 50% in entries for science GCSEs. I am pleased to see that entries and results are continuing on the upward trend, with more pupils gaining A*-C and more achieving the very top grades in Biology, Chemistry and Physics," she said.
"This is the first year pupils are taking the new Welsh second language GCSE following removal of the short course option. While more challenging, the rise in entry numbers has resulted in a 12.5% increase of learners attaining an A*-C in the full course qualification."
Among those happy with their results was Anest Edwards, who was thrilled to achieve 12 A* at Ysgol Eifionydd in Porthmadog, Gwynedd.
She said: "It's been a hard couple of months but all worth the wait now. I was not expecting this at all so a lovely surprise this morning. I'm hoping to study medicine."
GCSE gender gap in Wales
Percentage achieving A* to C
What's new in 2019?
This year marks the end of a process that has seen 29 new GCSE qualifications introduced since 2015.
Business, computer science, design and technology, history, media studies, religious studies and Welsh second language were the seven final subjects to be reformed and the first set of results of these subjects have been given out for the first time.
The new Welsh second language qualification - compulsory for pupils at English-speaking schools - replaced the previous options, under which students chose to take the full course or the less-challenging short course or applied GCSEs.
It has no coursework, with a greater focus on speaking and listening skills, including the ability to respond spontaneously to conversation.
Why are entries up?
A 0.7% increase in population in this age range is thought to be the cause, while it is also thought the rise in summer entries has been driven by a change this year to how schools are measured.
Previously, pupils could take an exam more than once and the best result would be counted towards the school's overall figures.
Now, only a student's first sitting can be counted, meaning fewer students have entered the exam early and year 11 summer entries for many subjects has risen.
Can we compare results with the rest of the UK?
Comparing Wales with the rest of the UK is becoming increasingly difficult - while Wales has retained the A*-G structure, England has adopted a 9-1 system.
Meanwhile, a new C* grade is being introduced in Northern Ireland for the first time this summer.
Scotland has its own system of public examinations - Nationals and Highers - and pupils received their results at the beginning of August.
GCSE results by country
Percentage grades A* to C (4 to 9 in England from 2017)
Neil Butler, the teaching union NASUWT's national official in Wales said the results reflected "the hard work of our pupils and the dedication of their teachers".
"However, if such success is to continue the Welsh Government needs to address the continued funding gap with schools in England and the spiralling workloads of teachers and school leaders. Then we can ensure today's achievements can continue to be replicated in future years," he said.
Meanwhile, police in Haverfordwest, Pembrokeshire, said there would be increased patrols on Thursday night "in response to an anticipated influx of young people who will be celebrating their GCSE results".
Dyfed-Powys Police said officers would seize alcohol from anyone they suspect is under 18.
Sgt Haydon Mathias said he understood students wanted to celebrate their hard work, but added: "We'll be there to make sure they do that safely and without disrupting others."
He requested parents "take the reins" and go over their child's plan for the evening before they head out. 
Around Wales