Pride Cymru parade in Cardiff draws 15,000 people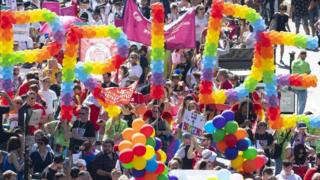 An estimated 15,000 people have taken part in Cardiff's 20th anniversary Pride festival.
First Minister Mark Drakeford was among what organisers claim was the biggest turn out in the parade's history.
The mile-long city centre parade began at 11:00 BST and is the showpiece of the four-stage celebration that will continue tonight.
Organiser Craig Michael said the event aimed at inclusivity had "exceeded" all expectations.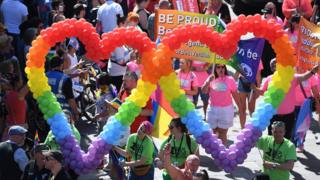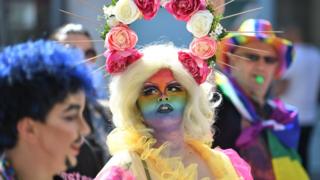 Mr Drakeford became the first person in his role to lead the march through the Welsh capital.
Plaid Cymru leader Adam Price and Labour MP Stephen Doughty were among several politicians who joined Lisa Power, one of the founders of the Stonewall UK charity 30 years ago, at one of the most colourful and vibrant events of the year in the city.
Gian Molinu, chair of Pride Cymru, said: "The parade is one of our highlights each year and allows parents, family, colleagues and friends to show their loved ones who identify as LGBT+ that they are behind them and support them through and through."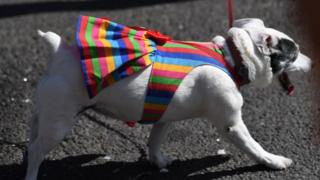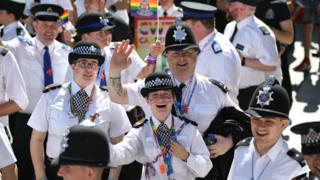 Scottish rock band Texas will headline a live concert this evening as part of the celebrations on Cardiff City Hall Lawns.
Welsh singer Shellyann Evans and Tina Cousins, who was Pride Cymru's first headline act at the Cardiff Mardi Gras in 1999, will also take part.
"Over the last 20 years it has become a sign that we are here to break barriers and are promoting a more inclusive society," added Mr Molinu.
"Unfortunately, a lot of members within our community continue to face hate crime. By marching with us, these businesses and politicians highlight they are with us and will not tolerate any hatred."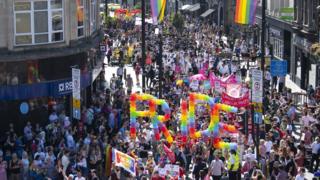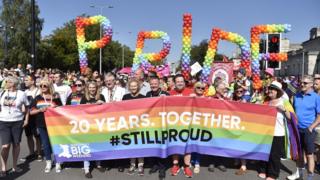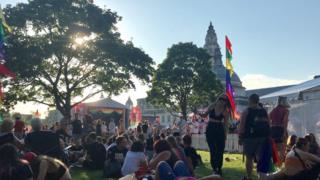 All pictures subject to copyright