Inconsiderate school-run drivers pose 'significant risk'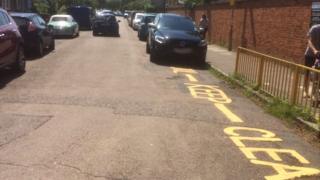 Parents' poor driving around schools has been criticised by council officers for putting children's lives at risk.
A health and safety briefing to Denbighshire councillors has warned about "inconsiderate drivers" who show little concern for others.
It claimed the authority needs more staff to carry out safety measures.
A head teacher in Gwynedd said a parent had driven a car at him when he tried to prevent them from driving through a group of pupils in a school car park.
Prestatyn North councillor Paul Penlington says elected members should pay more attention and help highways officers find solutions in their areas.
Members of the corporate governance committee will be told later that Denbighshire has given itself a low assurance rating on school traffic management.
"A significant risk is created in and around some schools where people dropping off and collecting children show little or no consideration for the safety of other road users or pedestrians," a report said.
"We have worked with local councillors, civil enforcement officers and the police to mitigate the risks at some schools, but the manpower needed to embed improvements is not sustainable."
The report said infrastructure such as barriers and lines moved problems elsewhere.
It added: "This is a nationwide problem that has been discussed in Parliament. We cannot give any assurance that accidents will not happen."
Neil Foden, head teacher of Ysgol Friars in Bangor, told BBC Radio Wales Breakfast that despite their school having a visitors' car park, it was "nowhere near big enough" to accommodate all the parents who drove to school.
"We've got bus bays either side and the first problem is parents park in the bays despite the fact there are signs saying they can't park there," he said.
"The buses can't get in so they parallel park, block the cars in but also block the whole of the road so we get the whole of upper Bangor snarled up because of two or three parents who park in the bus bays.
"We then find parents who don't want to use the one way system because it's quicker to get out. I've had a parent drive a car at me on one occasion because I've stood in front of him to try to prevent him driving through a group of pupils."
Kath Hemmings, from Pengam, Caerphilly, called the situation "utter chaos" near her home at the start and end of school.
"I live opposite one school and adjacent to another. At nine and three I am unable to get out of my back lane or in to park because the entrance of [the lane] is blocked," she said.
"I have been told to wait because they are dropping off children.
"Children being let out of cars run across the road. They park on pavements so children have to walk on the road. And no fire engine nor ambulance could get to residents or the school."
'Mental attitude'
Denbighshire councillor Julian Thompson-Hill said the problem was caused by a small minority of parents.
"It's parking in inappropriate places which is therefore not creating enough vision, when other vehicles come along, to protect other road users."
He continued: "Unless you have a multi-storey car park next to every school, at those peak times you are never going to be able to provide sufficient space for every parent who wants to arrive at the same time."
Mr Thompson-Hill said some schools had staggered finishing times for different classes or arrangements with local businesses that parents could use car parks while they dropped and collected children.
However he added: "There's a change of mental attitude, that you can't park right outside the school, you have to walk a quarter of a mile with your child either way."
Mr Penlington told the Local Democracy Reporting Service he had worked with highways officers to bring about some improvements in Prestatyn, and urged colleagues to do the same.
"Many of the problems are caused by inconsiderate drivers but it is the responsibility of local councillors to work with the local authority in order that highways officers can take action to minimise risks," he said.