Colwyn Bay stabbing: Boy guilty of trying to murder fellow pupil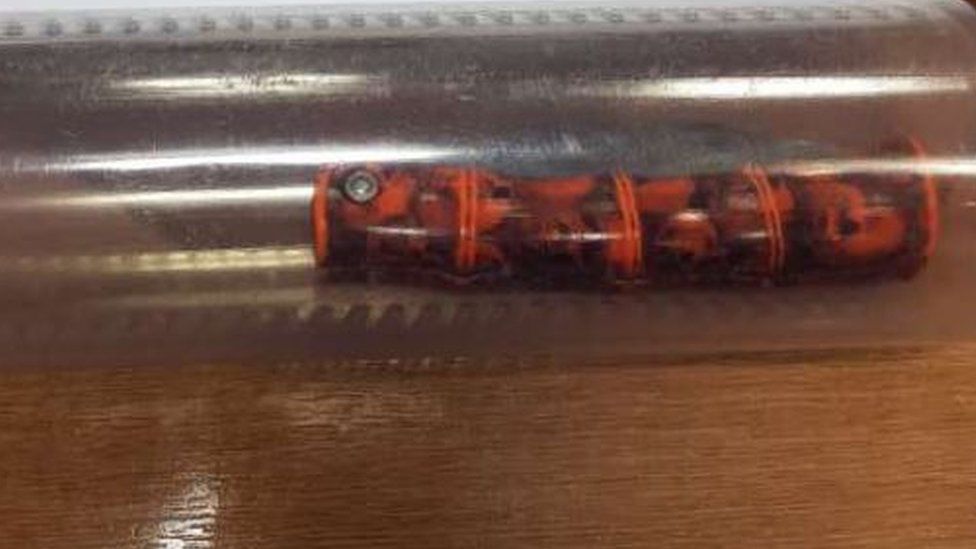 A 16-year-old boy has been convicted of trying to murder another pupil in a school corridor.
His victim was stabbed in the shoulder at Eirias High School in Colwyn Bay, Conwy county, in February.
The defendant, who was 15 at the time, had denied a charge of attempted murder of the other boy.
But he was found guilty by a jury at Mold Crown Court after a trial was told the youth had "meant to kill" his victim.
During the four-day trial, the jury was told the attack happened after the teenager had been kicked out of a lesson.
He told another pupil he wanted to stab the teacher and showed the girl an open bottle of whisky and a penknife, said the prosecution.
Teachers were told and confiscated the whisky after searching his bag, but did not find the knife in his pocket.
Myles Wilson, prosecuting, said the boy then walked behind his victim in a corridor at the school and attempted to stab him in the neck, but missed and hit him in the shoulder.
He added: "The defendant told the police that he meant to kill. He didn't have any grievance against him. He didn't know him."
The court heard the defendant told police "he had been thinking about killing someone for some time" and "liked the idea of killing someone".
Giving evidence in his defence, the boy - who cannot be named - said he "just wanted to cause him some harm, to injure him" and wanted to "let out my frustration".
He had admitted wounding his victim but denied he was trying to kill him.
"I feel regret every single day. I think about him, his family - what they must have felt," he told the jury.
Judge Rhys Rowlands remanded him in custody pending sentencing but warned he faced a significant custodial sentence.
He said he had been convicted "on the most compelling evidence" of attempting to kill a fellow pupil "who had done absolutely nothing at all to you".
The victim, the judge said, was just in the wrong place at the wrong time.
Deborah Rogers of the CPS said: "Fortunately, this injury was not life-threatening, but that does not make the assault any less frightening. We hope that the victim makes a full recovery."
North Wales Police Det Insp Simon Kneale added: "I think it is important to reassure parents that this is a very rare and isolated incident.
"Whilst it is widely publicised that knife crime is on the rise nationally, we are thankful that we have not seen the same trend in our north Wales schools."