Waste: How will Wales end landfill and incinerator use by 2050?
By Steffan Messenger
BBC Wales Environment Correspondent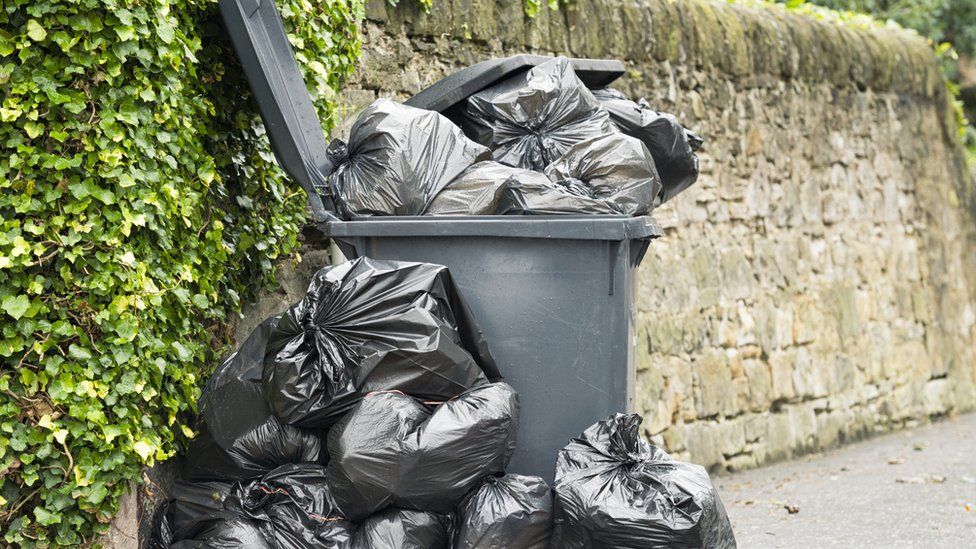 Repair cafes, apps for selling clothes, and treatment facilities for hard-to-recycle items like nappies are some of the proposals in a new Welsh Government strategy on reducing waste.
The goal is to ensure no waste is sent to landfill or incinerators by 2050.
They are also considering a ban on disposable cups in sports stadiums.
Wales is already third in global league tables for household recycling and First Minister Mark Drakeford said it was now "the norm".
"Over the next decade we need to go beyond recycling to make a circular economy a reality," he said.
What does the government want to do about recycling?
Wales' household recycling rate has grown from 5.2% in 1998-99 to 60.7% in 2018-19, well ahead of the rest of the UK.
The ambition is to reach 100% by 2050 - meaning no waste at all is sent to landfill or incinerators.
The Welsh Government said it would develop more plants that can treat materials which are currently not widely recycled - including mattresses and nappies.
Among its plans are to pay for this by bringing forward so-called "extended producer responsibility" rules - which make manufacturers more accountable for disposing of their products and packaging, and a deposit return scheme for drinks containers.
It also wants to make non-domestic premises separate recyclable materials for collection.
What about reducing waste?
Moving to a more "circular economy" - where resources are kept in use and not disposed of - means radically cutting down how much we throw away.
The Welsh Government wants to encourage the use of apps to collect surplus food or swap and sell clothes, and "repair cafes" where people can take products to be fixed.
It wants to halve avoidable food waste by 2025 and support the re-use and repair sectors to grow.
Public sector organisations will be forced to prioritise the use of re-used materials and "remanufactured" items - meaning rebuilt or restored - and will be asked to justify any purchases that are not recycled or recyclable. They will also be asked to donate valuable and useful surplus equipment.
House-building programmes supported by the Welsh Government will be asked to use only sustainable and low carbon materials in construction.
Stopping waste being exported overseas is also proposed.
How does it plan to reduce plastic use?
Ministers want Wales to become the first country to send no plastic to landfill.
It proposes phasing out single-use plastics with bans and restrictions on several products.
Biodegradable plastic from renewable sources will be used where it is still needed, for example in medical settings.
It also wants to increase the range of plastic material that can be recycled and develop more plants to process it.
What about burning waste?
Legislation banning key recyclable material from being sent to landfill or incinerators is proposed.
Ministers say they will also work with the UK government to explore the idea of an incinerator tax.
Waste incineration is hotly debated at the moment, with several campaigns against proposed plants across Wales.
Earlier this year, the chairs of both the assembly's environment and health committees told BBC Wales they believed the government should ban them, over concerns about air pollution and carbon emissions.
A public consultation on the proposals will run until April, with events set to be held across Wales to seek people's views. The final strategy will be published later next year.
Hannah Blythyn, deputy minister for housing and local government - in charge of recycling - said the Welsh Government wanted views on "any new ideas or aspects you feel are missing".
She also announced an additional £6.5m for local authorities and other publicly funded bodies alongside the consultation.
Andrew RT Davies, Conservative shadow minister for environment and rural affairs, said of the goal for no waste to be sent to landfill or incinerators by 2050: "I think that's what we've got to be chasing."
He told BBC Radio Wales that climate change was happening "without a shadow of a doubt".
"Why throw away something that has a use to it?" he added.
Ben Francis, Wales policy chair for the Federation of Small Businesses, said the debate on how to tackle environmental issues was "one of the most pressing issues of our time".
He said its priority was "to help businesses look at ways to become more environmentally responsible, whilst pushing the Welsh Government to provide meaningful support for those businesses, whilst understanding the landscape in which they are operating".
"We look forward to responding in detail to the consultation on a circular economy strategy over the next few months," he added.
Olivia Knight, chair of trade body Sharing Economy UK, said it "supports the scale and ambition of the Welsh Government to achieve zero landfill within the next 30 years and to actively encourage more people to engage in the sharing economy".
But she added: "If we genuinely want to enable people to share more and waste less then we need to see this ambition matched with support for businesses already operating in the sharing economy and those companies wanting to develop circular economy practices within their business model and supply chain.
"We need incentives and rewards for companies making the transition that we need to see."
A spokeswoman for South Wales Chamber of Commerce said it has seen "a growing interest across the private sector and businesses in Wales in recycling and reduction of carbon footprint".
She added: "Many procurement contracts in supply chains are now specifying that businesses need to demonstrate their move towards a more sustainable approach to business."