Flybe: Cardiff Airport in 'strong position' despite loss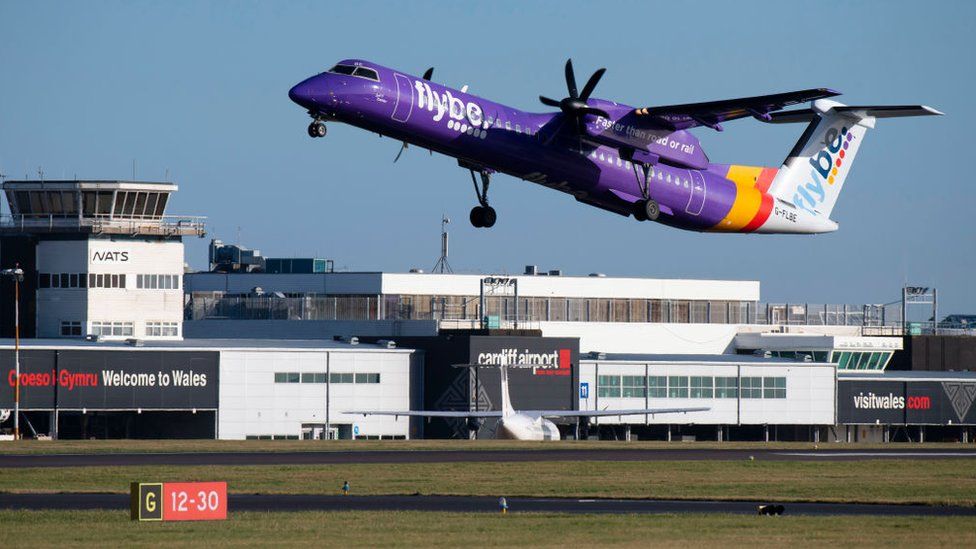 Cardiff Airport is in a "very strong position" to survive the loss of Flybe, the economy minister said.
About 330,000 passengers a year flew with the airline from Cardiff Airport to destinations such as Dublin, Edinburgh, Belfast, Cork and Paris.
Cardiff Airport said all Flybe flights had been cancelled and its passengers should not travel to the airport unless they had booked alternative flights.
Economy Minister Ken Skates said that while Flybe represented 24% of the airport's traffic, it made up 5.6% of its total revenues.
"Whilst of course it will be challenging to mitigate this loss, Cardiff Airport is not at risk," he added.
But Plaid Cymru said the collapse of airline was "deeply concerning".
Peter Hughes, regional secretary of Unite Wales, called it a "very worrying development," which would leave hundreds of Welsh workers extremely concerned.
He called for all levels of government to provide a "coordinated strategic response" to ensure the airport remained viable.
The collapse of Flybe is a huge blow for Cardiff Airport, with about 330,000 of the 1.6m passengers flying from the airport every year using the airline.
That is a huge proportion, but not as much as it used to be.
It is a serious blow not just for the number of passengers, but for those using the shops and other services provided by Cardiff Airport.
We have seen in the past that when airlines have pulled out, Cardiff Airport has found replacements for some busy routes fairly quickly, such as Glasgow, but it is a very difficult time for airlines, and it has not just been Flybe who have been struggling.
Cardiff Airport had been trying to get a loan from the Welsh Government and it had been said that a catastrophic event, like the collapse of an airline, would be taken into account as part of the decision making process.
Mr Skates said "incredibly hard work" had been put in at the Welsh Government-owned airport over the past years to safeguard it.
He pointed to the fact Loganair had already stepped in to take on the Cardiff to Edinburgh flights as evidence it has a viable future.
It will begin daily flights between the Welsh and Scottish capitals from 23 March.
Flights to Anglesey, Teesside, and Aberdeen will continue to be operated as normal by Eastern Airways, which had been a franchise of Flybe.
In a letter to the airline's staff, Flybe chief executive Mark Anderson said: "Despite every effort, we now have no alternative - having failed to find a feasible solution to allow us to keep trading.
"I am very sorry that we have not been able to secure the funding needed to continue to deliver our turnaround."
None were employed in Cardiff - there were 50 at the airport, but they left in October when the airline closed its base there.
Cardiff Airport's chief executive Deb Bowen Rees said the loss of the airline would have a "large impact" on the business, but the airport was in a strong position to deal with the loss.
She said the airport was "actively talking to a number of airlines" about taking over core domestic routes.
"Really we are in a much stronger position to address this now and Flybe have played a very important part in enabling us to get to this position," Ms Bowen Rees told Claire Summers on BBC Radio Wales.
"The advice for passengers booked on Flybe-operated flights is not to come to the airport today or over the next few days, but to check the Civil Aviation Authority website - all our other flights are continuing to operate as normal."
Transport for Wales said any stranded passengers would be able to use their trains for free to get to their destination for the next seven days, providing they had a valid boarding pass.
First Group trains, which runs Great Western Railway and Avanti West Coast, said people could have free travel to their final destination by "any reasonable route" if they show a valid Flybe boarding pass on Thursday.
National Express has also offered to provide free coach travel when there is a comparable route available.
What are your rights as a passenger?
Flybe customers who bought tickets directly from the company will not be protected by the Atol scheme.
However, if you went through a travel agent or other third party you might be covered.
Some people may be able to get their money back if they paid by credit card or with some debit cards.
The Welsh Government said: "We are working closely with the UK government and the management team at Cardiff Airport on the impact of the Flybe news."
Ministers had been considering giving the airport a further £6.8m, after approving a loan of £21.2m last year, to invest in buildings and infrastructure, route development, and security.
Plaid Cymru said the collapse of the airline, which attracted between 320,000 to 340,000 passengers to Cardiff a year, was "deeply concerning" and serious questions needed to be asked about the Welsh Government's handling of the airport's loan.
The Welsh Conservatives urged the Welsh Government to work fast to replace the routes and secure jobs.
Mr Skates' defended the Welsh Government's investment in the airport, saying it would have gone out of business without it.
"A lot of opposition members didn't want us to save the airport," he told BBC Wales.
"The airport, there is no doubt, would not have survived until today had the Welsh Government not rescued it."
BBC MasterChef winner Gary Maclean was due to fly from Glasgow to Cardiff for an event on Thursday, and is now driving nearly 400 miles to get there.
"We woke up to a text saying the flight wasn't happening," he said. "We had to be up at 03:30 GMT, we didn't have any other plans to get there."
"It's just one of those things," he said.
A woman who used Flybe to visit her son and granddaughter in Jersey said her "lifeline had just been broken".
Jacquie Morgan from Cardiff told Dot Davies on BBC Radio Wales: "We regularly fly back and forth, every holiday, and they obviously come over here for holidays.
"What is the alternative? It'll cost us a lot. It's time as well," she said.
Katie Johnson from Cardiff was on holiday with her husband and four-year-old daughter when she got a text saying the airline had gone into administration.
The family were due to fly home at 12:15 on Thursday.
"It's been a stressful morning sorting things. The ATOL advice line was useless and the number the Civil Aviation Authority gave wasn't taking calls," she said.
After spending almost two hours on the phone to her travel company, she was told the family could fly to Bristol Airport on Thursday evening as their package holiday was ATOL protected.
"The travel company in fairness have been good. Thank goodness we had a package holiday," she said.
Flybe had been hoping for a £100m lifeline and changes to Air Passenger Duty taxes.
The carrier ran into difficulties last year and was bought by a consortium which includes Virgin Atlantic.
In January, the new owners said they would pump £30m into the business to keep it afloat, but appealed to the UK government for additional support.
Simon Calder, travel editor of the Independent, said Cardiff's departure board would be looking "very very thin".
"Because Flybe was losing so much money we can conclude that most of its routes were loss-making," he said.
"Now that doesn't necessarily mean they were all loss-making, and if you look, for instance, at the flights from Cardiff to Edinburgh, you have basically three a day.
"It might be that Ryanair or EasyJet would come in and offer one or two a day.
"But other routes - I genuinely fear that there is not going to be much of an appetite for, for example, putting on a flight to Jersey," he said.
Related Internet Links
The BBC is not responsible for the content of external sites.