Coronavirus: Wales school reopening advice published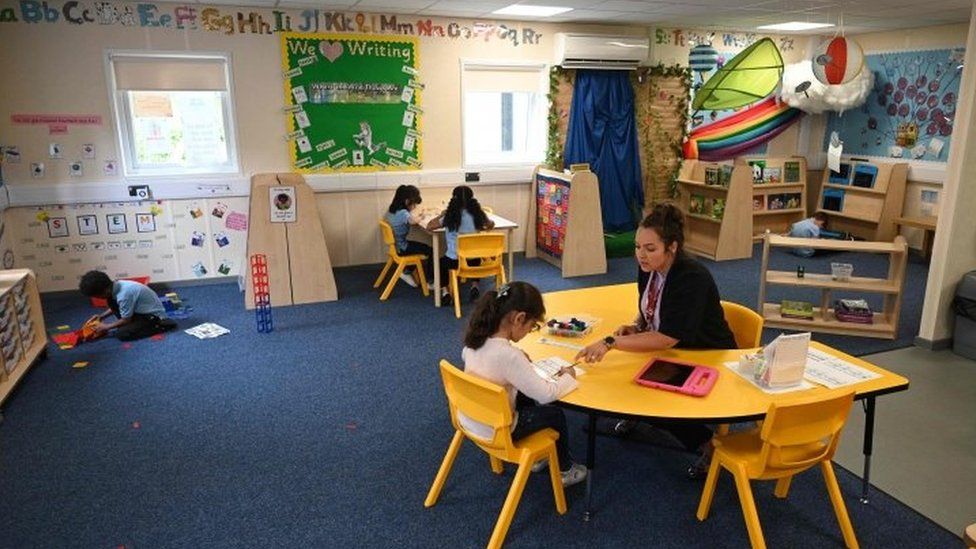 Outside learning, teaching in small groups and pupils eating at their desks are among some of the measures schools in Wales should consider when reopening, according to new guidance.
But unions have expressed concern that there is not enough time to prepare.
Education Minister Kirsty Williams said "striking a balance" between national public health and "local flexibility" had been key.
"We are working together to ensure that this opportunity is available to the vast majority of pupils and parents in a safe, structured and sensible way," she added.
What about social distancing?
The guidance recognises that it is "not practicable" to expect primary pupils to maintain 2m social distancing but staff should however seek to ensure "some distancing" between learners.
It suggests primary pupils are allowed to mix in groups of up to eight.
But in secondary schools, pupils should keep to 2m distances and ideally when indoors, remain in the same room and avoid moving from room to room as they normally would.
The guidance says that the reality of social distancing meant that pupils would still spend a "significant amount of time learning remotely".
What should happen when pupils go back?
The return to school - which will be until the break-up for the summer holidays on 24 July - would give them "a range of mental health benefits" including time with friends and a sense of routine.
It says teachers should not try to "catch up" on everything but have a clear focus on preparing children to learn again, when there would be a blend of "'in school' and 'out of school' learning driven by a single curriculum".
What about school transport?
The guidelines also encourage walking and cycling to school but the use of school transport should give priority "to those who are unable to attend without it" and pupils should avoid using public transport where possible.
Only about half of primary schools in England reopened last week when they were allowed to do so, figures show.
What do schools have to do?
They need to carry out a risk assessment for Covid-19 to identify "sensible measures to control the risks" but for paperwork to be kept to a minimum
Actions should then be taken "influenced by site-specific factors" with the measures to protect the health and safety of all staff, pupils, visitors and contractors
Staff and unions should be involved
Mother-of-two Iona James is a teaching assistant at Pwll Coch Welsh-medium primary school in Cardiff.
Her 10-year-old daughter Mabli is at primary school and her 12-year-old son Macsen goes to a Welsh-medium secondary school..
"I'm happy for both to return - one day a week is fine. We need to start somewhere. But the only guidance so far has been on social distancing," she said.
"With the age my two are, they're very aware of the 2m rule. With class sizes smaller I think it's possible to maintain social distancing.
"It's my daughter's last year at primary school so I decided that she would go back. If there's a significant change in numbers, we'll reassess that.
"Staying in the classroom is better because you don't want them to be moving around the school and bumping into other children.
"They can catch up with teachers and plan for remote learning at home. It's good for their mental health too to see their friends again."
What has been the response so far?
The Unison union said it does not provide enough time for schools to safely manage the risk of the further spread of Covid-19.
Rosie Lewis, Unison Cymru's lead officer for schools said: "Schools only have two and half weeks to digest this operational guidance and put plans in place to ensure the safety and well-being of the workforce and pupils across Wales, and we are far from convinced this is long enough."
She said a number of councils had already been taking matters into their own hands and this created the prospect of "22 different varieties of returning to schools across Wales".
Laura Doel, director of the head teachers' union NAHT Cymru, said there was an acceptance that a return to school was going to be difficult and challenging, but school leaders knew their schools, staff, pupils and families.
"It is that local knowledge that is going to be vital in making sure robust risk assessments are in place so that each setting is safe and appropriate," she said.
"Now is the time to work together to overcome those challenges and make sure that schools have the resources to put plans into practice."
Eithne Hughes, director of the Association of School and College Leaders (ASCL) Cymru, said the would take a careful look at the detail but "we would emphasise that school leaders are already putting in place plans, and are determined to make this work on behalf of their pupils".
But Neil Butler, NASUWT national official for Wales said the guidance was not firm enough in directing schools and local authorities to adopt safe working practices.
"This advice is presently sadly lacking from the guidance," he said. "If they cannot even ensure that schools are getting these basic steps right then the Welsh Government cannot continue with its plans for wider reopening."
Ministers said further details would be developed as details were worked on with schools and councils.
"We will continue to develop the guidance over the summer term and into September, while ensuring it reflects the latest medical and scientific advice," said Ms Williams.
Related Internet Links
The BBC is not responsible for the content of external sites.