'High chance' whale beached in Dee Estuary will die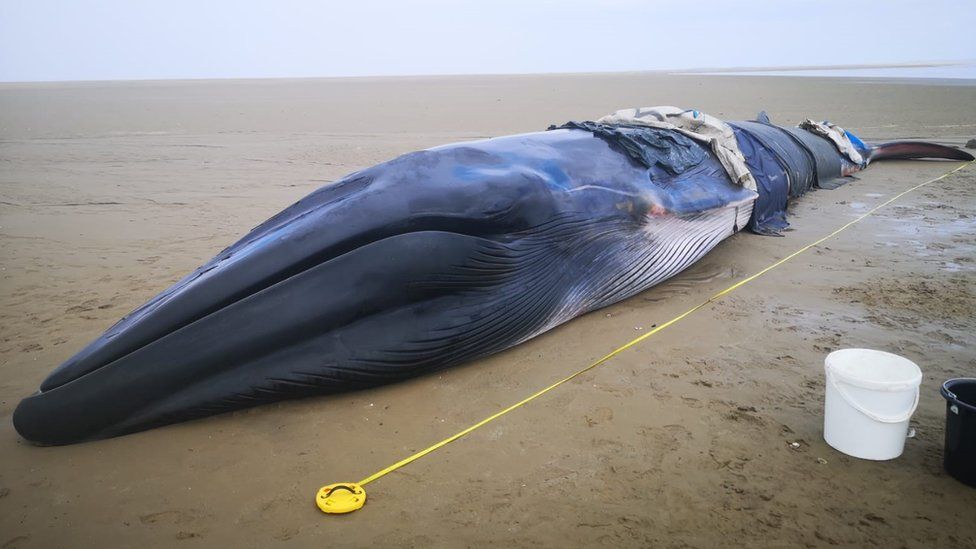 A beached whale which became stranded in the same estuary twice in as many days has a "high chance" of dying, rescuers have warned.
But it was again found stranded on Saturday morning on the same stretch of Flintshire coastline.
The fin whale - the second largest whale breed in the world - is thought to be only six or seven months old.
An expert from British Divers Marine Life Rescue (BDMLR) is assessing the 14-tonne creature.
Writing on its Facebook page on Saturday evening, the group said its team had withdrawn to safety after the tide came in.
"The whale is still alive and it will be monitored from the boat and the shore," it said.
A spokesman said whales cannot support their own weight on land, so are in danger of causing "significant internal damage to themselves" when stranded.
After so many hours out of the water, there are fears the whale may not survive.
"Although we want to be optimistic, we have to be absolutely realistic about the animal's chances of survival at this point," BDMLR added.
"It has spent several hours out of the water gradually being crushed under its own weight over the last couple of days and the degree of internal damage this may have caused could be very significant by now.  
"Even if it does swim off again this evening there is a high chance that it will re-strand and, or pass away as a result."