Coronavirus in Wales: Shops could reopen at next lockdown review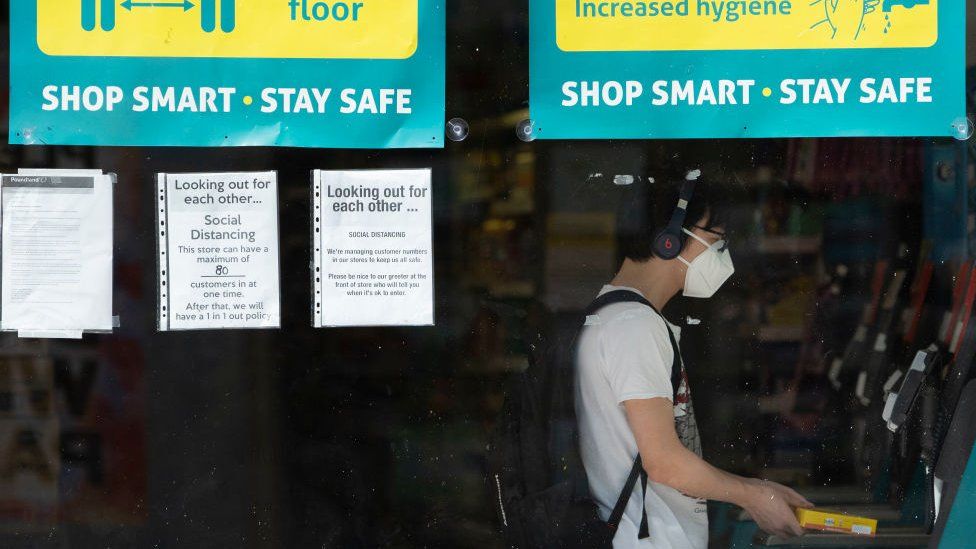 Non-essential retailers in Wales could be given the green light to reopen at the next lockdown review on Friday.
First Minister Mark Drakeford said it was one of a "package" of measures being looked at, including allowing more outdoor activity.
He said retailers would be "well-prepared" if the Welsh Government decides to go ahead.
The first minister is expected to announce his next steps at the end of the week.
Retailers were advised at the last lockdown review to prepare to reopen safely, but a definitive opening date has not been confirmed.
Mr Drakeford said the sector had put in place "new arrangements" such as safe ways for shoppers to enter and leave stores, social distancing in shops and protection for workers.
But he warned a "stop-start approach, where we do too much, too soon" would be worse for the economy if a second clampdown was needed.
The Welsh Conservatives accused the Labour Welsh Government of "dithering", while Plaid Cymru said businesses needed more clarity.
Mr Drakeford told the daily Welsh Government briefing ministers were looking at a "package of measures in three main areas".
As well as reopening schools on 29 June, he listed "reopening non-essential retail where businesses are able to comply" with physical distancing, and "relaxing further restrictions on more outdoors activity".
The first minister said his government is "looking and learning from the experiences of other countries around the world".
Many places have reopened cafes outside only, he said, but others have reintroduced restrictions because of cases increasing again.
Mr Drakeford said he was keen for the economy to reopen in Wales, but public health must come first "as that is the best way for our economy".
Virus 'continues to be present'
The Welsh Government will continue to take a "cautious" approach, Mr Drakeford told journalists, lifting restrictions on a "gradual path".
But he said it will not mean a return to a "pre-pandemic normal".
More than 3,000 tests are being done every day, Mr Drakeford said - with capacity for 12,300 a day - but only 30 tests came out positive in the last 24 hours.
"While the virus has receded and fewer people are becoming ill, coronavirus has not gone away - it continues to be present in Wales and there is still a risk we will face a second wave of illness later in the year," he said.
"This is why we will continue to need to take precautions and measures to prevent the spread of the virus as restrictions are lifted."
He said since ministers started to lift lockdown restrictions seven weeks ago "the spread of the virus has continued to slow down, thanks to the actions everyone in Wales has taken".
Welsh Conservative Covid recovery spokesman Darren Millar said the longer lockdown continues, the more difficult it will be to protect jobs.
"It is time to reopen the Welsh economy," he said.
"As is the case in England, retailers and other businesses across Wales already have their plans in place to open safely while protecting their customers and staff, but the Welsh Government's dithering is holding them back and putting them at risk."
Plaid Cymru economy spokeswoman Helen Mary Jones said: "The safety and well-being of the public must come first, ahead of any further easing of restrictions. "However, the Welsh Government must provide guidance to Welsh businesses on how they can open up safely.
"That includes detailed sectoral guidance for specific sectors including the tourism and hospitality sectors that are facing untold economic damage due to this crisis. "Welsh businesses urgently need more clarity from government."
Wales' R number - which measures the rate of transmission - is a "sign of success" rather than an "inducement" to lift an "awful lot" of further measures, Mr Drakeford told the press conference.
The R rate in Wales is thought to be 0.7. The UK government has given the R rate in England as between 0.8 and 1.
When asked why the Welsh Government was lifting measures with more caution in Wales when the R rate is lower than England's, Mr Drakeford said: "It's the way we have done things in Wales that has resulted in the R figure."
During the press conference the first minister complained of limited contact with UK ministers.
Mark Drakeford said he had last spoken to the prime minister two weeks ago last Thursday.
He said he had had no discussion with any UK minister, with the exception of Welsh Secretary Simon Hart, since then.
There was still discussion between officials, but he added: "In terms of what I have wanted to see, that regular reliable rhythm of meetings with UK ministers, and the stop-start arrangements we've had, I'm afraid we've been in a stop part of that cycle for more than two weeks."
A spokesman for the Scottish First Minister Nicola Sturgeon said she also last spoke to the prime minister on 28 May, in the same joint call with Mr Drakeford.