A-levels: Wales' education minister 'truly sorry' for exam results handling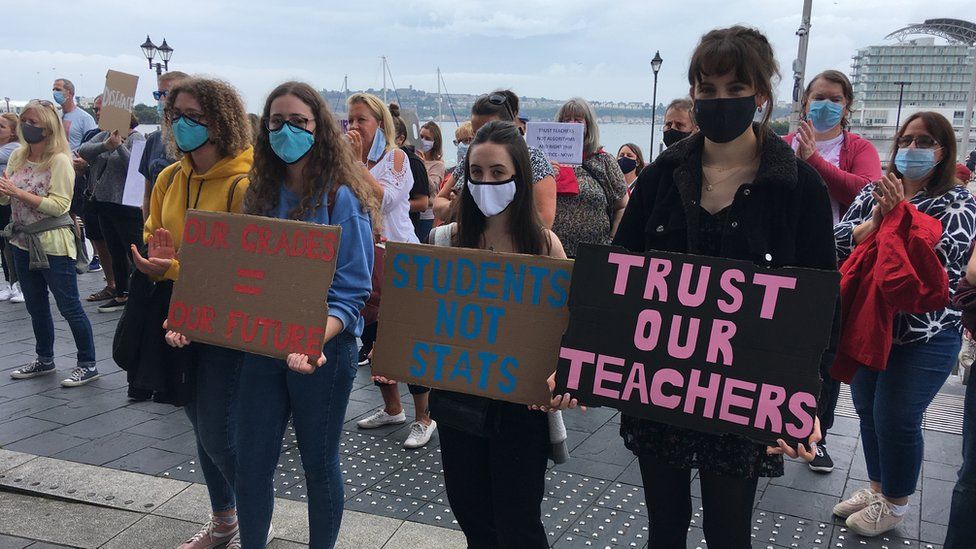 Welsh Education Minister Kirsty Williams has apologised "directly and unreservedly" for the way A-level results were handled last week.
On Monday ministers abandoned the system used to calculate the results, awarding assessments made by teachers instead.
Ms Williams said she was "truly sorry" for a process that made a stressful time "worse" for some students.
The minister made the apology in a social media video, and in evidence to a Senedd committee, a day after the U-turn.
"For our young people, and indeed everyone in Wales, the last few months have been and continue to be a stressful time," she said.
"It has been a time of anguish for people right across the country.
"I am sorry that, for some of our young people, the results process has made that worse."
"Recent months have thrown up unexpected, new and complex challenges," she said.
"Working with Qualifications Wales and the WJEC we looked for an approach which provided fairness and balanced out differences in the standards applied to judgments in schools.
"But, as I announced yesterday, and given decisions elsewhere, the balance of fairness now lies with awarding centre assessment grades to students."
The apology marks a change in tone from the First Minister Mark Drakeford, who said on Monday he was "sorry for those young people who've had to live through such an uncertain period", but defended the system that had been used.
Some of his comments after the U-turn were dubbed "pretty shocking" by Blaenau Gwent Labour AM Alun Davies, in a tweet.
Ms Williams' apology was the second that day from a Welsh Government minster, after Health Minister Vaughan Gething said he was sorry for any anxiety and stress caused.
UK government Education Minister Gavin Williamson has apologised for exam "distress" in England, where ministers have also moved to grades estimated by teachers. Similar decisions were taken in Scotland and Northern Ireland.
As well as A-levels, teacher assessed grades will be used for GCSEs, AS-levels, skills challenge certificates and the Welsh Baccalaureate.
Last week's results in Wales were produced by a system known as standardisation - designed to ensure grades were "as fair as possible" and consistent with previous years.
But it was criticised by students and politicians for producing unfair grades for individual students. GCSE results are to be published on Thursday.
Minister learned of results impact on 10 August
The Liberal Democrat education minister told the Senedd's education committee that she was not informed of the scale of the impact of using the algorithm to moderate A-level results until 10 August, three days before the results were due to be announced.
She said she had been told on that day that 42% of grades would be depressed.
"I was given those results on the 10th of August, and we were concerned," she said.
Ms Williams said the Welsh Government was "particularly concerned" about whether there might be a "disproportionate effect" on pupils receiving free school meals and had asked for more data.
She said the WJEC supplied that information to Qualifications Wales the following evening, and it was given to her the morning after that - Wednesday - the day before the results came out.
Lynne Neagle, chairwoman of the Senedd education select committee, thanked Ms Williams for her apology but said her colleagues "need to know what the Welsh Government is doing to make sure this does not happen again".
She added: "No one can predict if or when we may see another lockdown like this one, so we must learn from these experiences and avoid the confusing, confidence-sapping decisions we have seen over the last few weeks."
Later, in an interview with BBC Wales, Ms Williams insisted the new results would "absolutely" be credible, and "young people should not feel that they aren't".
But she said the original system had been robust "there or thereabouts", with 95% of students having received either a grade at the level their teacher predicted or within one grade of that.
Ms Williams' earlier comments followed calls for a "full and proper apology to the young people of Wales" from Plaid Cymru.
It also came after a long day of evidence at the Senedd committee from officials involved in the process, where the chief executive of the Welsh examinations board, the WJEC, defended the algorithm used for A-level results.
Ian Morgan said that system would have meant grades A* to E would have been up by 1% from last year and A* to A would have risen by 2.9%, with A* up 0.1% on 2019, with 1.7% of candidates reaching that level.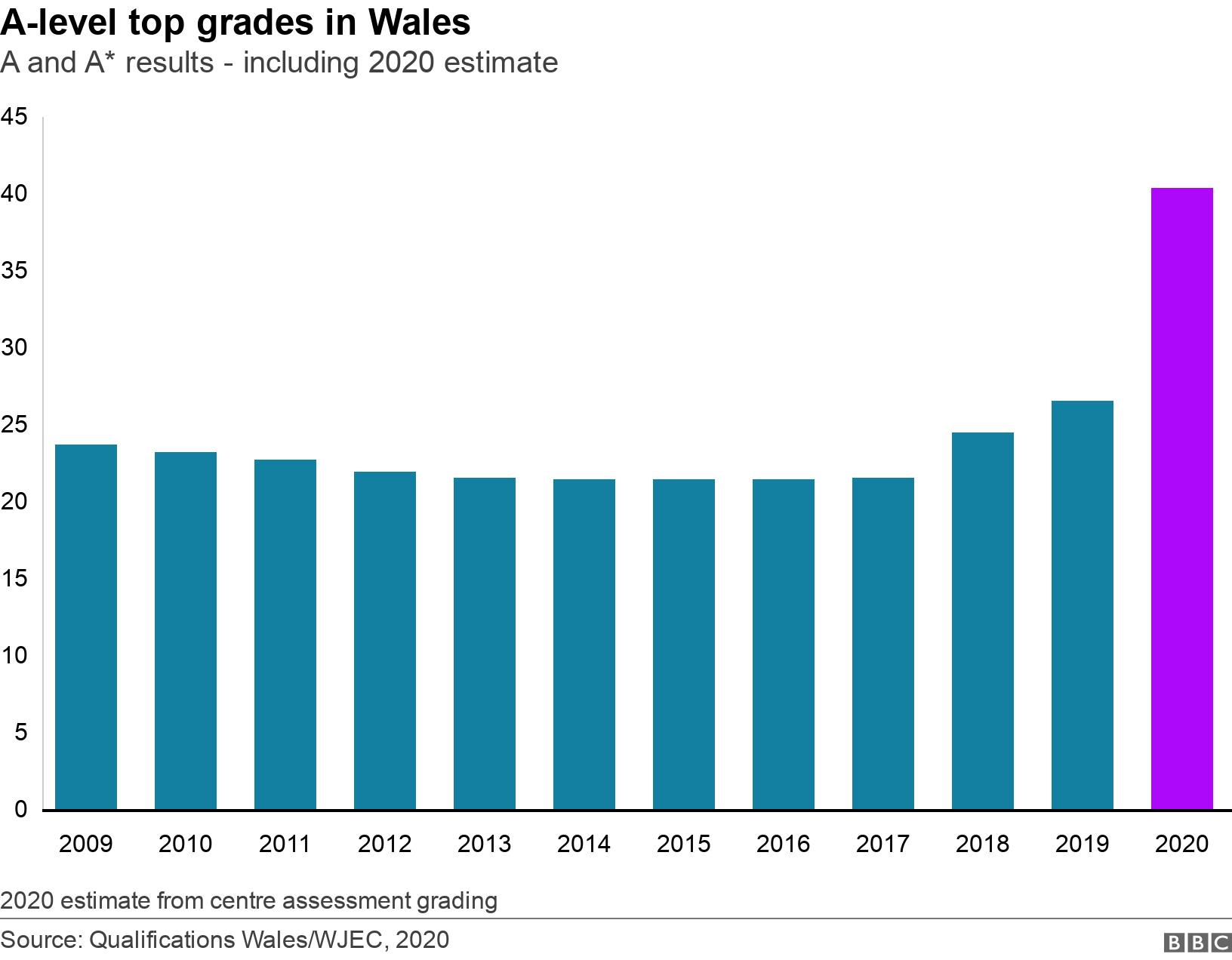 He said the decision to use teachers' estimates instead meant 99.9% of candidates achieving grades A* to E. There was now a 13.4% increase in candidates getting A* to A, meaning 40.4% reaching that standard.
Earlier on BBC Radio Wales Mr Morgan said that to "some extent" he was probably disappointed with the U-turn. "I think there's a huge amount of rigour that's gone into the standardisation process," he said.
"I'm not here to try and question the effort teachers have put in, these were a complex set of circumstances and teachers have worked diligently."
Mr Morgan acknowledged there were "imperfections" with some students not receiving the correct grades - but said these would have been weeded out during the appeals process.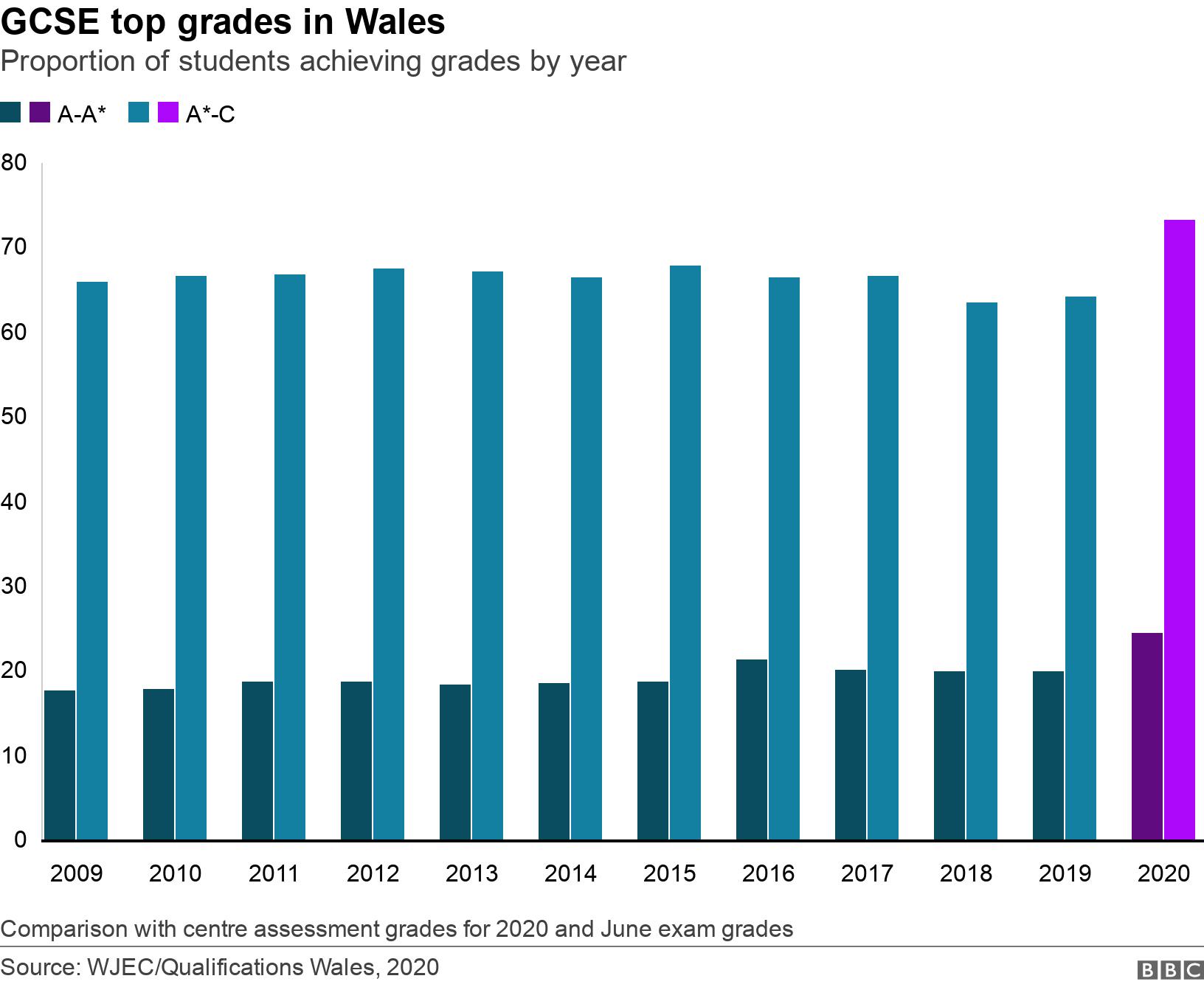 Jo Richards, regulation director of Qualifications Wales, acknowledged a delay to BTEC results. She said students students should expect their results by the end of Tuesday.
"We've had notification of that from Pearson and we are working with them and are asking for regular updates, they are working through that data," she said.
Meanwhile, teaching union NASUWT said "urgent lessons" need to be learned.
General Secretary Dr Patrick Roach said: "The problems that have been left to unfold over recent days have impacted not only on those young people who were receiving their awards this year, but also the confidence of the thousands of pupils who are now preparing for examinations next year."
Related Internet Links
The BBC is not responsible for the content of external sites.