Coronavirus: Rhondda Cynon Taf and Caerphilly death spike warning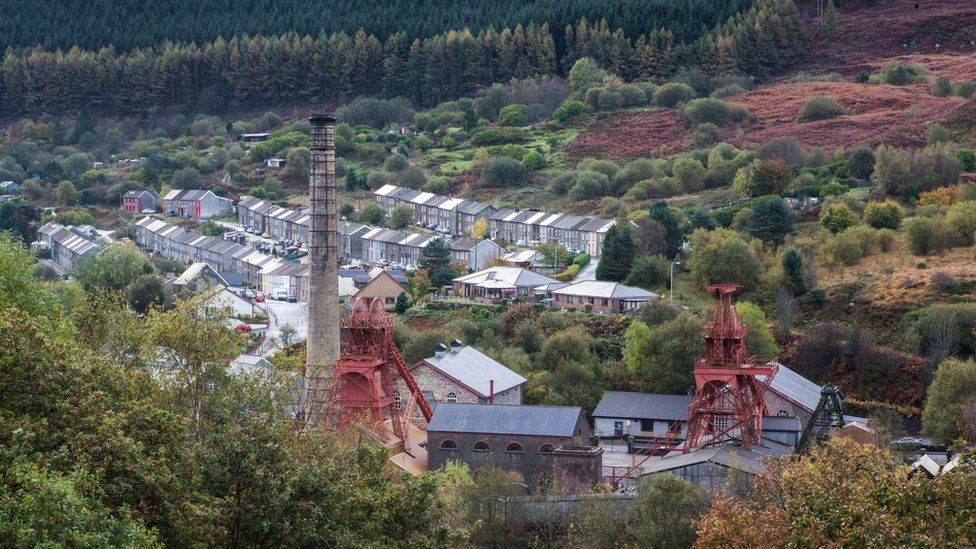 There is a "high risk" that a spike in covid cases will lead to more hospital admissions and deaths in locked down areas of Wales, it has been warned.
Dr Robin Howe, of Public Health Wales, said older people are being infected in Caerphilly and Rhondda Cynon Taf (RCT).
Strict rules came into force at 18:00 BST for RCT's 240,000 residents.
Under the lockdown, they will not be able to enter or leave the county without a reasonable excuse, such as travel for work or education.
People will be banned from meeting those outside their own households indoors and pubs, bars and restaurants will have to shut by 23:00.
Figures released on Thursday reveal more than half of all Covid-19 hospital admissions in Wales are in the Aneurin Bevan health board area, which covers Caerphilly and Newport, and Cwm Taf Morgannwg, which covers RCT.
"There is a high risk that with the level of cases in Caerphilly and RCT we will see increased hospital admissions," Dr Howe told BBC Radio Wales.
"And we are seeing older age groups now being infected and there is obviously a sad risk that we may be seeing deaths.
"We would expect that hospital admissions would be increasing around about now and we are perhaps starting to see that in Cwm Taf Morgannwg health board, and there may be deaths in the coming days."
On Thursday, residents could be seen forming a long queue outside a new mobile testing centre in Abercynon.
Frustration and confusion
Colin Edrop, who owns The Bear Inn, in Llantrisant, said of the local lockdown: "I'm not surprised, but it is frustrating because Llantrisant has been safe enough recently and other areas in RCT have made things worse.
"Shutting at 11 doesn't make a difference in my opinion, If people are going to get drunk they'll do it regardless.
"I would rather pubs be asked to close for two or three weeks so we can sort this all out."
Mr Edrop said he would be "happy to close if asked", but added: "We need to be making money, so I will remain open with strict safety measures.
"We're definitely not seeing groups of youngsters in our local area, certainly not seeing that - we have a much older crowd thankfully.
"But it is a nightmare to maintain social distancing, people have forgotten about social distancing."
Mum-of-two Victoria Vaughan, from Pontypridd, said she thought the move was "too little too late".
"I'm not surprised that a local lockdown is coming, as I think the guidance over the past few weeks has been too relaxed and people have been complacent," she said.
"The guidance is very unclear, there's confusion over what we can and can't do, but at the moment it's still not firm enough in my view."
Ms Vaughan said it made "no sense" she could not see family but could go to the pub.
"Pubs should close, that's where the problem is, the guidance needs to be black or white - at the moment it's grey," she said.
"I rely heavily on my mum for childcare, she lives in Cardiff. If we can't see her, that will have a detrimental impact on my ability to work from home."
Teleri Jones, who owns The Old Library Cafe in Porth, welcomed the announcement despite it being "bad news for business".
She said she had noticed a change in people's behaviour recently: "People have been worrying, especially those with health issues.
"They had been staying away, then gradually we saw them come back. But last week was much quieter, and with all the talk on the news I can see it being even quieter this week."
Rhondda MP Chris Bryant said some people not following Covid-19 guidelines had led to the spike.
He told BBC Radio Wales: "There must be some people who think they have got some kind of magic cloak of invisibility which means the virus won't touch them or anyone they know or love... and we've got some people who go into anarchy mode and decided they're going to do whatever they want to do.
"If the UK government doesn't get on top of this testing issue we will lose control of the virus… if we lose control then we lose control of the NHS... as we go into the winter that could be very dangerous."
Plaid Cymru councillor for Ystrad, Elyn Stephens, said there was an "overwhelming sense of frustration with the pubs remaining open".
Wales' Health Minister Vaughan Gething said there had been a "rapid" rise in cases in RCT, with 82.1 infections per 100,000 people over the past seven days.
The latest equivalent figure across Wales was 21.4 per 100,000.
Wednesday's rate of positive tests for the past week in RCT was 5.1% - the highest in Wales. Mr Gething previously warned a positive rate of 4% across Wales would trigger a national lockdown.
The Wales average is 2.4%.
Figures on Wednesday showed RCT's case rate had almost caught up with Caerphilly, which had 83.4 per 100,000 people over the past seven days.
The restrictions have been imposed despite people in RCT having been asked to take extra precautions last week.
A review of the lockdown will be held in two weeks.