Covid: Concern over transmission in Wales' pubs and restaurants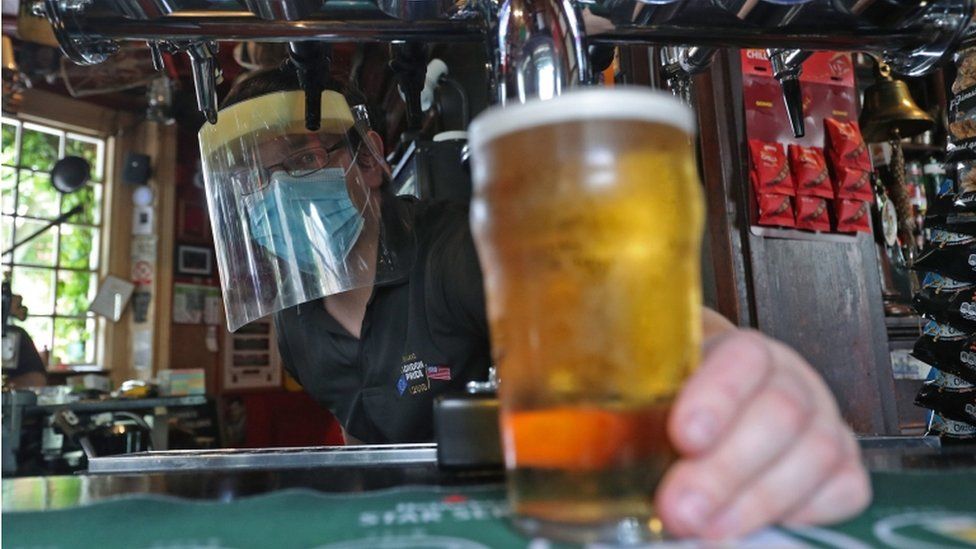 The transmission of coronavirus in pubs and restaurants is an "ongoing concern", Public Health Wales has said.
There has also been a 33-strong spike of cases linked to venues in the Garw Valley, in Bridgend.
Currently pubs, cafes and restaurants in Wales stop serving alcohol at 22:00.
Dr Shankar told BBC Radio Wales' Breakfast with Claire Summers: "At the moment there still is a concern about ongoing community transmission and not just pubs but all of the hospitality premises are high risk - where such interactions happen are a continuing concern."
He added: "It's a matter of risk assessment - we continue to introduce restrictions on the basis that they will themselves be making enough impact to get the cases down.
"As we monitor the progress, if there is evidence of insufficient progress and if there is evidence of additional cases coming from other locations then more needs to be done."
'Give us support to fill the gap'
William Hunter, owner of the Boar's Head Hotel in Carmarthen, said he did not think his business would be viable if there were any further changes to the rules.
"It's so worrying at the moment. We're more than 50% down - any more restrictions will push us that bit further which won't be viable," he said.
"I understand why they're doing this, but we're not having any support. Fine, close us for two weeks but please give us the support to fill in the gap.
"In Scotland, they're giving £2,000 for the two-week closure on average, but that's not going to touch the sides. If that's going to be the same in Wales, then there'll be a lot more closures, a lot more redundancies."
Cases linked to clubs in the Garw Valley
In the Garw Valley people with symptoms are being encouraged to immediately self-isolate and book a coronavirus test.
The advice follows the discovery that revellers with coronavirus visited the Wexa Club, in the village of Blaengarw, on 25 September and Blaengarw Workingmen's Club on 26 September during their infectious period.
According to PHW, a "small number" of positive coronavirus cases have been traced back to both establishments.
Bridgend council said a testing centre had opened in nearby Llangeinor on Thursday.
Its leader Huw David said: "Please don't visit multiple venues, and avoid pub crawls as this greatly increases the chance of spreading the virus."
On 13 July they were allowed to reopen to outdoor customers and were allowed to have customers indoors from 3 August.
On 24 September businesses were told they must stop serving alcohol at 22:00 every night following a rose in coronavirus cases.
Current measures in Wales' cafes, restaurants, pubs and bars include:
Table service only
All alcohol sales must stop by 22:00
All food and drink should be consumed at tables
Customers must wear a face covering other than when seated to eat or drink
Physical distancing measures will be applied, such as tables being spaced out
Customers are asked to give contact details for purposes of tracing people in the event of an outbreak being linked to the venue
No live music and TV broadcasts to be kept at low volume
Who can I go to cafes, restaurants, pubs or bars with?
People living in areas of Wales that are not subject to a local lockdown can eat or drink outdoors with anyone as long as the size of the group does not exceed 30 people and they maintain physical distancing from anyone outside their household or extended household.
Indoors, they can only eat or drink with people they live with or members of their extended household - up to six people not including any children aged under 11.
The rules are the same for those living in locked down parts of Wales but as extended households are not allowed in locked down areas they can only eat indoors with people they live with.