Royal Mint coin celebrates own millennium-long history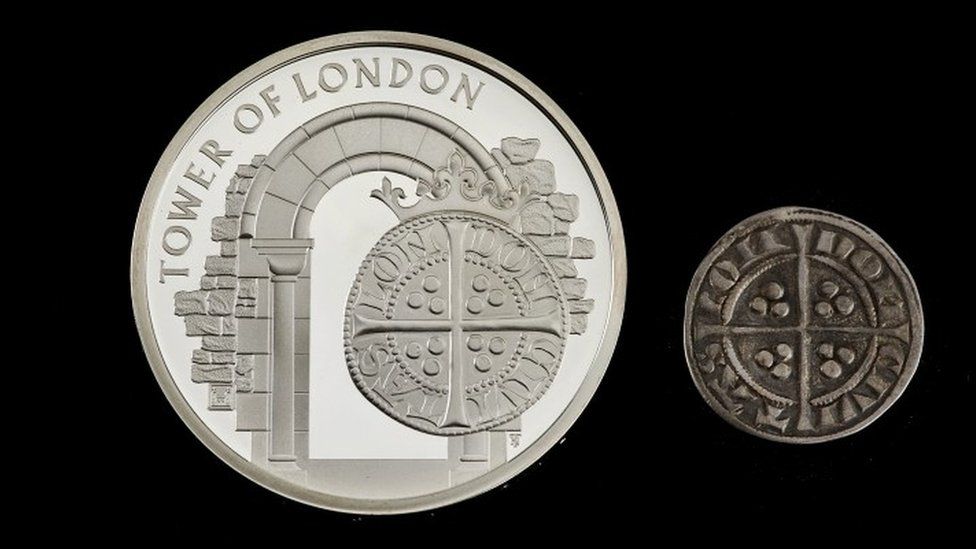 The Royal Mint is to create a coin to commemorate its 1,100-year history.
The £5 coin is the third in a series of four celebrating the Tower of London, where the Mint was housed for more than 500 years.
It moved to Llantrisant, south Wales, in 1968.
The coin features a replica penny from the time of Edward I, one of the first coins struck in the Tower of London after it opened there in 1279.
It also shows a Norman arched window from the White Tower on one side, with a Tower mint mark on the other.
The coin is being made in collaboration with Historic Royal Palaces, which runs the Tower of London and other heritage sites and was designed by heraldic artist Timothy Noad.
Clare Maclennan, divisional director of commemorative coins at the Royal Mint, said: "This is the first time that we've celebrated the story of UK coins on a coin, and it pays homage to centuries of designers, innovators and makers at the Royal Mint.
"Following on from our coins commemorating the White Tower and the Royal Menagerie, it feels fitting that the third coin in our Tower of London series honours the 500-year residency of the Royal Mint.
"During that time pioneers such as Sir Isaac Newton helped revolutionise the way we use gold and money, with techniques and innovations that are still used today.
"As the original maker of UK coins, we can trace our unique history back centuries, and although we call south Wales home today the Tower of London will always hold special significance as the place our story began."
Emma Saunders, head of brand licensing at Historic Royal Palaces, said it was fitting for the Royal Mint to commemorate its own past "as part of Tower life".
The costs of the coins range from £13 for an uncirculated version to £2,640 for a gold version.