Travel ban: Can I visit Wales from Covid hotspots?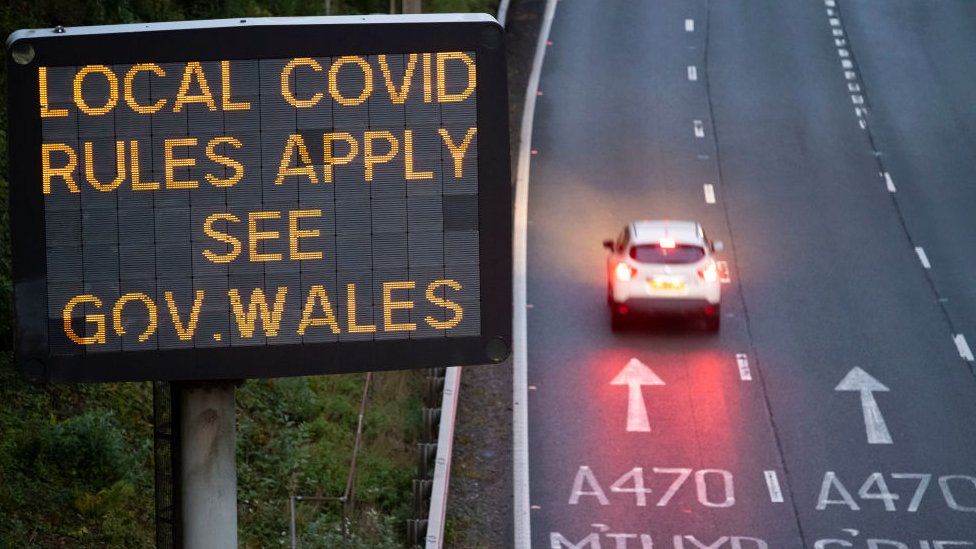 A ban on people travelling to Wales from coronavirus hotspots elsewhere in the UK has come into effect.
First Minister Mark Drakeford announced the rules on Wednesday after twice asking Boris Johnson to stop people from English hotspots from travelling.
Mr Johnson has since written back to Mr Drakeford and said the UK "must avoid imposing conflicting restrictions".
Welsh Secretary Simon Hart criticised the decision, saying it risks "stirring division and confusion, but the move has been backed by Scotland's First Minister Nicola Sturgeon.
The new rules, which came into force at 18:00 BST on Friday, mean anyone coming from places in the UK with extra restrictions is now banned from entering the country.
People living in parts of England and Scotland without extra restrictions can still travel to areas of Wales which are not under local lockdowns, including Powys, Pembrokeshire and Gwynedd (apart from Bangor).
Currently, 17 areas of Wales, including 15 of its 22 counties, as well as the city of Bangor and town of Llanelli, are currently under local lockdowns.
Movement in and out of these counties without a reasonable excuse was already banned.
Under the new rules, exceptions to the travel ban include:
Getting food, medical or essential supplies for those in the same household or vulnerable people - this includes for animals
To work or provide voluntary or charitable services if this cannot be done from outside the area
Elite athletes can train and compete
To provide or receive emergency assistance
To attend a wedding or civil partnership (as a guest or as part of the wedding party) or a funeral
To attend court
Children to play sport, music or for other recreational activities - or to continue existing contact arrangements between parents who do not live together
To avoid injury or illness or escape a risk of harm
Rules could be 'unenforceable'
Announcing the ban, Mr Drakeford said: "Evidence from public health professionals suggests coronavirus is moving from east to west across the UK and across Wales.
"As a general rule, it is concentrating in urban areas and then spreading to more sparsely populated areas as a result of people travelling."
Mr Drakeford said the law will be "essentially designed to prevent people going to those holiday parts of Wales, the far west and the far southwest of Wales, where the virus is still in very low circulation".
Speaking on behalf of the four Welsh police forces, North Wales Police said officers would be "proactive" in targeting those not sticking to rules on gatherings.
But the head of the Police Federation in Wales warned that the rules could be "unenforceable".
The Welsh Government said police will explain regulations to anyone caught breaking the rules before issuing a fixed penalty notice, but will issue a fine of £60, which will be halved if paid within 14 days.
Fines will then be doubled for each offence, up to a limit of £1,920.
Alun Michael, the police and crime commissioner for South Wales Police, said officers would ask the public to "use common sense".
"It obviously makes no sense for people who are in high infection areas to travel into Wales into lower infection areas," he told BBC Radio Wales Breakfast on Friday.
"It's very clear we've got a very challenging period coming up and obeying the rules is absolutely crucial. This is a public health emergency."
Mr Michael, who was the first Labour leader of the Welsh Government, added: "We really need the UK government to be giving out the same messages about not travelling that have come very clearly from the Welsh Government."
What did Boris Johnson say?
In his response letter to Mr Drakeford, Mr Johnson said he would ask Michael Gove, the Chancellor of the Duchy of Lancaster, to arrange an "urgent meeting" between the four UK nations.
He said: "We share the same ambitions, yet as you said in your letter to me it would be far better for all four parts of the UK to act in concert.
"We must avoid a situation where different areas within the UK impose conflicting restrictions on each other."
Mr Johnson also said in his letter that the UK government had decided not to impose legal restrictions on people travelling from hotspots as "effective enforcement would be extremely difficult and resource intensive".
Related Internet Links
The BBC is not responsible for the content of external sites.