Wales lockdown to start in bid to 'save lives not Christmas'
Wales' 17-day lockdown will start later, with the first minister saying the priority is about "saving lives not saving Christmas".
From 18:00 BST people are being told to stay at home, with all but essential businesses closed.
Economists have warned the lockdown may cost the economy more than £500m and the Conservatives have accused ministers of having "no exit plan".
But the Welsh Government said any delay would have caused greater harm.
Pubs, bars, restaurants and hotels, as well as all non-essential shops will have to close, with people being told only to travel for essential reasons, such as for medical treatment, to buy food and to exercise.
The nationwide "firebreak", which comes after local lockdowns in communities, aims to slow the rise in Covid cases and hospital admissions.
First Minister Mark Drakeford has reassured the public the "short, sharp" lockdown will end as planned on 9 November, with consistent Wales-wide measures coming afterwards.
But the Welsh Conservatives and Plaid Cymru have accused the Welsh Government of not having an "exit strategy" to end the spread of the virus and restart the economy.
At Friday's Welsh Government briefing, First Minister Mark Drakeford said the pandemic would not be over in the coming months but added there were "things that we can do... to make sure that Christmas of a coronavirus sort can still be celebrated here in Wales".
He added: "How that will mesh in with the difficulties that are being faced elsewhere in the United Kingdom is just impossible to predict."
The national lockdown brings an end to the local lockdowns imposed on 15 counties, as well as the city of Bangor and town of Llanelli in recent weeks.
People can be fined £60 for a first coronavirus restrictions offence, up to a maximum fixed penalty notice of £1,920.
Primary schools will reopen after next week's half-term break, but only Years 7 and 8 in secondary schools can return at that time under the new rules.
'Christmas season important'
Speaking on BBC Radio Wales Breakfast, Health Minister Vaughan Gething said there would be "greater" economic harm if the Welsh NHS becomes overwhelmed and there were "deeper and harder" measures for a longer period of time.
"If we do this now and if we then have a consistent set of national rules, to keep the transmission and the intensity of the virus at a lower level, then we can have a much more normal Christmas season for businesses," he said.
"The month of December is really important for many businesses, if we delayed, we would have almost certainly impacted upon that part of the season."
Dr Margaret Harris, World Health Organization spokeswoman, said people should start planning how to safely celebrate Christmas.
"It will be a new Christmas, but we can enjoy our time together," she said. "We just have to do it slightly apart."
But the Welsh Conservatives have accused the Welsh Government of having no plan for what will happen after the Wales-wide lockdown ends.
The party's leader in the Senedd Paul Davies said the Welsh Government should be looking at "hyper-local" lockdowns rather than imposing a "damaging" national lockdown.
"The first minister is taking us into a Wales-wide lockdown without publishing the full data to justify it, the details of what they are going to achieve during the lockdown and now we don't know what the situation is going to be at the end of it," he said.
"People are concerned that this second Wales-wide lockdown is just the start of rolling lockdowns over the coming."
Plaid Cymru leader Adam Price said the Welsh Government needed to publish plans on how systems to halt the spread of the virus - including track and trace - would be improved during the next two weeks.
"No-one wants to live in a perpetual state of coming in and out of lockdowns. For the sake of public health and our economy, this break has to be the start of a different approach," he said.
Why is Wales going into lockdown?
The UK's average is between 1.3 and 1.5.
Even though Wales has some of the lowest coronavirus infection rates in the UK, First Minister Mark Drakeford said that without this lockdown the Welsh NHS would not be able to cope.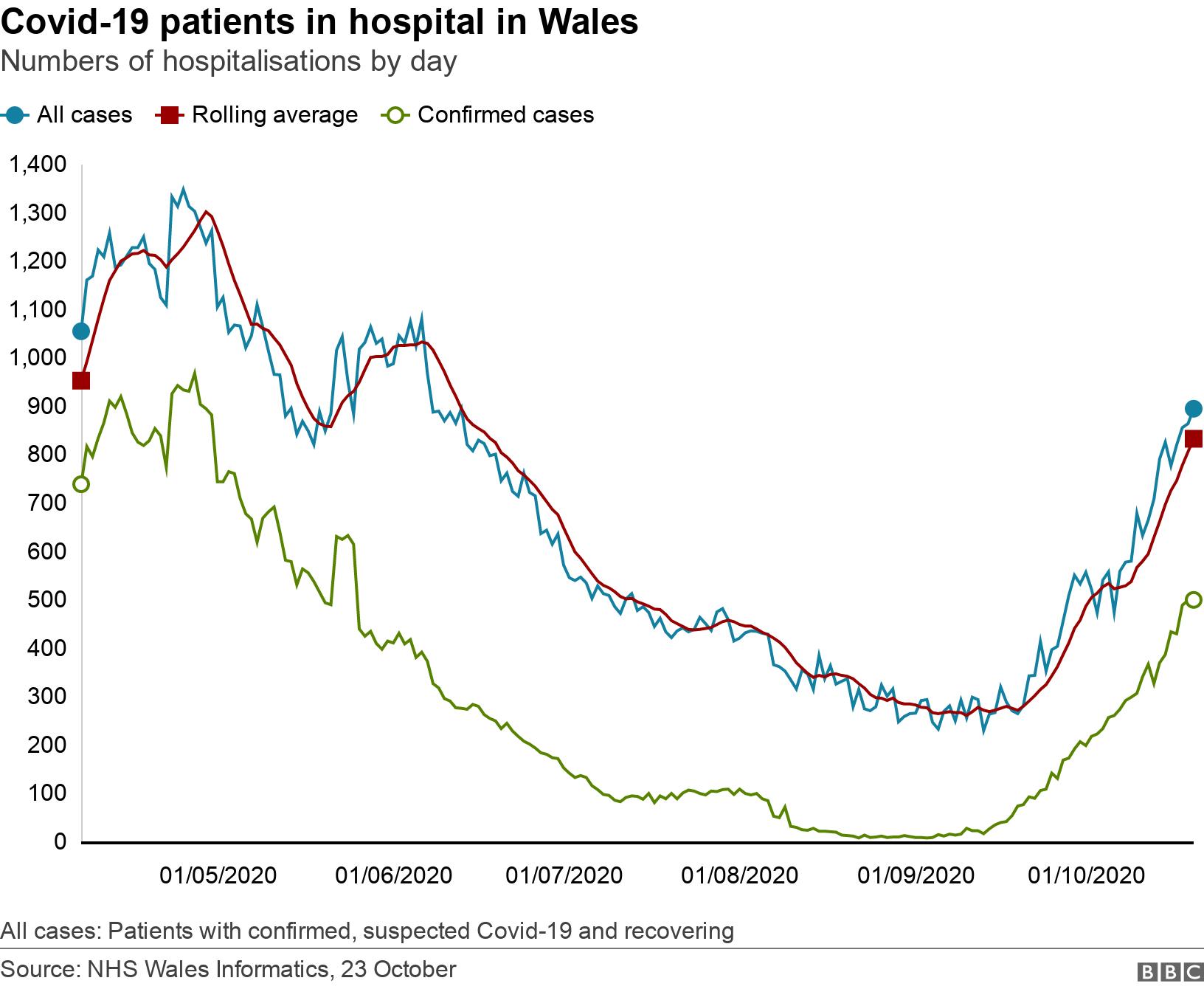 The number of patients in hospital in Wales with coronavirus is now the highest since June, according to NHS Wales figures out on Friday.
There were 894 people in Welsh hospitals with the virus, up 26% week-on-week, while 43 of them are in critical care, a rise of 72%.
This is about two-thirds of the number at the peak.
What shops will stay open in Wales?
Food shops, off-licences and pharmacies can stay open but supermarkets will be unable to sell items like clothes during Wales' temporary lockdown and only essential items.
Business leaders say companies in Wales have been given just hours to finalise plans for the firebreak.
Among those affected was the former winner of the BBC's The Apprentice, Alana Spencer, who was due to open a new cafe on the Aberystwyth sea front on Friday.
In a tearful social media post, she said she was "gutted" by the timing and later added it was a "devastating blow" to her new business.
"I took to social media and I had a small melt-down," she said.
However she told BBC Radio Wales she will now use the takeaway service during lockdown to trial new products.
"Luckily we have a hatch on the front so we can do takeaway, so we'll take it from there and open properly at the end of the lockdown," she said.
"It's a bitter pill to swallow, when we are in Ceredigion, we have lower numbers and we are being very sensible here, but ultimately people's lives are at risk."
How much can you be fined?
People can be issued a fixed penalty notice "for most types of breaches" and fined £60 for the first offence.
That fine is increased to £120 for a second offence and continues to double for repeated offences, up to a maximum of £1,920. If prosecuted, however, a court can impose an unlimited fine.
Residents of Caerphilly county were the first to go into a local lockdown on 8 September.
Key worker Lois Griffiths's son and daughter will continue to go to a childminder as she has to carry on working.
"I've got to carry on with my life," she said. "We can't just stick in the house and do nothing - we've got to earn money."
Her 10-year-old daughter Amy is disappointed because lockdown means she can't go to her dance class.
"I feel really sad because I've got 'Team' coming up and I don't want to stop doing that," she said.
Unique Creations has been "chock-a-block" as people want a pre-lockdown trim before the hair salon on Blackwood High Street closes on Friday evening.
"We're flat out," said stylist Ellen Watkins.
"I'm hoping it will be the same when we come back. There's a lot of worry. I'm looking to buy a house.
"Financially where am I going to be if the salon can't open back up? It's a really scary time for me."
How does lockdown impact business?
Furlough ends on 31 October but the new Job Support Scheme (JSS) starts on 1 November - and to be eligible for the remaining week of furlough, workers must have already been furloughed for at least three consecutive weeks.
On Friday, Finance Minister Rebecca Evans announced an extra £5m to help small firms retain workers not eligible for the remaining week of furlough, while another £5m will be added to the Discretionary Assistance Fund for people waiting for benefits or facing hardship while still working.
The Welsh Government had asked for the JSS to be brought forward, or furlough restrictions eased, for the length of the lockdown, and offered to pay the cost for the difference between furlough and the JSS, estimated at £11m.
However the UK government said ministers in Cardiff knew "full well" it was not possible for the Treasury, adding the timing of Wales' lockdown was "very, very unfair" on people "caught by the time gap".
The Treasury said the UK government had provided billions in support to Wales.
The National Institute Of Economic and Social Research says that up-front cost "must be set against potential economic benefits" after lockdown if it is successful in reducing the spread of the virus and restoring economic confidence.
More than 100,000 people in Wales work in the accommodation and food industries while nearly 200,000 work in the wholesale and retail trades and car repairs.
Estate agents have to close and house viewings and valuations have to stop, a blow for the Haus agency which is to open its new Cardiff branch on Friday - only to close for two weeks in the evening.
"It's been such a challenging time," said director Chris Birch.
"Everything involved in running a business, let alone moving in a global pandemic, has taken so much longer and the admin and red tape is another level."
Will a Wales-wide lockdown work?
Public health officials and politicians have warned they will not know the full impact of the firebreak lockdown until after it ends on 9 November.
Giri Shankar, from Public Health Wales, said there was "always a lag phase of about two to three weeks" before any visible change of that intervention can be measured and detected".
But the first minister has said the lockdown end date is fixed as to avoid further harm to the economy.
Wales, though, has been warned of the possibility of another lockdown early in the new year if Covid-19 starts spreading quickly again at Christmas.
Find out how the pandemic has affected your area and how it compares with the national average:
Related Internet Links
The BBC is not responsible for the content of external sites.