Covid-19: Carers 'worn out' by virus and need services back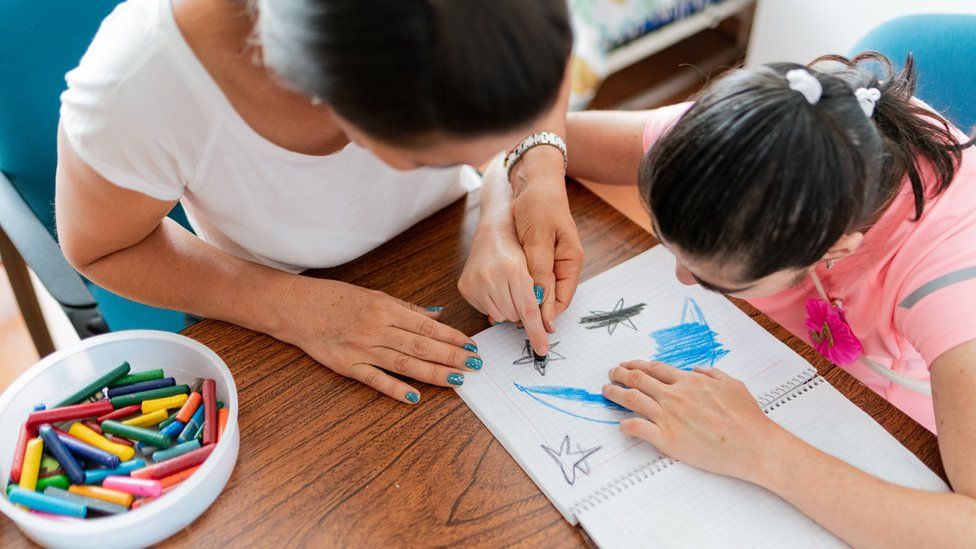 Unpaid carers in Wales are "worn out" and need support services lost during the coronavirus pandemic to return, a charity has said.
It comes as research suggests some are reporting 10 times the rate of mental health problems of other parents.
One mother told BBC Wales she sometimes felt like "heading for the hills".
The legal right for carers' needs to be assessed was suspended as part of Covid rules - and the Welsh Government is consulting on whether it should resume.
"The pandemic has placed enormous pressure on carers in Wales, who are caring round the clock for loved ones with little or no outside support," said Claire Morgan, director of Carers Wales.
"Carers are desperately worried about how they will manage over the winter and in the face of further lockdowns and tightening of restrictions."
The charity has spoken to nearly 600 carers in Wales and more than a third said they are providing more care because needs have increased since March.
A similar number said their local services had been significantly reduced or closed because of Covid-19.
"The Welsh Government must ensure that services for carers and those they care for are reinstated as soon as possible," Ms Morgan said.
"The charity wants to see the vital role of unpaid carers in supporting the health and social care system clearly recognised in the rebuilding, and delivery, of health and social care going forward."
'Caring during the pandemic has been hard on us'
Sixty-year-old Jean knows the social services system well - she was a social worker herself for 40 years before retiring to look after her daughter Branwen in the Swansea Valley.
Branwen is now 25 and has global developmental delay.
This means she has a moderate intellectual disability and has needed life-long care and support.
"It's been extremely difficult, for Branwen in particular," said her mother.
"She's very frightened, because she sits and listens to the news with me, and even this week she has been crying at the reports of the deaths from Covid."
Jean said her daughter was "a very active young lady" before the first lockdown in March and spent most of the week at activity centres and on a job placement.
"Of course they all stopped," she said. "From the perspective of a young person with a learning disability, it is very, very frightening.
"It is very socially isolating. Most of the people Branwen socialises with are other young people with learning disabilities."
But it is not just Branwen's life that has felt the impact of the pandemic - the ripples have reached Jean and her husband, as they pick up more and more of the caring duties.
"Sometimes, I have to tell you, I feel like heading for the hills," said Jean.
"It has been hard on us - it has been very difficult at times.
"It certainly has had an impact on our own mental health as well, really - there's no doubt about that."
(The names of Jean and Branwen have been changed at their request)
The calls from the charity are backed by new research which examined the plight of carers looking after individuals with intellectual disabilities.
Psychologists found reported rates of mental health problems under lockdown were up to 10 times higher than parents without those caring responsibilities.
The team was led by Swansea University's Prof Paul Willner, working with researchers from Warwick, Kent and Birmingham universities and the Challenging Behaviour Foundation.
They also found the carers they spoke to were five times more likely to report severe anxiety, and also to be four to 10 times more likely to experience depression.
The teams analysed the results of 244 surveys with carers undertaken during the strict first Covid-19 lockdown.
It also found nine out of 10 of those taking part were women.
Prof Willner said the study suggested carers of children and adults with intellectual disabilities were "adversely affected" by the pandemic.
"This effect is over and above any pre-existing mental health problems," he added.
"They are also affected to a greater extent than parents of people without disabilities but are less well supported.
"Our findings are one illustration of how the pandemic has amplified existing inequalities."
Before the pandemic anyone requiring care, and carers themselves, had the legal right to have their needs assessed by local authorities.
Those rights were suspended when the first lockdown was imposed in Wales.
The consultation asks whether that measure continues, or is suspended. It closes on Monday.
Welsh Government ministers had said at the time they still expected councils to carry out assessments.
However, the Wales Carers Alliance wrote to officials over the summer stating those assessments "ceased" over the lockdown.
"Many carers are anxious that support will not be reinstated following coronavirus restrictions being lifted," warned the alliance, which represents 16 disability, health and care bodies in Wales.
The Welsh Government said it has awarded £2.6m to care organisations in Wales over the next three years in projects to help carers know their rights and improve services.
They also said £50,000 was given to Carers Wales to extend their mental health support.
A Welsh Government official added: "We recognise the remarkable work that carers have been carrying out in very difficult circumstances during this pandemic.
"We have provided more than £2.5m funding to support carers and an extra £8.5m for mental health services during the pandemic."
Related Internet Links
The BBC is not responsible for the content of external sites.