Covid: How small businesses adapt to survive pandemic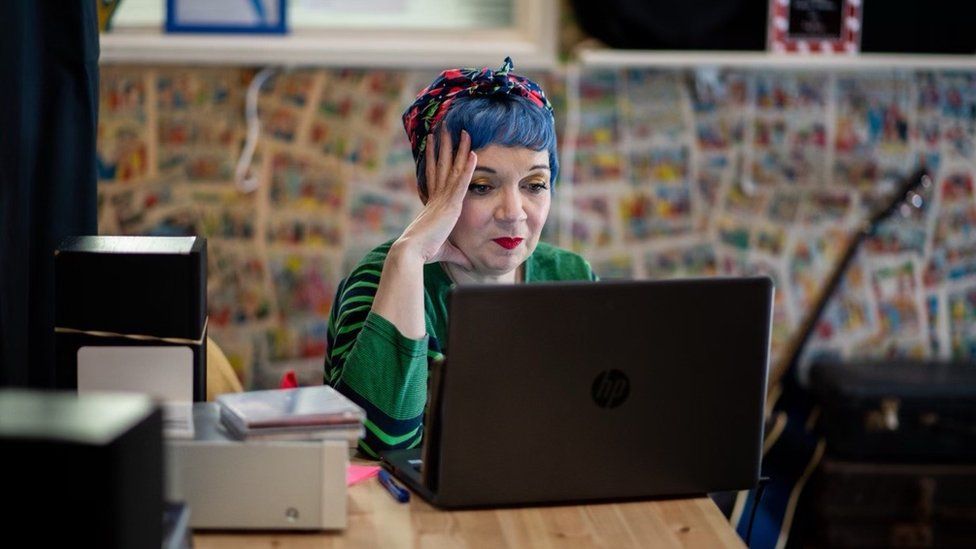 The coronavirus pandemic has left businesses across Wales facing a stark choice - adapt or pull down the shutters, possibly for good.
From Tik Tok to Love Island, to believing "it's not all about money" - 2020 has been a year of huge change for small, independent businesses.
Shelley Barrett runs The Talent Shack, a stage school in Penarth, Vale of Glamorgan, which won funding from the National Lottery in February to help finish installing a 74-seat "mini-theatre".
"Our first show was Legally Blonde and it was emotional and wonderful - I had finally got my product after 10 years running the school," she said.
"Then came lockdown. It was heartbreaking. I sat down late one night, all on my own in the theatre space, and thought 'OK, this has got to change because everything else is going to change'."
Ms Barrett decided she would have to "pack away" the theatre, at least until things returned to some semblance of normality.
But her passion for teaching could not be wrapped up so she turned to Tik Tok, the social media app where people share short videos.
"I have built up a following and it has expanded my reach," she said.
"My audience has grown and I am now teaching kids in Sheffield via video calls.
"Amazingly, I am also in contact with producers in Hollywood and Broadway, who have seen my work and want to pick up tips or pass on advice."
Although she has been allowed to restart small classes under strict rules, she will continue with the digital lessons as well.
One of the hardest-hit sectors during the pandemic has been weddings, so you could forgive businesses for wanting to scale back and wait for better times.
Despite seeing so many ceremonies cancelled, Jodie Tanner, owner of The Queen B wedding boutique in Barry and Penarth, decided to expand.
"In June I was offered the double unit next door to my current one in Penarth, and I thought that I would rather regret taking it on than not having taken it at all," she explained.
"It was a gamble and a bit of a crazy woman moment."
Ms Tanner saw an appetite among many to make this Christmas "really special" after such a difficult year and opened a festive boutique shop with interior designer Alex Mules, who recently decorated the house of Love Island star Olivia Bowen.
"I have taken the view that I will survive this," she said.
"I will come out the other side and I genuinely believe that the public wants to support independent retailers."
Clare Pugh is the woman behind Clare's Craft Centre in Pembroke Dock.
Specialising in needlepoint, embroidery, tapestry, patchwork and quilting, Ms Pugh said the shop had always come second to the studio - until the pandemic.
Unable to restart classes because of social distancing rules, she was able to reopen the shop in July.
"Like a lot of businesses, I spent the summer moving the shop online to make sure we had a future," she said.
"But this has never really been about the money to me. I have always seen the therapeutic side of bringing people together over a shared passion."
Ms Pugh is learning how to film and edit video after deciding to make a series of online tutorials.
"I was a bit worried that once I had put it [video content] up, I simply would not be needed anymore," she said,
"But the opposite seems to be the case - people start to see you as a friend - they really engage and if they like what they see then they will simply want more.
"I am a little daunted, it has been a really sharp learning curve, but I am more than willing to learn these new skills and engage."