Farming: 'Radical' changes set out in post-Brexit plan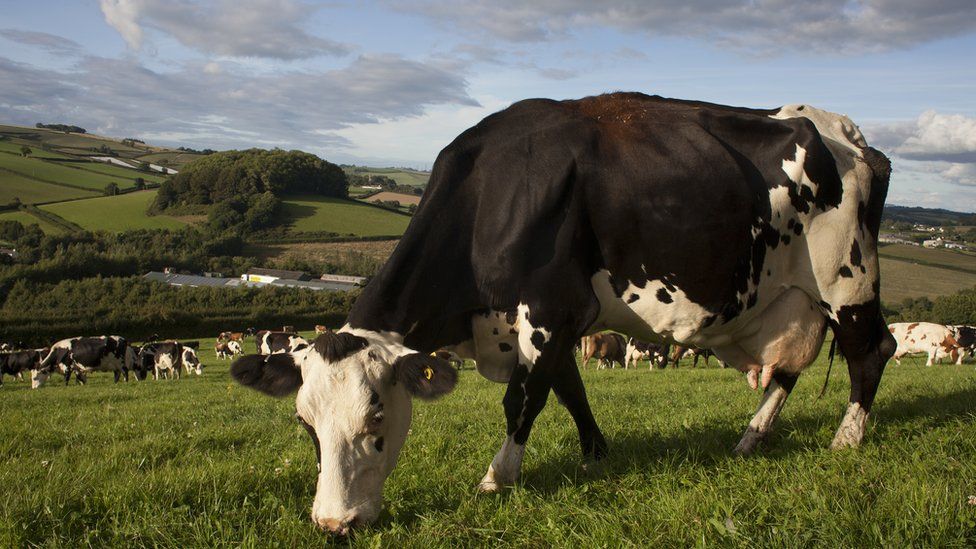 A "radical" new approach to agriculture in Wales has been set out by the Welsh Government as it plans to pay farmers to help fight climate change.
It will be the biggest shake up of farming policy in Wales in a generation as subsidies based on how much land a farmer owns will be phased out.
Farming unions say they need more details and it is important the changes are not rushed through.
The government said it would help the sector be "more competitive".
Wales' Environment Minister Lesley Griffiths said the current payments farms receive under the EU's Common Agricultural Policy (CAP) had not adequately supported efforts to protect and enhance the Welsh countryside.
The Welsh Conservatives accused the Welsh Government of leaving the work to the "last minute" and said there was a "lack of substantive detail".
Plaid Cymru has warned that without a form of stability payment or subsidy, "farms are being asked to jump off a cliff without a safety net".
A new Sustainable Farming Scheme will place a "proper value on environmental outcomes" - including improved soils, clean air and water, enhanced biodiversity and reduced greenhouse gas emissions.
In the new proposals, there will also be support for creating and maintaining woodland, and better management of animal health and welfare.
"We know the climate emergency isn't something that's coming down the track, we are living in it," Ms Griffiths said.
"We need our farmers to be part of mitigating climate change and they are not being rewarded for that in the way they should be at the moment."
For many farmers the changes will mean huge upheaval, while concern has also been expressed about the loss of direct payments - handed out on the basis of how much land is farmed - given the Scottish Government intends to keep them in some form.
For most farmers in Wales, CAP direct payments make up the majority of their income.
Farmers look after 80% of Wales' land area - about 1.84 million hectares - so the proposals matter hugely for both nature and the rural economy.
Ms Griffiths said she wanted farmers to see the changes as "an opportunity rather than an approach that restricts their "freedom to farm".
Polly Davies, who runs an organic livestock and arable farm near St Brides Major on the Vale of Glamorgan coast, supports the changes and says paying farmers in this way is a "much more sensible approach".
Having applied for funding from existing agri-environment schemes, the family has fenced off the stream that runs across their land to prevent pollution and created new habitats for small mammals such as voles and field mice - "the perfect diet" for a breeding pair of endangered barn owls that also live nearby.
"It's an amazing thing to produce food and look after nature at the same time," she said.
"We've got major problems across the whole of Wales in terms of massive reductions in numbers of insects, small mammals and birds and we need to reverse that."
She suggested the government was "taking a leap" with this new approach to payments and that farmers needed to "grab it and give it a go".
The government's white paper paves the way for a new Welsh Agriculture Bill - the first big piece of farming legislation in the history of the Welsh Parliament.
It says the new approach will lead to "visible changes at a landscape scale" - including increased woodland cover and habitats for wildlife, as well as different types of farming - including more arable and horticultural production.
Farms will have shorter supply chains, more emphasis on buying and selling locally, and will significantly reduce their carbon footprint as well as contributing to public health through ensuring better air and water quality.
But there's no time to pass it before the Senedd elections in May so what happens next will be up to the next government.
With exact details of how the new payments will be calculated and delivered still being developed, Ms Griffiths said her hope would be to phase them in from 2024.
The government's white paper also includes proposals to develop a set of national minimum standards for agriculture as well as a new enforcement regime.
Welsh Conservative rural affairs spokeswoman Janet Finch-Saunders said she was "astounded in the lack of substantive detail".
"Whilst I am pleased that the Welsh Labour-led government have finally seen that Brexit is a real opportunity to bring tangible benefits to Welsh Farmers, allowing us to develop a system of agricultural support which is specially tailored for Wales, I do have to question why this work was left to the very last minute", she added.
She called for urgent clarity on how the new payments would be delivered.
Plaid Cymru said although the party was "not necessarily wedded to the current basic payment model", they were concerned "farms are being asked to jump off a cliff without a safety net".
"Retaining at least an element of basic income should be part of these proposals," said Plaid's rural affairs spokesman Llyr Gruffydd.
"We still have no idea what our trading relationship will be with our biggest export market post-Brexit."
Aled Jones, NFU Cymru deputy president, called for more detail on the plans and urged the government not to "rush ahead" with changes.
Glyn Roberts, president of the Farmers' Union of Wales said the document contained "too many aspirations" and not enough detail.