Covid lockdowns prompt fears over child obesity rise
By Brendon Williams
BBC News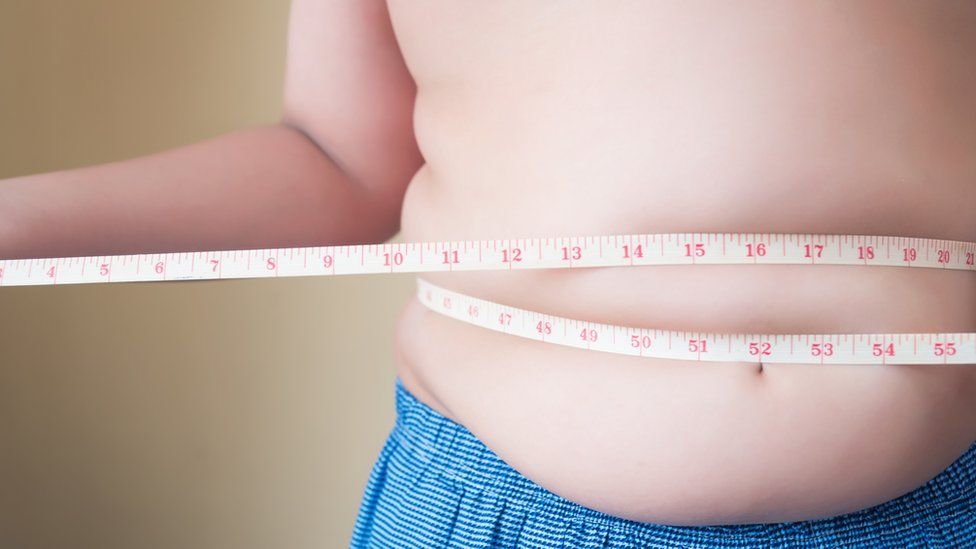 The health board with the worst child obesity rates in Wales is setting up a unit to tackle the issue.
The Welsh average is 26.4%, but doctors fear this could worsen in the pandemic.
Betsi Cadwaladr University Health Board is recruiting a dietetic lead for a new children's healthy weight management service.
The service is not being launched directly because of the pandemic, but there are fears lockdowns and school closures could compound the problem.
Why is childhood obesity increasing?
Dr Naomi Simmons, consultant paediatrician at Ysbyty Glan Clwyd in Bodelwyddan, Denbighshire, said: "I do fear that the pandemic will contribute to an exacerbation of what's already a really, really significant problem.
"Whilst we're pleased that children are not suffering the acute effects of Covid in the same way as older patients are, on the whole, it's the long-term effects of the country being in this pandemic that we're worried about in terms of the long-term health of these children.
"It's that lack of routine, it's being out of school, and not being able to access their usual forms of physical activity."
Daniel, from Denbighshire - not his real name - is the father of a six-year-old girl who was referred to Dr Simmons's clinic when a GP became concerned about her weight two years ago. She is still under the care of the clinic.
He said: "We presumed we were feeding her correctly. She was getting fruit, veg, home-cooked meals. But I think our issue was, we kind of let her have treats, like chocolates and sweets.
"To be told the news [that she was obese], it was horrible. We were very upset. We were kind of angry about it - we didn't see a problem in her, we didn't believe she was overweight or obese. We were both asking what we had done wrong as parents - we gave her fruit, vegetables, home-cooked meals... we were asking ourselves, 'how have we failed as parents?'"
With support from Dr Simmons, his daughter made "great progress" and lost weight, he said. Previous signs of health issues such as liver problems had improved. Then the pandemic struck and the country went into its first lockdown, followed by the firebreak, then the current lockdown.
Despite making efforts to keep active and eat healthily, Daniel has seen the gradual effects on his daughter, both physically and mentally.
"It had a bad effect on her, and not just the weight - mental health-wise it's also affected her. She's six years old and is worried about being around other people in the street," he said.
"In years to come, Covid will be gone, we'll have control of it. But obesity, that's the issue that's going to be prolonged.
"The long-term mental health impact really scares me - not just for my daughter, but for so many other children."
How does obesity affect children's health?
Dr Simmons said increasing rates of childhood obesity in recent years meant experts were treating more children with conditions normally associated with adults.
"Even children as young as primary school age, I'm seeing those children with fatty liver changes for example, as a result of their obesity. We're seeing them with high blood pressure and we're seeing children and young people developing type 2 diabetes and many more with pre-diabetic states because of their obesity."
She revealed her youngest patient was only a year old and encouraged families to get their children "used to being fit and healthy and consuming a healthy diet".
"It's lack of exercise, it's the sedentary lifestyle that we as a nation are sadly embracing these days," she added.
How to reduce child obesity
If children remain overweight and remain obese into adolescence, they have an 80% chance of being obese into adulthood, said Dr Simmons.
She said she hoped the new service would give "the very best chance of turning things around".
Steven Grayston, Betsi Cadwaladr health board's assistant area director of therapy services, said the health board had been working for the past five years to develop its obesity services.
"This is a specialist weight management service for children who are already obese," he said.
"We want to stop them becoming obese, therefore we want to develop preventative services as well as treatment services.
"We're very concerned about the impact of Covid and the pandemic on children's activity levels, certainly in terms of team-based sports and access to leisure facilities - particularly things like swimming, which we know children enjoy.
"We're concerned that children just aren't getting out of the house and doing things, and the impact that'll have and the knock-on effect on obesity levels in the future, as children are just less active and less interested in doing those activities."
The Welsh Government said: "We will shortly be publishing a revised delivery plan for Healthy Weight: Healthy Wales for 2021-22, which will focus on the impact of the coronavirus pandemic on children and families."
Related Internet Links
The BBC is not responsible for the content of external sites.