Covid: Networks 'should give data to Wales' schoolchildren'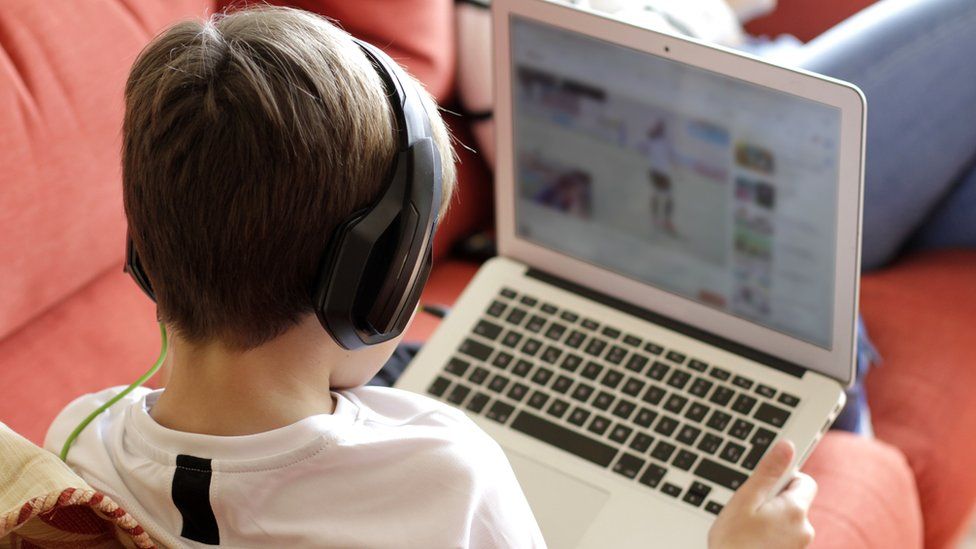 There are calls for mobile networks to extend an offer of free data to schoolchildren in England to Wales as well.
No similar deal exists in Wales and Scotland, where education is devolved.
Firms said they would be happy to discuss further support for children elsewhere in the UK and the Welsh Government said it was in talks.
Sky Mobile, Tesco Mobile and Vodafone are also taking part in the scheme in England.
Wales' children's commissioner, Sally Holland, said firms should make offers "to children and families in every nation".
The Welsh Government said it was in discussions with networks, which are paying the bill for the service in England for disadvantaged children who are studying online.
The Welsh Government said it had been looking at the pilot in England to see if it could complement its own scheme.
It said its own scheme to fund mi-fi devices - which create a local wi-fi signal - and laptops for pupils had been helping disadvantaged families since April.
"There's a clear need out there and I don't really care which side needs to jump first," Prof Holland said.
"These tech companies have got customers in Wales, Scotland, Northern Ireland as well as England.
"I think they should be proactively making the same kind of offers to children and families in every nation.
"If that takes a conversation with the Welsh Government, then I'd encourage the Welsh Government to do that."
What are the mobile networks offering children in England?
BT mobile and EE are offering unlimited data for the rest of the academic year to qualifying customers
Three is giving unlimited data to "disadvantaged children"
Virgin Mobile has an extra 20GB of data a month for qualifying families
She said it should have been "obvious" to companies children would need their help "wherever they are."
"There are lots of paying customers paying a lot of money to those companies in Wales, and I'd really like to see them extending that offer," she said.
The Welsh Government's scheme has seen more than 10,000 mi-fi devices on EE, BT and Vodafone bought for students, as well as the distribution of 106,000 laptops and other devices.
It said 35,000 more would be delivered in "coming weeks."
A spokesman said: "The Education Policy Institute said Wales had led the way in delivering this service when it published a recent independent review comparing how the governments of each of the UK nations supported pupils' education throughout the coronavirus pandemic."
Tory education spokeswoman Suzy Davies said the digital divide could have "a detrimental effect" on young learners.
"It's critical that the Welsh Government looks to negotiate with the big mobile network companies to provide disadvantaged children and their families with the internet access they desperately need," she said.
Plaid Cymru's education spokeswoman Sian Gwenllian added: "Many families are struggling to pay for wi-fi and data bills, meaning access to routers and devices is not enough - the Welsh Government should guarantee access to wi-fi and data for all struggling families."
Swansea University's professor of digital education and policy, Tom Crick, said getting technology into the hands of young people who needed it most was "to be applauded".
Prof Crick said he would back a move for mobile networks to roll out the same offer in Wales.
"To be honest, I am quite surprised that this hasn't been done unilaterally across the whole of the UK," he said.
"We know education is devolved, along with a range of other responsibilities, but actually this is a challenge that will be facing families and young people across the whole of the country.
"It would be easier at the telecoms operator level just to just to roll this out to everyone."