Brithdir Nursing Home inquest: Nurse 'struggled to cope'
By Nelli Bird
BBC News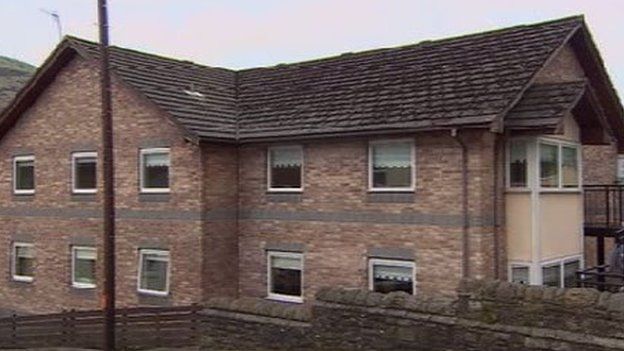 A nurse at a care home where it is alleged residents died from neglect has said patients suffered because she "struggled to cope".
An inquest is being held into the deaths of seven residents at the former Brithdir Nursing Home in New Tredegar, between 2003 and 2005.
Daphne Richards, who worked at the Caerphilly home, said she was sorry.
On Wednesday the inquest heard how Stanley James, an 89-year-old former steelworker from Cardiff first went to Brithdir in 1995.
His notes suggested he had multiple pressure sores to his buttocks, thighs and foot between 2002 and his death in 2003, but the inquest heard record keeping at the home was patchy. 
Care plans showed he needed to use a special pressure sore relief mattress and be turned regularly, but it was not clear how often this was implemented.
Mr James died from bronchopneumonia, caused by old age and contributed to by dementia.
A report by Professor Malcolm Hodkinson, read out at the inquest said it was "likely" the sores "made a minor contribution to his death by their effects on his frailty".
Speaking at the inquest Ms Richards described how she started work at the home in February 2003 and sometimes felt "overwhelmed" with work.
Ms Richards, who worked as a registered nurse for more than 35 years, said she could not remember Mr James, but said she accepted a role in his care.
Asked by Assistant Coroner for Gwent, Geraint Williams: "Do you accept that, given it was your responsibility that pressure relief care was given, because you didn't do that, that pressure sores then developed, you are in part responsible for that contribution to his death?"
"Yes, I know," Ms Richards said.
She explained that she started off as one of three registered nurses, but by 2004 staffing had become difficult and she was told to manage the home.
"I had no interview for that job, I had no managing experience," she said.
"It entailed a lot of work that was not caring, it took me away from caring, and I sank into the depths of struggling with forms, it clouded my judgement.
"I didn't realise the state of mind I was in at the time. When I explained to the boss, Mr Black, will you find someone to do the job, he couldn't do anything. I just had to plod on. 
"I am really, really sorry that things turned out that was, and that the residents suffered because of my continual struggle to cope."
A criminal case against Paul Black, chief executive of Puretruce, which owned the home, and company director Dr Prana Das, collapsed in 2013.
Ms Richard said she was not really involved with Dr Das, who sustained a brain injury at his home in 2012 and was declared unfit to stand trial, saying he "came to the home occasionally".
Asked by the coroner if she mentioned problems of workload to Dr Das, she replied: "I didn't because he was not there but I told Mr Black and they communicated a lot."
Mr Black is expected to be called as a witness during the inquest.
The inquest also heard that there was practice for staff members to write up nursing notes when they might not have seen the resident that day.
Ms Richards said she was "aware" of the practice, "but was not part of it".
Asked why she did not quit when the workload became too much, Ms Richards said: "I thought of resigning and walking away but I felt that someone needed to be there.
"Maybe it would have been better if I'd resigned and walked away. I was the only qualified nurse left there. I regularly worked on my own."
The inquest, expected to last until mid-March, will also hear evidence into the deaths of other residents at the home, June Hamer, 71, Stanley Bradford, 76, Edith Evans, 85, Evelyn Jones, 87, Matthew Higgins, 86, and William Hickman, 71.