Lockdown: Pilot fined after landing at RAF Valley 'to see beach'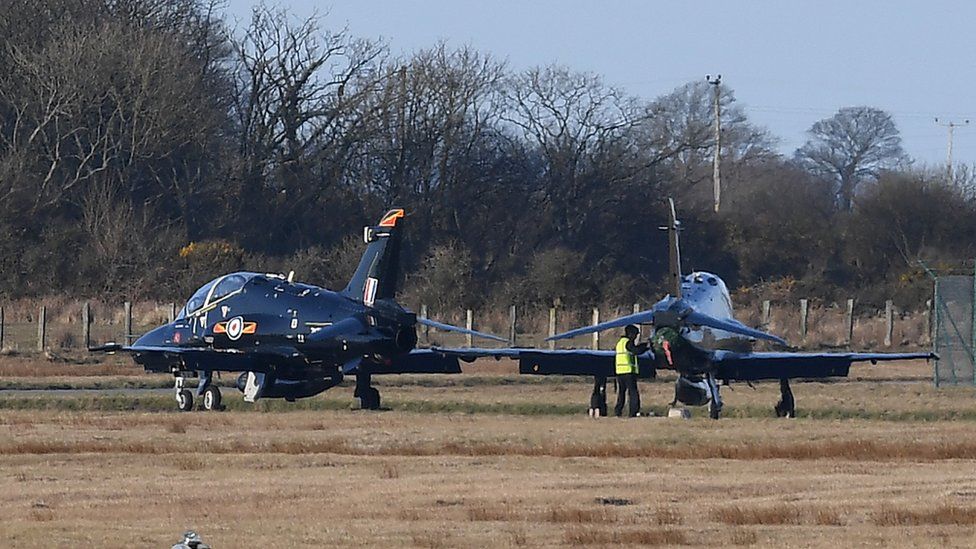 A light aircraft pilot who landed at a closed RAF base during lockdown "to see the beach" has been fined.
Richard Charles Priestley Wood, 60, of Crescent Place, London, landed without permission at RAF Valley, on Anglesey, on 25 May.
When stopped by fire crews he was dressed in shorts and said: "It's OK I had Covid two months ago."
He was fined £3,400 after pleading guilty to flying without obtaining information to enable a safe flight.
Caernarfon Magistrates' Court heard how Wood had landed at the base on the bank holiday when there was no air traffic control on duty, and Wales was in lockdown due to the coronavirus pandemic.
Wood had flown from an airfield near Woking, Surrey, and stopped at the airfield after plans to visit his mother in Yorkshire fell through.
Prosecutor Elizabeth Dudley Jones, for the Civil Aviation Authority, said when his aircraft was spotted over RAF Valley, fire crews were deployed after concerns the pilot was in trouble.
But when he landed, Wood was dressed in shorts and told a fireman he "wanted to see the beach", and had radioed the control tower a number of times but had not had a reply.
On being told Covid restrictions were in force - meaning people should not travel apart from essential reasons - Wood replied he had had Covid two months previously.
His attitude was described as "flippant and arrogant" at first, and RAF police were called to the airfield as he had not had permission to land.
Ms Dudley Jones said Wood was told he could not officially take off until 08:00 the next morning, when the airfield reopened, but he left.
Wood told the court he had 2,200 hours flying experience, and now had full UK, US and Canadian licences.
He said he was an "experienced pilot who sees flying as a great privilege to be taken very seriously", and had thought the airfield served civilian traffic.