Hafod landfill fire: Operators warned after 'serious blaze'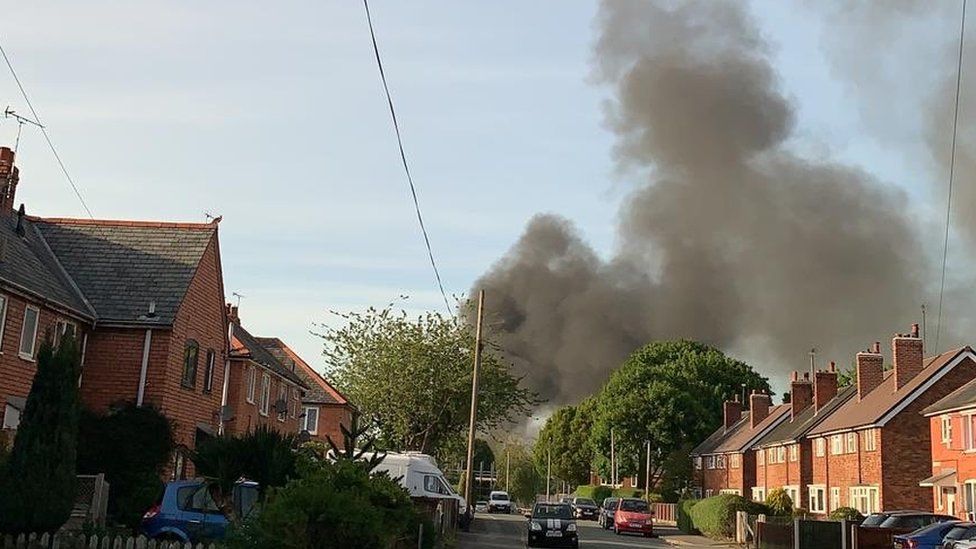 The operators of a landfill site where a fire burnt for days have been issued with a warning notice.
The fire at Hafod Landfill Site in Ruabon, Wrexham county, on 27 May caused high levels of air pollution.
North Wales Fire and Rescue Service said the fire was likely "the result of spontaneous combustion" in dry weather.
But Natural Resources Wales (NRW) said operator Enovert was in breach of its environmental permit due to issues with coverings at the site.
As the regulatory body, NRW said it had investigated the cause of the fire and found "no evidence" to suggest the operator's actions had caused the blaze.
However the operator was found to be in breach of its environmental permit after issues with landfill cover materials were found.
It has issued a warning letter, setting out improvements which need to be made at the site.
But Llyr Gruffydd, Plaid Cymru's Member of the Senedd for North Wales said the warning was a "mere tap on the wrist" following such a serious fire."It belittles the seriousness of the fire and its consequences on neighbouring communities," Mr Gruffydd said."I'm glad there were no injuries or other serious health consequences but it could have been so much worse."I would like to see more robust action put in place to tackle this problem to ensure local residents never have to put up with this kind of smoke pollution again."
Julia Frost, of NRW, said: "This was a serious incident that was effectively managed due to the quick response from all partners.
"Enovert has already carried out a number of the improvements highlighted in the investigation and we await their corrective actions to ensure the work is correctly documented.
"As regulator of the site, we are committed to see the owner comply with the permit and will continue to work with them to ensure that the operator fulfils its permit requirements."