McDonalds drive-thru menus 'should be bilingual'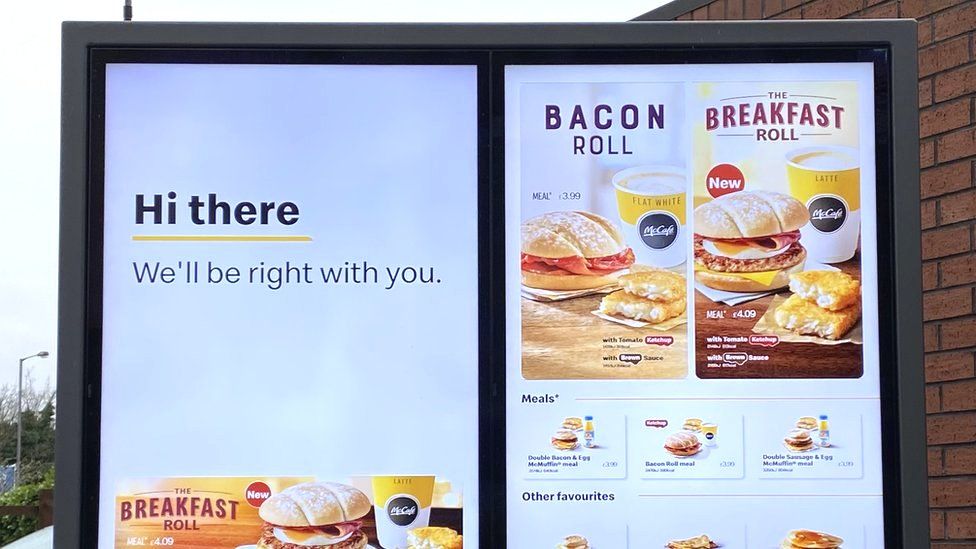 McDonald's is re-submitting plans for English-language digital signs at a Gwynedd restaurant, despite being told they must also be in Welsh.
The fast food giant applied last May to replace the existing drive-thru signs at its Caernarfon restaurant with bigger and improved digital versions.
Council officers turned them down on grounds of Welsh language requirements.
McDonald's said the restaurant had other bilingual signs and self-service ordering facilities in Welsh.
It has installed digital signs to speed up service for drive-thru customers at branches throughout the UK, with menus changing by time of day and season.
The Caernarfon bid was turned down in November by officers before it reached councillors on Gwynedd's planning committee, according to the Local Democracy Reporting Service.
During consultation, members of Caernarfon Town Council asked if the new signs could be in both Welsh and English, in line with the rest of the premises.
A report by Gwynedd planning officers said, after the concerns were relayed to McDonald's, the firm said the signs were not bilingual "due to the pictorial content".
Officers went on to say: "Signs have a clear visual impact on the character of an area, including its linguistic character.
"They are also one way of promoting the unique culture of the area, which is significant in terms of the identity of different communities and the tourism industry."
McDonald's has now decided to re-submit the plans while pointing out its car park, pay and collect booths already have bilingual signs.
"The replacement signs are digital monitors, which display the products that are for sale to improve the operation of the drive-thru lane and do not include fixed text," the company said in its latest application.
"Within the McDonald's restaurant are facilities for customers to order their meals in a number of different languages on the self-order kiosk and we are proud that this has allowed members of the public to order in Welsh."
Gwynedd's planning department is expected to consider the matter in the coming months.
Related Internet Links
The BBC is not responsible for the content of external sites.