Covid: Care homes 'could close' without money guarantee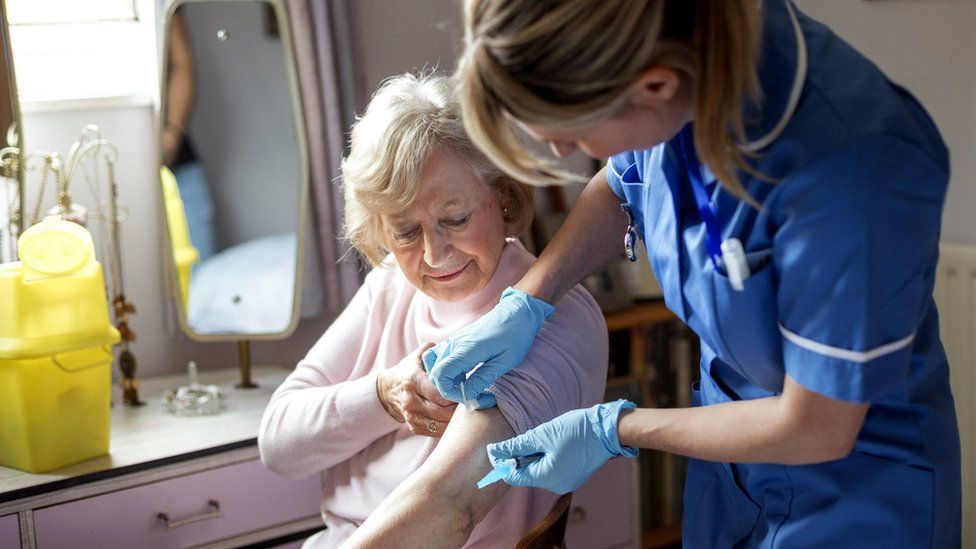 Care homes could be forced to close unless the Welsh Government extends "vital" funding for them, according to the body representing the sector.
Care Forum Wales said existing "hardship funds" have only been guaranteed until the end of March.
The older people's commissioner for Wales added it was important to "provide the support that's needed".
The Welsh Government said an extra £88m has been provided to date and it was finalising next year's budget.
Hardship funds have been "absolutely vital in keeping care homes open", Care Forum Wales' chief executive Mary Wimbury told the BBC's Politics Wales programme.
"Unlike a lot of other businesses, care homes have to carry on during this pandemic and their costs have gone up - it's things like the increased staffing, infection control measures and also we've seen more empty beds during the crisis so income's gone down," she said.
"We've only got a guarantee that's going to be there until the end of March this year and it's absolutely vital if we're to keep the sector sustainable in any way that it continues beyond that because we're not going to have seen the end of the pandemic by the end of March."
Asked what could happen if the funding stopped, Ms Wimbury said: "I can't see how we won't see care homes closing, very sadly.
"That will obviously have a serious effect - not just on future provision, but also on those people that live in those homes that are in that situation.
"You're talking about vulnerable older people. The last thing you want is for them to have to move in any circumstances, but particularly during a pandemic."
The older people's commissioner for Wales Heléna Herklots welcomed all the support provided by ministers, but warned "we're not through this pandemic yet".
"It's going to be important that Welsh Government continues to provide the support that's needed over the coming weeks and months as we go through the next phase of the pandemic," she added.
The week up to 22 January also saw the highest weekly tally of care home deaths since the start of the pandemic.
However, the number of positive cases identified in care homes is falling - down to its lowest since October.
Plans to carry out extra testing in older people's care homes have also been welcomed by the sector.
Ms Herklots said she was "keen to see faster progress" with vaccinating the remaining residents.
A Welsh Government spokesman said: "We recognise there are additional financial pressures - these are currently supported through our hardship fund.
"More than £88m has been distributed to date, with existing provisions extending to the end of the financial year. We are in the process of finalising the budget for next year."
Politics Wales, BBC One Wales, 10:00 GMT on 7 February, or on the BBC iPlayer
Related Internet Links
The BBC is not responsible for the content of external sites.