Census 2021: Veterans 'need more help for civilian life'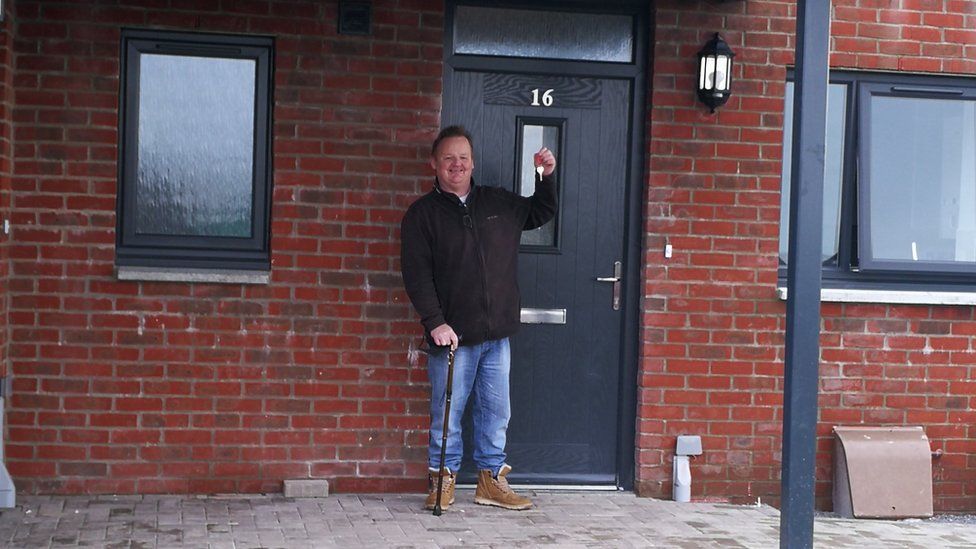 Improving the lives of armed forces veterans will take more than simply identifying them through the census, some in Wales have said.
The 2021 UK Census will ask recipients if they are armed forces leavers for the first time, following a campaign by forces' charities.
Three veterans told BBC Wales News they were offered no support to transition from military to civilian life.
The UK government said the vast majority made a successful transition.
A request for an armed forces leaver who had a positive experience of transitioning to civilian life and accessing support was made to the Ministry of Defence (MoD) but it said it could not be arranged in time for publication.
The new question on the census, which will be run by the Office for National Statistics (ONS) on 21 March, will read: "Have you previously served in the UK Armed Forces?"
The ONS said the information would help councils and government carry out the commitments they made under the Armed Forces Covenant - a promise to ensure those who serve or have served in the UK armed forces, and their families, are not disadvantaged.
Andrew Inwood suffered a broken back, crushed hand and shrapnel wounds in Afghanistan in 2010 when the patrol vehicle he was travelling in went over an improvised explosive device (IED).
He was later diagnosed with post-traumatic stress disorder (PTSD) and was eventually medically discharged from the Royal Welsh Fusiliers 1st Battalion.
"I didn't really have much notice when I got my discharge date - two months," he said.
With a wife and child to support, his welfare office advised him to look for a council house, he said, but the council told him there was a four-year waiting list.
He said his personnel recovery officer (PRO) was based hundreds of miles away and offered no support.
He eventually found a private bungalow to rent which he said was "constantly freezing".
With no job, dealing with his own mental health issues and physical injuries, he said he tried to harm himself.
Just over a year ago he made contact with Dave Price, co-ordinator of Welsh Veterans Partnership based in Caerphilly, and said the charity helped him access better accommodation, a referral for help with his PTSD and a disability car.
"When I first signed up to join the Army in 2006 I remember being told that if I was ever hurt and I couldn't serve my country any more that I be given a house, I'd be given courses," he said.
"It breaks my heart - I feel like I was lied to the entire time. It has crushed me. I wouldn't wish it on anyone."
He said he was unsure if the new census question would improve things for veterans.
"I think it does run very deep and I think it's going to take a lot more than getting the numbers together," he said.
"People need to be physically doing things."
Nigel Harvey says his life spiralled out of control after completing 10 years' service with the Royal Welsh Fusiliers in 2000.
The 48-year-old from North Cornelly, Bridgend county, said after serving in Bosnia he was struggling with mental health issues.
"First of all I went through a marriage breakup... went through a thing of drinking… doing silly things for money, debt collecting just trying to make ends meet, calling in people's houses and threatening them," he said.
"I wasn't dealing with things like rent, gas, electric, cars - everything in the Army is done for you."
He said the trauma he experienced in service made it hard to return to civilian life.
"I had a gun held to my head, there were bodies, my mate got shot," he said.
"When we landed on the ground in Brize Norton they said ta-ra to me... I still had bullets in my magazines, I didn't have a pre-release course, I didn't have nothing, they didn't look after me at all."
He said with nowhere to live he, his wife and two children lived in a car for two months before he "kicked up a fuss" in a council office and was given a council property.
His relationship then broke down and he became homeless, "sofa surfing when I could".
Eighteen months ago he said he considered taking his own life and a friend gave him a number for Mr Price, which led to him being housed, getting mental health support and medical help.
He said when things got desperate he sold his medals.
"[They were] my pride and joy but I needed to put food on the plate and clothing and presents for Christmas… I had nothing," he said.
"I can't stand there with my comrades on the service parade because I feel embarrassed, standing there with nothing on my chest but I know I've been there."
Naomi Anderson, 29, from Cardiff, said she was medically discharged from the RAF in 2012 because of blood clots and mental health issues.
She moved into her parents' home but it was crowded.
"I got pregnant, my sister was pregnant and there were four of us sharing one bedroom," she said.
"I was kind of reaching out to services and I was like, 'I need somewhere to live', and I was just kind of getting nowhere.
"They told me that I'd get so much help and the day they discharged me they gave me 24 hours to get off my unit and clear out, and I had no help at all in that process or in that time or ever since."
She said she eventually got a home of her own after Mr Price worked with her council.
She said the charity also helped her apply for a paramedic degree, which she started in January.
She said: "I think [my experience] shows the true colours of forces… they promise you all this, that when you leave you'll get money for enhanced learning, you'll get this, you'll get that - you don't get anything."
Regarding the new question on the census, she said: "There're too many false promises and so, I wouldn't be the type of person that would be jumping up and down right now and saying, 'oh my god we're going to get more recognition'… I don't think that'll ever happen.
"I think you're a name, you're a number."
Mr Price, himself a veteran, said the charity had campaigned for the new question and hoped it would help tackle "profound" problems faced by armed forces leavers.
He said: "We're always told [when applying for funding] 'we've got a lack of data' - it's a persistent problem and it constantly leads to people slipping through the net - so I really commend the government for putting the question on the census.
"I think nationally it's important because government will be able to set aside money."
An ONS spokesman said: "One of the greatest challenges in addressing need is knowing where it is in the first place.
"This new question will give a better understanding of the numbers, locations and age ranges of our armed forces veterans and will help the government, NHS and service charity sectors target resources and expertise where they are needed most.
"Census data is anonymised and no individuals can be identified. Personal records will be locked away for 100 years, kept safe for future generations."
A UK Government spokeswoman said: "The vast majority of service leavers make a successful transition to civilian life, but we are committed to doing more than ever to ensure even more undergo positive transitions. Census data supplied by veterans will help us better understand the needs of the ex-military community and provide them with more efficient support."
She said for more than 20 years it had offered employment support through the Career Transition Partnership as well as tailored support to people with challenges such as housing and finance through Defence Transition Services.
"In addition, the Armed Forces Bill will embed the Armed Forces Covenant into law by introducing a legal duty for relevant UK public bodies, including those in Wales, to have due regard to the principles of the Covenant. This will help ensure fair treatment and improved public services for the military community," she added.
Transition and resettlement services for the armed forces are the responsibility of the MoD but the Welsh Government said it worked worked closely with the UK ministers.
A Welsh Government spokeswoman said it delivered a "wide range of services and support" including Veterans NHS Wales and armed forces liaison officers.
She said it also supported charities to tackle loneliness and social isolation and supported employers to hire veterans.
Related Internet Links
The BBC is not responsible for the content of external sites.