Smacking: 'Misunderstanding' over next year's ban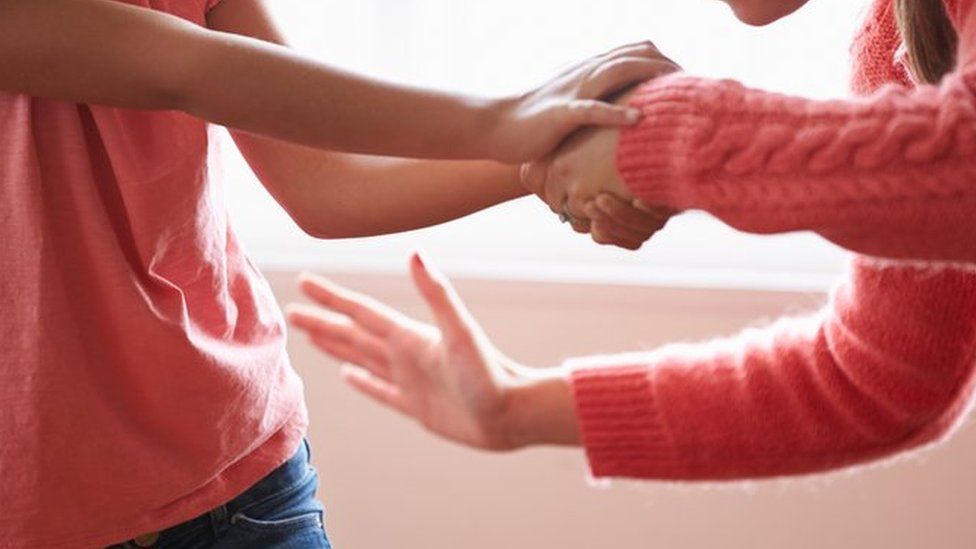 There is a degree of misunderstanding over new smacking legislation, research for the Welsh Government has found.
In a survey of 1,002 people, 23% were aware of the changes and 26% said they were aware but unsure of the details.
The Welsh Government said TV, radio and online adverts would launch later this year.
In the latest Beaufort Wales Omnibus survey, carried out in November 2019, a higher percentage of people reported being in favour of removing the defence of reasonable punishment than those asked in a November 2018 survey.
In 2019, all respondents were asked the degree to which they agreed or disagreed that it is sometimes necessary to smack a child.
More disagreed with this statement (55%) than agreed with it (31%). The difference between the proportions disagreeing and agreeing with the statement was greater than in the 2018 survey when 49% disagreed and 35% agreed.
Those who have caring responsibilities for children aged seven or under - 179 of the 1,002 asked - were more likely to disagree that it was sometimes necessary to smack a child - 70% - compared with 53% among those who did not have caring responsibilities for those aged seven and under.
In 2018, when asked if they were aware of proposed changes in legislation, 17% said yes. In the 2019 survey that rose to 23%.
In the previous survey 64% said they were not aware and that went down to 50% in the most recent survey.
In 2018, 17% said they were aware but not sure of the details, this rose to 26% in 2019.
'A policy built on distrust'
Dr Ashley Frawley, senior lecturer in social policy at Swansea University is a vocal campaigner for the Be Reasonable campaign, which seeks to stop any ban and continue to give parents a choice.
She said her stance meant she was repeatedly trolled on Twitter and said the issue had become distorted.
Dr Frawley said: "Campaigners have had a lot of success turning this into a debate about how people should parent... that's not what this debate is about, it's about whether one form of parenting should be illegal.
"It's not whether people should smack, it's whether you should be charged and recorded as a child abuser if you do.
"The whole policy itself is built on distrust - you can't trust people to control themselves, you can't convince people democratically to adopt this style of parenting - that's why they look to the law in the first place."
Responding to the results of the latest survey, she said: "The changes between the two surveys are really, really small...
"You'd think you could produce more impressive changes with such a small sample size....
"Proponents will probably want to foreground that carers of children under seven appear to be in favour of the ban. I wonder how many will mention that they only surveyed 179 of them to produce this result?"
Vivienne Laing, policy and public affairs manager at NSPCC Cymru, welcomed the findings.
She said: "It's positive that there has been a further shift in public attitudes ahead of this important change in the law, which puts the protection of children first.
"The new legislation will give children in Wales the same legal protection from assault as adults and we are continuing to work closely with the Welsh Government to support with its successful implementation."
She said a change in public attitudes often followed legislative change: "We've seen with the introduction of the smoking ban and compulsory seatbelts in cars. It is encouraging to see that this shift is already happening."
She said she was confident a public awareness campaign would lead to a further reduction in the use of the physical punishment on children.
The charity encourages parents to praise the good things children do and set clear and consistent boundaries and remain calm in difficult situations.
A Welsh Government spokesman said: "An awareness-raising campaign to inform the public of the change in law will go live later in the year - including TV, radio and digital advertising.
"We are also ensuring that professionals who work with parents and children know about the change in the law and have established an expert stakeholder group to oversee this vital work."