Flood prevention in Wales 'should be national priority'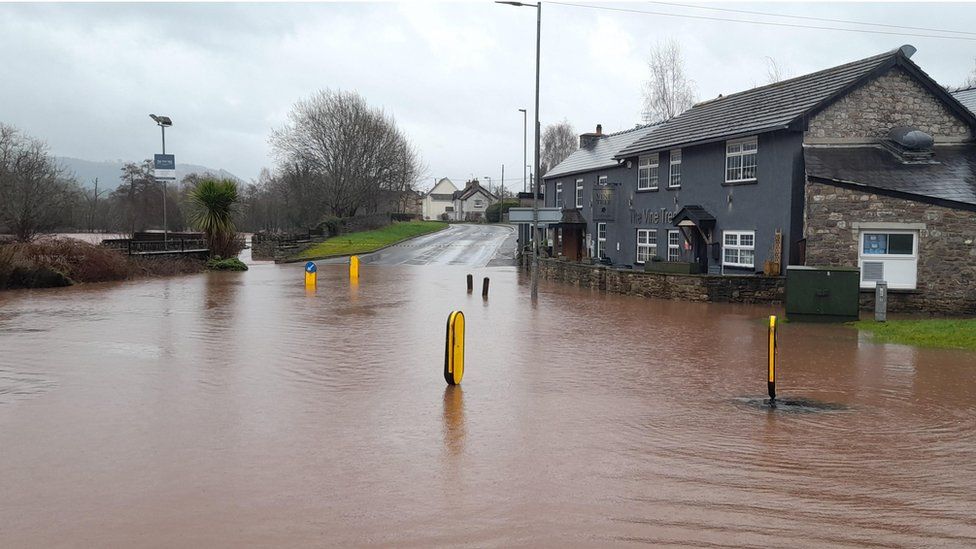 Nowhere near enough money is being invested in flood prevention in Wales, the leader of Plaid Cymru has said.
A pub owner in Powys said his pub was flooded on Saturday - a year after it suffered more than £400,000 worth of damage during Storm Dennis.
The Welsh Government said it had invested more than £390m to manage flood risk in the past five years.
Adam Price said the "severity and frequency" of flooding events "should convince us all that flooding needs to become a strategic national priority".
Howard Baker, owner of the Bridge End Inn in Crickhowell, said the pub was flooded for the 30th time in 22 years at the weekend.
The pub, which sits on the banks of the River Usk, was gutted during Storm Dennis last February.
"It's taken us a year to get the pub back to where it was and this flood has taken it all out apart from the top floor," he told BBC Radio Wales Breakfast.
"We have just spent 12 months and a lot of insurance money on doing it up, and now we are back to stage one again."
Mr Baker said his insurance company has told him it would cover the costs of repairing the latest damage - estimated at between £20,000 and £30,000 - but would not cover him for flooding when it is time to renew his policy.
He added: "It's devastating. With these floods that are happening, when you lose your home, it's terrible. When you lose your business, it's terrible, but to lose two of them in one go, it's heart-breaking."
Gary Rees employs 12 people at his lorry repair garage in Llanybydder, Carmarthenshire, which was flooded during Storm Callum in 2018, and had come "within an inch" of being flooded again on Saturday.
He said insurance costs for his business had shot up to £30,000 since the floods in 2018.
"Had that flood come in, I would have had no alternative but to close the garage and pack it in," he said.
In an interview with BBC Radio Cymru's Dros Frecwast, Mr Price said: "On the evidence of the last few days, once again, the fact that the severity and the frequency of these flooding events should I think convince all of us that flooding needs to become a strategic national priority.
"And in particular, we are investing nowhere near what is necessary to provide the level of resilience that is required to our communities.
Welsh Conservative member of the Senedd (MS) Janet Finch-Saunders said: "Once again Wales is being hit by flooding, with people's homes and businesses being devastated, and yet very little has happened since the major floods last year to prevent or reduce their impact.
"The Welsh Government has had responsibility to protect communities from flooding for 20 years and yet year after year communities continue to be blighted.
"We need action not words to prevent flooding in the future."
Their calls come after 5in (127.6mm) of rain fell at Llyn-y-Fan, Carmarthenshire, between 06:00 on Friday and 08:00 on Saturday, and 4.5in (115mm) at Treherbert in Rhondda Cynon Taf.
That compares to an average rainfall of 3.9in (98mm) for the whole of February in south Wales.
'Devastating for communities'
The Welsh Government said: "We know major flooding incidents are devastating for communities.
"Between 2016 and 2021, Welsh Government invested more than £390m in helping manage flood risk."