Covid: 'Don't let Grand Slam bid cause surge' says Mark Drakeford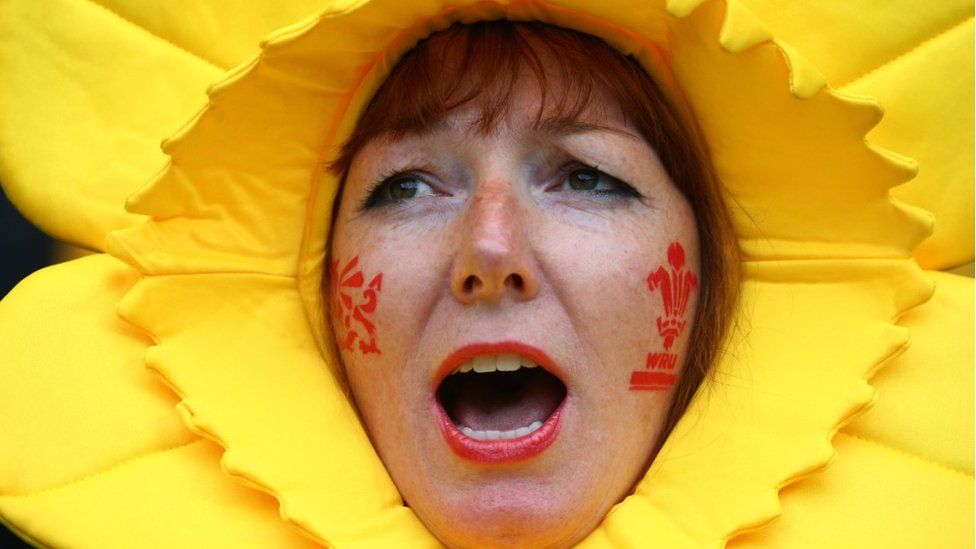 Rugby fans have been reminded to watch Wales' Grand Slam decider at home to avoid a surge in coronavirus cases.
First Minister Mark Drakeford said: "The last thing we want is to mark a potential Grand Slam weekend with a surge in Covid cases."
Police fear it will be a "temptation" for some people to mix but officers have warned of "robust" action.
"Let's not become a sick nation while winning the Six Nations," said Gwent Police Ch Supt Mark Hobrough.
Two households can mix outdoors in Wales - including in gardens - but socialising indoors is not allowed.
Wales' final Six Nations clash with Paris in France kicks off at 20:00 GMT on Saturday, just after the south Wales football derby between Swansea City and Cardiff City, which starts at 17:30.
Sports fans usually go out to celebrate such big days in the Welsh sporting calendar but with Wales still in lockdown, authorities have warned people against mixing or face a fine.
"Normally on a weekend like this we'd see clubs, restaurants, pubs, city centres, towns and villages all full of people celebrating and coming together," said Ch Supt Hobrough.
"You'd also see people going into each others' houses and celebrating - but this is going to be a very unusual year where we can't actually do that.
"Rugby is embedded in Welsh culture and understandably there's a lot of people happy about the success of the Welsh team in times that have been really challenging.
"But let's enjoy the game and stay safe and to respect and act within the law.
"It's not often we have a possible Six Nations Grand Slam and the temptation must be there to celebrate - but celebrate within your own household."
He said officers will be "highly visible" and will "tackle the lack of Covid compliance robustly".
With the Covid infection rate falling to 43 cases per 100,000 people and more than a third of people in Wales vaccinated, officers have warned against public complacency.
"The legislation has been around for a year now and this message goes to those who might think they are exempt if you've had the vaccine," said Ch Supt Hobrough.
"You can still get or transmit the virus. Let's all enjoy this weekend in the realms of the law as we can see a light at the end of the tunnel - let's make sure we eliminate this virus as soon as possible."
A number of sporting celebrations in the past year have drawn criticism, with arrests and fines given after Glasgow Rangers fans celebrated their first Scottish Premiership title in 10 years earlier this month.
Welsh health bosses have pointed out that there are "still 1,000 patients in our hospitals across Wales" and while the R rate is dropping, people are still catching the virus.
"You shouldn't be going to someone's house to watch it," said Dr Kelechi Nnoaham, director of public health for Cwm Taf Morgannwg health board.
"You can watch it, watch it in your own home and not go into other people's homes to watch it - I really want to get out that message, please don't mix with people who are not in your household beyond what has already been allowed since last Saturday.
"Because there is still a reservoir of this infection, and it is still likely to pass on if we lose."