Harry Baker murder: Calls for Wales drugs policy review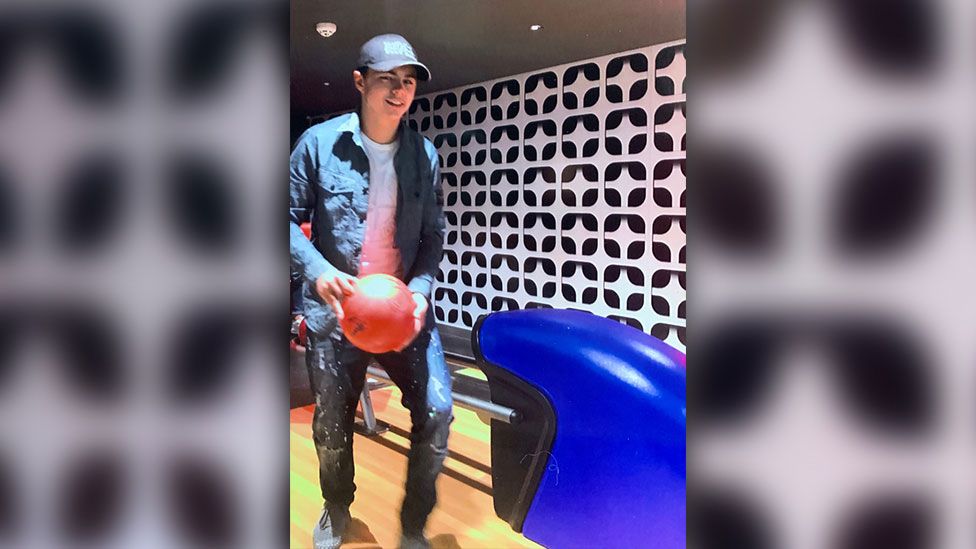 The last moments of Harry Baker's short life were captured on CCTV cameras - tired and terrified - desperately fleeing his baying pursuers, knives glinting in their hands.
Harry was 17 when he was "ruthlessly hunted down" and "repeatedly stabbed" in the summer of 2019.
He had been "ambushed" by "rival" drug dealers - including a 17-year-old boy - in the Vale of Glamorgan town of Barry.
Harry was cornered and killed in a locked shipping container yard.
Following the conviction of seven defendants for murder and manslaughter, the head of one substance misuse organisation said the teenager's death should prompt a review into how effective services in Wales have been at preventing harm caused by illegal drugs.
Drugs workers also said the pandemic was making it harder to identify these issues.
Harry Baker's death was a product of dangerous drug dealers establishing a foothold in the seaside town, and in their vulnerable customers' lives.
He was from Cardiff and had emerged as a drug dealer in Barry shortly before he was killed.
The trial heard "general" text messages were sent from his phone in the days before his death, "advertising" his drugs.
These caught the attention of drug users, and established drug dealers who were angry Harry "had come onto their turf", stealing their "lucrative business".
The court heard Harry Baker was eventually "ambushed" by a "raiding party" on a street in Barry, where his masked killers and their victim were "jousting" with knives.
Harry was then chased for a mile to the docks.
Jurors were shown footage of his killers scaling the gates of a locked compound, passing weapons to each other.
Less than two minutes later they were strolling back through the yard having stabbed the 17-year-old nine times, prosecutor Paul Lewis QC said.
But why was he killed so mercilessly?
The trial painted a picture of drug dealers, known locally as "shotters", armed and vying for territory and trade.
Defendants Leon Symons, 23 from Cardiff and a 17-year old who cannot be identified because of his age, targeted Barry as a place where they could expand their trade in heroin and crack cocaine.
They were both convicted of murder, along with Leon Clifford, 23 and Peter McCarthy, 37.
Raymond Thompson, 48, Ryan Palmer, 34, and Lewis Evans, 62, were all found guilty of manslaughter by a jury at Newport Crown Court.
Drugs workers say this is happening across the country, but particularly in towns with good transport links to major cities, sometimes known as county lines.
The trial heard some of the drug-dealing defendants had befriended and stayed in the homes of their drug-using co-defendants, exploiting their vulnerabilities and encouraging them to commit acts of crime and violence.
Jurors were told Leon Symons and his 17-year old co-defendant befriended and stayed in the home of Evans, who was described as a "pitiful" cocaine addict who used drugs to forget his experiences in the Falklands War.
However, Jim Henton, a senior substance misuse worker responsible for projects across Wales, including Barry, said the pandemic had made it more difficult to identify who was being exploited and controlled, because outreach work and face-to-face contact had been scaled back.
She said: "Lots of services aren't doing outreach, they aren't going out to the community any more, they're not going into home visits.
"Appointments have been stopped, people aren't coming into treatment services, they're not out on the streets."
Ms Henton also said it was harder to "keep an eye" on vulnerable service users.
"It's hard for us to catch any change in their behaviour, any change in their drugs use," she added.
"Any change in their physical appearance that might tell us that there's something going on in their home life - and that they're either being pressured or they're being controlled in those acts."
All of the defendants in the trial were involved in Class A drugs: heroin and crack cocaine.
Hardened drug dealer Leon Symons had previous convictions for carrying weapons, including shooting one of his victims in the head with a pellet gun.
Leon Clifford had been dealing heroin and crack cocaine in Barry for years.
He said that after stabbing Harry Baker, he weighed down his clothes with a brick and threw them into the water near Barry Island.
Martin Blakebrough, the head of the substance misuse organisation Kaleidoscope, believes Harry Baker's death should now prompt politicians and practitioners to review how effective services in Wales have been at preventing harm caused by Class A drugs.
He said: "I would hope that people look at what has happened in this horrific situation, and in a sense try and go backwards, in terms of 'OK, so what happened to this lad to get involved in drugs?'
"'What happened actually to the gang that were involved in drugs? What could have been done better?' So it's sort of trying to go back to first steps."
Mr Blakebrough added: "I think with any tragedy we have to take stock and go: 'Is there anything we could have done better?' And I think the reality is yes - you definitely could."