'Racist' Welsh YouTube channel removed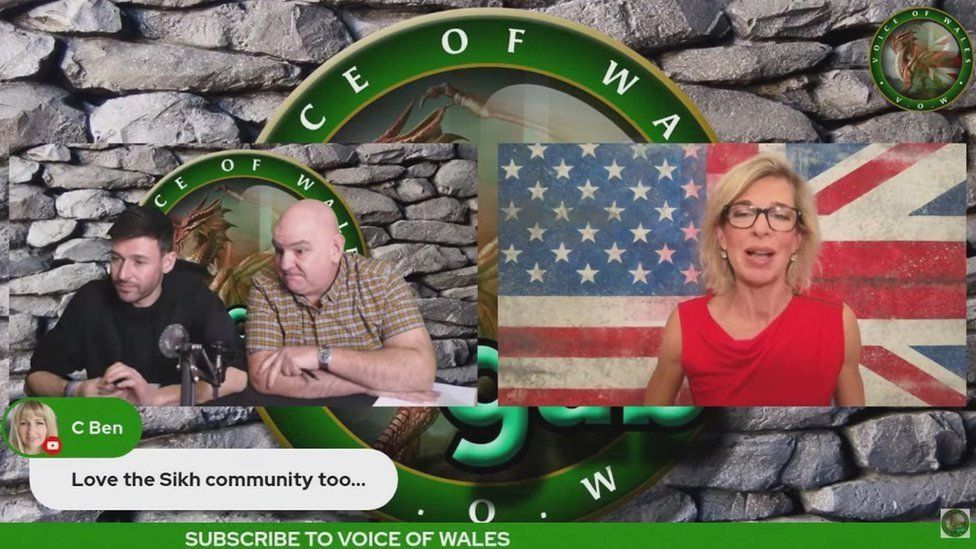 A YouTube channel accused of racism has had its accounts removed.
The Voice of Wales, run by two Swansea-based UKIP members, describes itself as a media organisation covering stories ignored by the mainstream media.
It said it was appealing against the "malicious attempt" to silence it.
On its Twitter account last weekend, Voice of Wales said its main channel was "out of action for a week".
Broadcasted from protests
Another YouTube account was then set up and footage was livestreamed from several demonstrations over the weekend.
The hosts, Dan Morgan and Stan Robinson, previously appeared to broadcast live from protests against housing asylum seekers in a former army training camp in Pembrokeshire and over Swansea City players "taking the knee" in solidarity with the Black Lives Matter movement.
They had also hosted discussions with controversial guests, including members of the Proud Boys group, which is active in the USA and Canada.
The Proud Boys has been banned by Facebook, Instagram and Twitter and outlawed completely in Canada, where the government has deemed them a terror group.
'Hateful or abusive content'
The channel's hosts also appeared in discussions with figures such as Katie Hopkins and Tommy Robinson - both permanently banned by Twitter for breaching "hateful conduct" guidelines.
A county councillor has also accused the channel of "harassing" him.
BBC Wales understands the Voice of Wales channel was reported to YouTube on dozens of occasions, with other website users claiming the broadcasts contained "hateful or abusive content" as well as "violent or repulsive comment".
In a statement, YouTube said: "We have terminated both channels for circumvention under our Terms of Service."
It added YouTube reserved the right to restrict a creator's ability to create content at its discretion.
Voice of Wales will not be allowed to create another account on YouTube although it can appear on other YouTube channels.
Any content uploaded again by other channels will also need to be removed according to YouTube.
On Wednesday night, Voice of Wales began broadcasting again using Facebook and Twitter.
BBC Wales understands this broadcast was referred to Dyfed-Powys Police because of its content.
Dyfed-Powys police, Facebook and Twitter have been asked to respond.
In a statement Voice of Wales said: "YouTube have explicitly stated that our account was terminated as a result of a 'Circumvention of Technologies' complaint relating to copyright infringement.
"Voice of Wales is currently appealing YouTube's decision.
"We have been planning a move from YouTube for some time in favour of free speech platforms like GAB, Parler & Telegram.
"Voice of Wales is committed to telling the truth and exposing the dirty tactics in local councils and the Senedd that the mainstream media choose to ignore."
They have previously denied racism and say they host politicians from across the political spectrum.