Covid: Call for all homes in Wales to be minutes from green space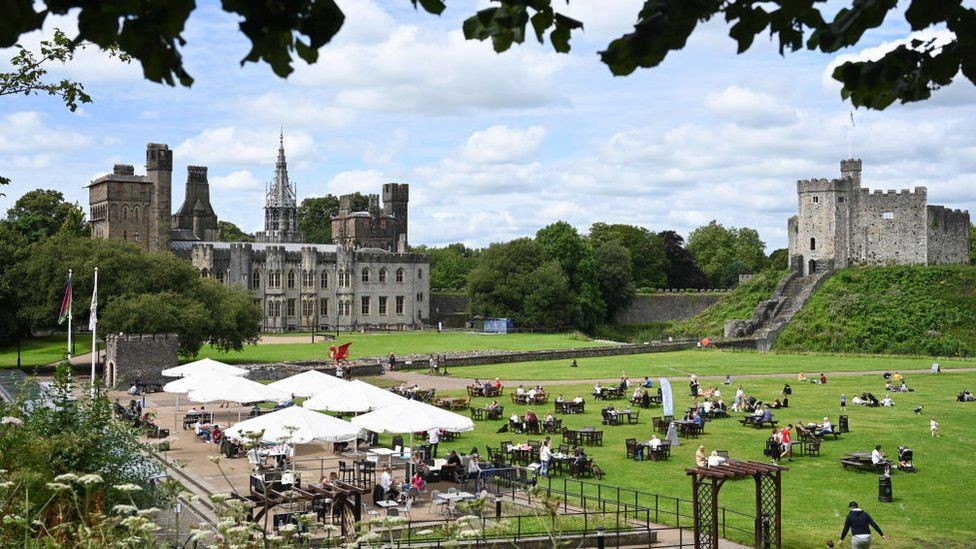 Cities, towns and villages must be redesigned to improve access to nature in the aftermath of the Covid-19 pandemic, campaigners have said.
The future generations commissioner wants everyone to have a public green space within four minute's walk.
During the first lockdown one in eight households in Wales did not have access to a garden, yard or balcony, official statistics show.
The Welsh government has committed £110m to transforming towns in Wales.
Planning experts and designers said the pandemic was a "profound opportunity" to rethink communities to tackle climate change and health issues.
Ideas include planting trees, more cycle routes, reopening disused railway lines, creating "pocket" parks, and a campaign to create neighbourhoods where everything needed is within a 20-minute walk.
Future generations commissioner Sophie Howe said public green spaces had been a "lifeline" for many during lockdowns and were vital for physical and mental health.
Ms Howe wants to see changes to towns, cities and villages, to make sure no-one in Wales lives more than four minutes' walk - about 330yds or 300m - from a public green space.
She said people who did not have a garden were reliant on being able to access open public spaces - but many had struggled to do that due to travel restrictions.
"It shouldn't be based on where you live, and the price of your house, it should be a right for everyone," said Ms Howe.
The Welsh Government said its local places nature fund had created more than 400 wildlife gardens in and around residential areas in the past year.
It is almost a year since Wales was first placed under lockdown, with people only allowed to leave home for essential reasons, including to exercise.
While about a fifth of Wales is covered by national parks, the mountains and coastlines have been off-limits during lockdowns to all but those who live on their doorsteps.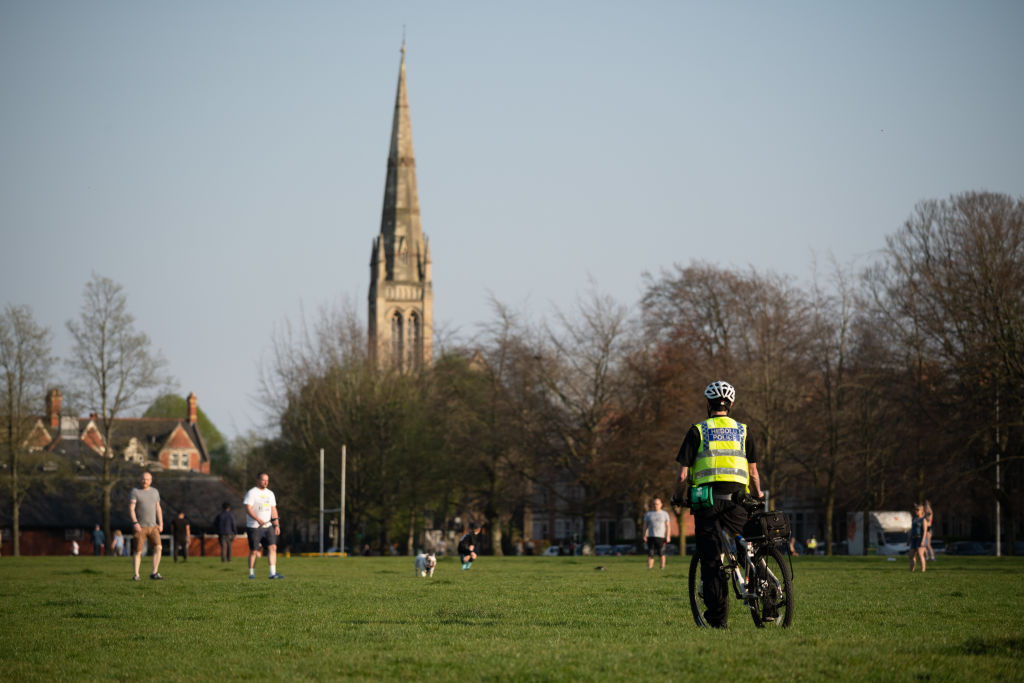 Getty Images
Accessible green spaces in Wales
How much of the country do parks, fields and public gardens make up (not including National Parks)?
10,000 areasof accessible public green spaces, such as parks, fields and gardens

Less than 1% of Wales is made up of publically accessible green space
432.22 metresaverage distance people live from a public park or garden

3.61public green spaces on average in a 1,000m radius of homes
Source: Ordnance Survey/ Office of National Statistics
At the start of the first lockdown, official figures showed 133,542 Welsh households did not have access to a private outdoor space.
The data also shows at least 36% of those living in flats in Wales did not have access to a private space, a higher rate than in England or Scotland.
More walkers and narrow pavements
Some councils are investing more in improving green spaces, while others have reported conflict as more people use footpaths.
In Cardiff, the council is planning to spend around £2m improving green spaces, parks and pavements in 2021-22.
While in Rhondda Cynon Taf, the council said a significant increase in people using footpaths had led to a number of landowners "taking matters into their own hands" and closing paths.
Meanwhile in Swansea, the council and Natural Resources Wales are ploughing ahead with plans to double the city's green space, including building the first park in the city since Victorian times.
'Big screens and public squares'
In many towns and cities, Covid forced adaptations, with one-way systems in high streets and more space for outside seating.
While some of the measures were divisive - limiting parking and delivery spaces or shutting major roads - there were other calls to make them permanent.
Not-for-profit group For Cardiff, which represents more than 700 businesses, said with more people set to work from home in the long term, changes had to be made to draw people into the city.
Adrian Field, executive director, said having more outdoor seating had allowed many businesses to survive and the group was looking at whether a new public space could be opened.
"It might have entertainment... PE equipment or a big screen to watch films or sporting events... there is an eagerness for that space to be used," he said.
"I think all towns and cities need to create environments where people can linger, interact, exercise... hopefully that includes pocket parks, if we can get more tables and chairs outside I think there will be a lot of demand long term."
Charity Sustrans said despite efforts, no area in Wales had been designated an official 20-minute neighbourhood in Wales - where every facility is within a 10-minute bike ride or walk of their home.
Are garden villages the future?
One major issue planners have been looking at is how to connect rural communities which may have been cut off from neighbours in lockdown.
Sarah Featherstone, of consultants VeloCity, hopes villages can be linked up using footpaths and cycle routes to create "villages in a garden".
"We call it the big back garden," said the Brecon-based architect.
She said while there was a housing crisis, sprawling development meant many were now having to get in their cars to get to the middle of their village to access shops.
Her vision is for the area to be used for people to grow food and for community gardens, while villages would pool together to address issues like poorly maintained pavements, pot holes and reducing speed limits.
"All of the traffic has been pushed to the edges, so that you have this much safer, greener landscape between the villages that can be safeguarded and used for leisure," she said.
Ms Featherstone said changing planning laws and addressing infrastructure could allow more people to move out of flats in cities to live and work in rural communities.
"There's a potential for a fresh look at things, but we need to keep that momentum going, otherwise we could easily slip back into jumping back in cars again," she said.
The Welsh government said more than £50m had been allocated for permanent and temporary improvements to walking and cycling routes routes "to allow people to safely and conveniently travel" to local destinations, including outdoor spaces.
'Time to reimagine towns and cities'
Last year a spike in Covid cases in valleys communities was partly blamed by some on the design of the areas, with tightly packed lines of terraced houses.
There are also thoughts on how south Wales valley communities could be reimagined and opened up with more access to green spaces.
Matthew Jones said the recovery post-Covid was an opportunity to "profoundly change" towns, as more people worked from home and had developed an appreciation for local shops, paths and parks.
"There's a potential to really rethink what we do with public spaces... how streets connect together, how people can move safely around where they live," he said.
Dr Jones, who has looked at the future of towns for the Design Commission for Wales, said homes and workspaces could be redesigned to include garden elements.
In Swansea, plans have been approved for a "living" building, with rooftop gardens and allotments, and Dr Jones said ideas like this could help towards a bid for Wales to have carbon neutral emissions by 2050.
He said it would be interesting to see which communities chose to keep temporary measures - such as shutting roads and widening pavements - to create more room for walking and cycling once the pandemic ended.
The Welsh government said it was already delivering green infrastructure schemes worth £9m to make town centres "greener, more attractive and safer".
It has also launched a national forest programme to create a "connected woodland extending the length of Wales".
In the first year of the programme, projects included more than 20 small woodlands created by and for schoolchildren.