Covid and women: Pandemic 'massive step back' in equality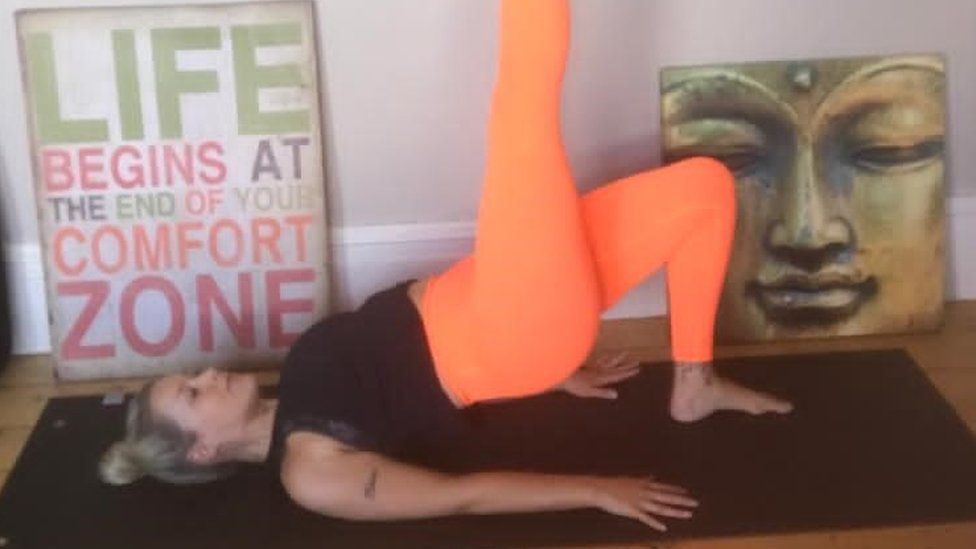 More needs to be done to help women return to work to curb a "major step back" in gender equality in the coronavirus pandemic, a charity has said.
At the end of January, 52% of jobs furloughed in Wales were held by women.
Chwarae Teg said women could be the last to return to work due to caring responsibilities and a lack of funding for female-dominated industries.
The Welsh government said it had tailored support to help women.
Cerys Furlong of gender equality charity Chwarae Teg said that, while the pandemic had affected women differently, the responsibility for home schooling and caring for or supporting vulnerable relatives had "primarily fallen on women".
"For those who've continued working and juggling the stress of work and extra caring responsibilities, there's a mental health and wellbeing toll," she said.
"There's a real risk we are going backwards from the progress that was made - there's a risk that women will be the last back to the workplace and perhaps overlooked for longer for progression, career development and promotion."
A recent report by the Senedd's economy, infrastructure and skills committee highlighted concerns that recovery funding was being "directed towards male-dominated industries".
Dr Alison Parken, of Cardiff University, told the committee women were likely to miss out on investment due to funding going to construction, manufacturing and engineering sectors.
Concerns have repeatedly been raised by representatives from industries which employ large numbers of women, including care, retail, hair and beauty, and the wedding sector, about a lack of funding.
The cross-party committee said it was worried the distribution of funding could have a negative impact on the career prospects of women and girls.
At the end of January, 92,500 women were furloughed in Wales, the equivalent of 52% of jobs, taking home reduced pay, according to official statistics.
While redundancy figures in Wales cannot be broken down by sex, 45% of posts made redundant between October and December 2020 were held by women.
This is higher than the last recession when between 30-35% of those made redundant were women, according to ONS figures.
Future generations commissioner Sophie Howe, who has been working from home and home-schooling, said more had to be done to stop a "two-tier" workforce being created if carers and parents were not helped to return to offices.
'It's been a tense time as a mum'
Bikram yoga, a hot yoga and pilates studio in Cardiff, had only been open for nine months when the pandemic hit.
"We were doing really well and then the whole world stopped," said Sarah Davies, who set it up.
"I was paralysed with fear I was going to lose the business - that was a daily theme."
Sarah, a 42-year-old mother of two, said she had not been able to dedicate time to growing the business while trying to stay positive and home-schooling her children.
"I've felt torn between not being a very good business owner and also not being a very good mum - not succeeding at either," she said.
"It's been really stressful and probably the most tense time I've ever felt as a mum."
She said many of her members who were mums had been forced to cancel online classes, and she had worried many had been on the "edge".
While the business got grants from the council for rates, she said there had been a lack of help for the health, fitness and wellbeing industry, and parents had been forgotten in the pandemic.
"I feel like women have held families together, like they have been the glue holding everything together during this pandemic," she said.
"It's been taken for granted we will do everything... mums need help."
Last March, Grace Wilson's travel brand Yugen Explore was badly hit when lockdown began and youth hostels closed but, despite the hardship, she said it had given her time to reset.
Without an office and operating as a limited company, she said she had not been eligible for grants, and the uncertainty had left her feeling stuck.
The 32-year-old organised some virtual hiking meet-ups for people's mental health before temporarily closing the business and working on farms in exchange for food and board.
Grace said she had been lucky she could live with her parents while her income had dried up and she decided what to do.
"If I had a family to feed I would have been screwed," said Grace, who is living in a bunk house on a farm in Carmarthenshire while working, which is allowed under Covid rules.
"This time last year, I felt quite depressed, I had anxiety and stuff, but it's probably been one of the best years of my life, being close to animals and nature has been amazing," she said.
The Welsh government said it had protected more than 160,000 jobs with a £2bn-plus package of support for businesses during the pandemic.
It said it had tailored support to help women and female business owners and entrepreneurs due to concerns about women being disproportionately impacted, and it aimed to provide more gender-focused business support.
"Our recently launched economic resilience and reconstruction mission puts women's interests at the heart of our response," a spokesman said.