Aston Martin: '200 jobs to go' at St Athan plant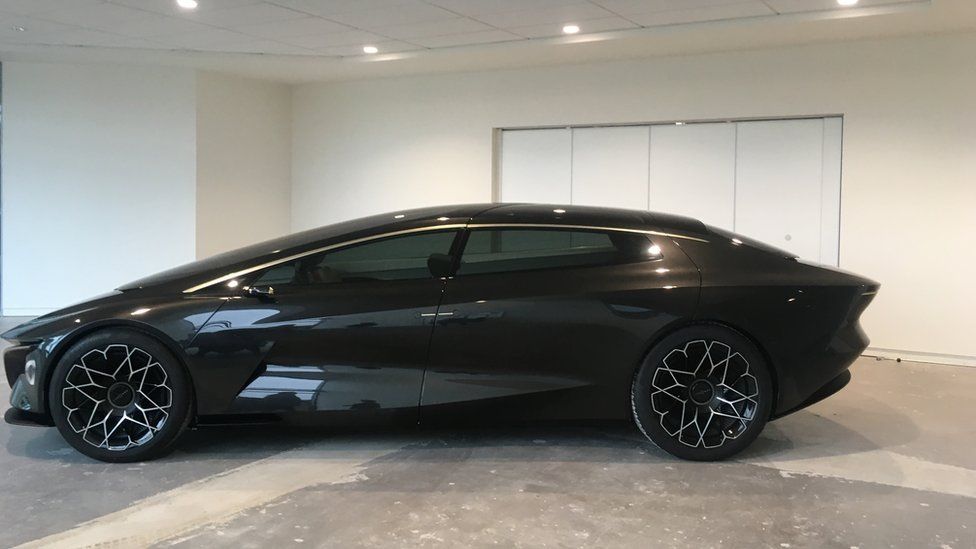 About 200 workers are being made redundant at the Aston Martin car plant in the Vale of Glamorgan, according to the union Unite.
The St Athan plant opened in 2018, near Cardiff Airport, with plans to employ 300 by 2019 and 700 by spring 2020.
Unite said the car maker was seeking 95 job losses among its staff, with 100-plus jobs at an on-site agency that supplies workers also set to go.
Aston Martin confirmed it had issued redundancy notices at the site.
The luxury car manufacturer added it was "also looking to release contractors", a spokeswoman added.
In a statement, Unite said the scale of the losses was "extremely concerning", adding: "[It] raises serious questions regarding Aston Martins employment practices and its wider commitment to south Wales."
What was Aston Martin's plan for St Athan?
When announcing its plans in 2018, the company said it would produce its first electric car, the Rapide E, in St Athan.
It also said it wanted to make the site near Llantwit Major its "home of electrification" and make their luxury Lagona car there.
The first Wales-made vehicle to come out of its workforce in St Athan, the DBX sport utility vehicle, was unveiled in November 2019.
At the time, bosses said they hoped it would deliver a sales boost after posting losses of £13.5m in the three months to September.
The Welsh government pledged millions of pounds of public money to attract the carmaker to the Vale of Glamorgan ahead of its decision to set up in Wales.
Bryan Godsall, regional co-ordination officer for Unite, said: "It is deeply disappointing for workers who left other secure jobs for the hope of long term employment security at Aston Martin .
"We will be working hard to protect as many jobs as possible within consultation with Aston Martin."
A 30-day consultation started last week, he added.
Why are Aston Martin cutting jobs?
An Aston Martin spokeswoman said: "Aston Martin moves into a new era, with new investment and a new business plan to position the company for success, and to operate as a self-sustaining business in the near future.
"In order to secure the future of its Gaydon and St Athan manufacturing facilities, Aston Martin continues to execute on actions to improve the cost efficiency of the business, in alignment with its transformation plan.
"Project Horizon has been launched to revitalise its products and deliver a level of operational excellence, agility and efficiency throughout every aspect of the organisation."
What has the political reaction been?
Plaid Cymru leader Adam Price said it was "dreadful news", adding the Welsh government had "serious questions to answer".
"It's nothing short of a scandal that millions of pounds of taxpayers money has been thrown at Aston Martin by the Labour Welsh government and the plant in St Athan only for it to be thrown back in their faces by cutting almost 200 jobs," he said.
"We need to see some transparency here. The Welsh public have a right to know the details of the Welsh government's deal with Aston Martin, and implications for public spending if they decide to leave the St Athan plant."
Welsh Conservatives leader Andrew RT Davies said it was "worrying news" as many jobs had been promised as part of the development along with money from Welsh government.
"We need assurances on two fronts that the money is safe that has been invested by Welsh government and, secondly, that jobs will bounce back as soon as the company gets back on its feet," he said.
A Welsh government spokesman said it was "working with Aston Martin to support the workforce and we continue to monitor the situation very closely".
"This news highlights the economic challenges facing many companies, and the incredibly difficult decisions some are now facing," he said.
"As in all cases of Welsh government support, there are clear conditions relating to the assistance Aston Martin has received and we will consider whether any repayment is appropriate once the outcome of the consultation is known."
Related Internet Links
The BBC is not responsible for the content of external sites.