Covid: Welsh firms looking at flexi-working 'permanently'
By Matthew Murray
BBC News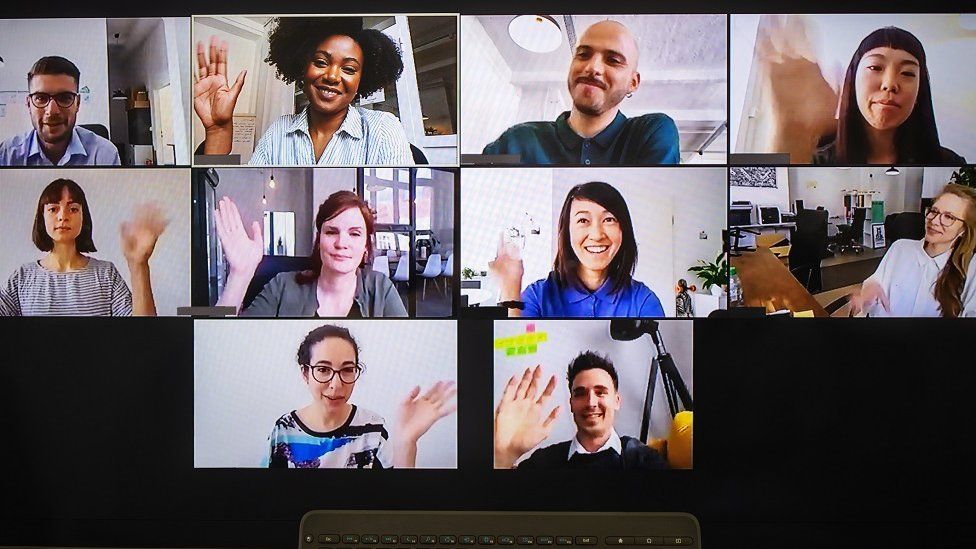 Some of Wales' major employers say they are considering a permanent shift to flexible working after the pandemic.
The Welsh government, Cardiff University and Admiral Group say they are all consulting with staff about a hybrid of home and office working.
However, experts say there will always be a place for office working - especially for those starting careers.
They say many major organisations will instead have smaller offices and allow more flexible working.
Insurer the Admiral Group, based in Cardiff, currently has the majority of staff working from home with a very small number working from offices.
The company's head of people, Rhian Langham, said staff were telling the company how they wanted to "embrace all of the best bits of working from home whilst preserving our amazing culture".
She said they were looking at a hybrid of working in the office and from home once buildings could reopen more widely.
"Our key considerations are our commitment to great customer service and ensuring we keep our unique culture alive and thriving, and we believe we can do both in a hybrid working environment," she added.
Figures from the commercial property sector show that, on average, over the past 10 years, office take-up in Cardiff city centre was 350,000 sq ft a year.
In 2020 the total was 235,680 sq ft, with 120,000 sq ft of that taken up by Legal and General's new building at Central Square, due to be completed by November 2022.
Cardiff University's five-year lease on its Friary House offices in the city is also up for renewal this year. The university has not confirmed whether it will renew.
A spokesman said feedback from staff showed many would like to keep some of the working practices they have had to adopt because of Covid.
"As part of our thinking, we are also exploring our estate's footprint and the carbon emissions associated with our buildings and commuting to work," the university said.
"In doing so, we aim to do our part to help reduce Cardiff University's carbon footprint and address climate change."
The Welsh government has said it wants to give workers more flexibility to work remotely.
A network of community-based working hubs within walking or cycling distance of people's homes are being considered and could be used by public, private and third-sector employees.
A spokesman for the government said it was consulting with staff and unions over long-term remote working with "ambitions" of having up to 50% of staff working remotely at any one time.
"Allowing more staff to work remotely will be key contributor to our carbon reduction aims and result in a fairer distribution of jobs across Wales," they said.
Dr Martin James from Swansea University's School of Management said any recession could contribute to encouraging firms to embrace home working to help reduce costs.
However, he said it was too early to declare "the death of the office", although research showed productivity had increased with home working.
But Dr James said roles that became fully remote and "don't require the office dynamic" were in danger of being outsourced.
"A lot of research is going to be happening and strategic thinking at the moment because even relatively minor shifts can lead to profound changes."
"[That can be] where companies are located and what spaces they are going to retain and - while companies may be holding off from making big decisions in the short term - there is a concern that won't go away and will result in a review, particularly in terms of real estate and commercial property and where they're going to be locating their staff."
Commercial property consultant Chris Sutton said he believed there would always be a place for office working for those starting out in their careers.
"One of the casualties of working from home has been personal development and people learning on the job," he said.
"If you're highly-experienced, you can work remotely but it's difficult for people at the first stages of their career."
Mr Sutton said office space had been a key driver of the economy over the past decade, particularly in Cardiff which had seen a total of 1.5 million sq ft of office space developed.
He added: "Those large-scale developments have been a driver of growth for the city centre - it feeds the bars, restaurants and retail and theatre - and the whole city is losing not having staff at full capacity.
"We won't see a cliff edge of a large-scale vacation of floor space simply because organisations are tied into long leases, but in time, we will see major organisations having a smaller-scale footprint and allowing more flexible working."
Director of CBI Wales Ian Price said once lockdown was eased there would need to be a continued collaboration between remote workers and those in the office.
He said: "While Covid-19 has undoubtedly caused real damage across the Welsh economy with too many jobs and livelihoods lost but there has also been real innovation.
"Firms have done amazing things to keep operations going and deliver for customers - some that will continue well into the future."