Topical steroid addiction: Patients call for more support
By Emilia Belli
BBC News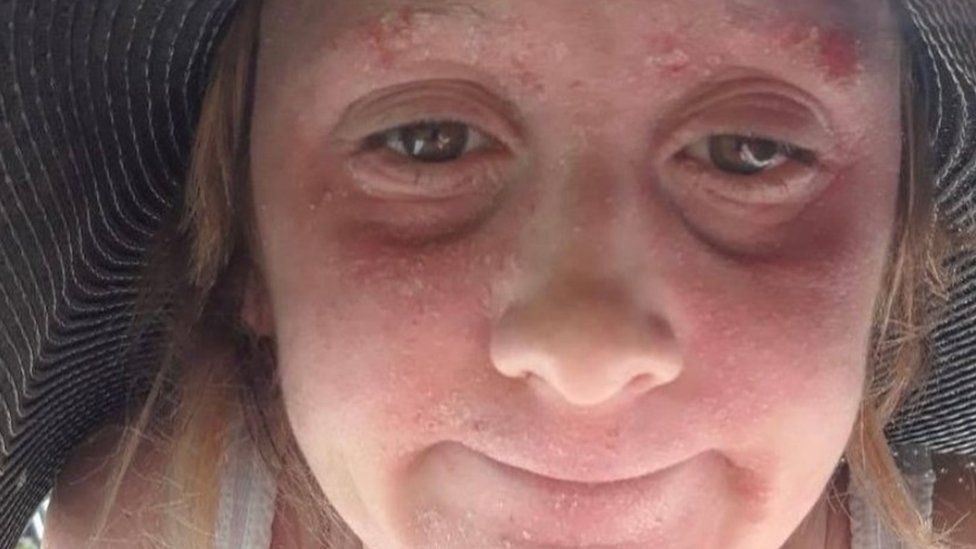 A woman who lost three stone (19kg) and had hallucinations while using topical steroids has called for more support for people reacting to skin treatments.
Teacher Elin Wade, from Swansea, had bad reactions after using creams prescribed for an eczema flare-up.
The 29-year-old said she was made to feel like a "fraud" as topical steroid addiction is not recognised as an official condition by the NHS.
The Welsh government said serious reactions were "uncommon".
About 10% of adults and 20% of children in the UK have eczema, with topical steroids considered a safe and effective way in most cases to manage it.
The creams and ointments come in various strengths, and are usually meant to be used in short courses.
But some people react badly to the creams, either while using them or when they stop - a condition which has become known as topical steroid addiction.
Symptoms include hot red rashes, oozing, excessive skin shedding, cracked skin, severe itches, extremes of body temperature, swelling, swollen lymph nodes, fatigue, mental health issues and insomnia.
In January the British Association of Dermatologists and the National Eczema Society published guidance acknowledging topical steroid withdrawal for the first time.
In February 2019, Ms Wade stopped using her steroid creams after she lost weight, had hallucinations and her hair fell out.
"I went from being a perfectly healthy 25-year-old woman to being a 29-year-old injecting incredibly potent drugs into my system just to get some sort of relief," she said.
She said it was "exhausting" and "frustrating" trying to tell doctors she believed the creams were driving her symptoms, and that she was made to feel like a "fraud".
"It's always been made very clear to me that I should be using topical steroids, that they don't cause addiction, they don't cause withdrawal and it's impossible to get addicted to them," she said.
"It's been so traumatic, the suffering is so intense, there's no way I'd put myself through this if I didn't see other people get better."
Ms Wade said she had been tested for HIV, lymphoma and leukaemia but she still did not have a diagnosis as the condition is not recognised.
"It'd just be a lot less stressful because you're suffering so much anyway, just to have somebody acknowledge that this is a condition that actually is happening," she added.
Lecturer Emily Banks, 30, from Cardiff, also decided to stop using topical steroids after the ointments she was prescribed stopped working.
Desperate to find answers about why her skin was so bad, she made a "cry for help" on social media, sharing photos of her skin.
She said being disbelieved by doctors was "really disheartening when you're in pain and you just want help".
George Moncrieff, a GP in Oxfordshire, said he "couldn't imagine practicing medicine" without topical steroids.
The former chairman of the Dermatology Council of England believes they are so integral to the treatment of skin conditions, sometimes the medical community "don't want to hear bad news" about adverse reactions to them.
Dr Moncrieff said because some patients were reluctant to use topical steroids in the first place - so-called "steroid-phobia" - doctors can sometimes assume people with genuine concerns about bad reactions to steroid creams could be ignored.
"If doctors think something's uncommon they don't recognise it and they don't discuss it. It's therefore never diagnosed and it continues to be assumed to be uncommon," he added.
Research suggests the average medical school offers about two weeks of dermatology training during six years of study, while nine out of 10 patients with skin issues were not seen by a skin specialist.
Julie Keeley from the Welsh council of the Royal College of GPs said patients should not be afraid to consult their doctor if they were worried they had signs of the condition, and to ask for the second opinion of a dermatology specialist if necessary.
But she also said GPs needed more specialist training on skin so they could distinguish the signs between normal skin conditions that will respond to steroid creams, and topical steroid addiction.
"I think it's a good way forward to have more education for dermatology based in Wales and more readily available to healthcare professionals," she added.
"And also integrating it more into the medical school curriculum so people have a better awareness of these conditions."
The author of the new guidance, Celia Moss, said labels like "topical steroid addiction" and "red skin syndrome" were not helpful for doctors because they are not recognised medical terms.
Her work breaks down topical steroid withdrawal into recognisable and treatable diagnoses for doctors.
She said she hoped it would go some way to ending the "friction" and "open up channels of communication" between doctors and patients.
Dr Moss also wants to see better labelling of steroid creams so doctors and patients understand how strong they are and how they should be used.
The Welsh government said topical steroids played an important role in the treatment of some conditions, but longer-term use should be monitored carefully.
"More significant reactions following withdrawal of topical steroids are relatively uncommon, however anyone concerned about side effects should discuss this with their doctor," a spokeswoman said.
Related Internet Links
The BBC is not responsible for the content of external sites.