Covid: Third of doctors seek mental health support during pandemic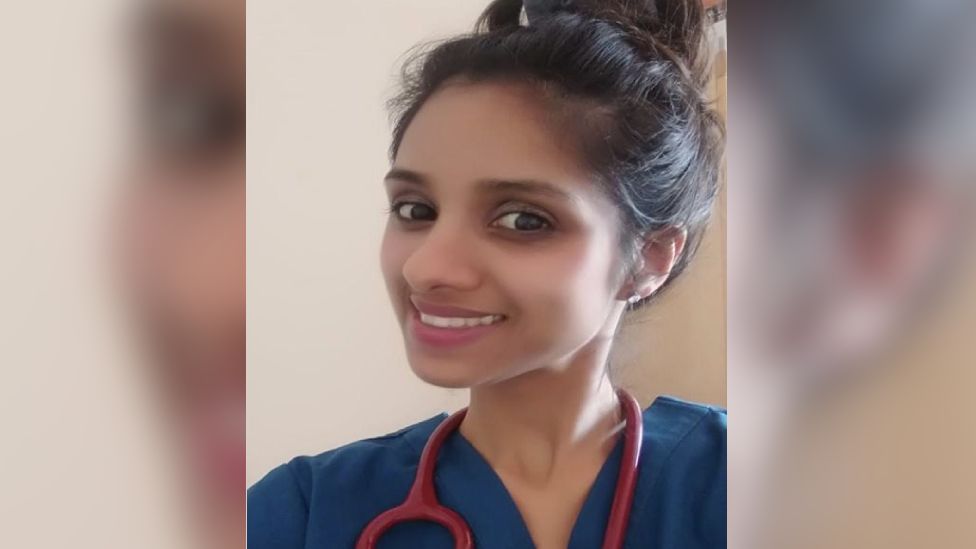 A third of doctors have asked for mental health support during the Covid pandemic, according to one of the UK's most senior medical organisations.
The Royal College of Physicians (RCP) in Wales said Covid had thrown the NHS workforce into "sharp relief".
One junior doctor Dr Emma Rengasamy said working through the pandemic was a "baptism of fire".
The Welsh Government said it was working to to improve access to mental health support for NHS staff.
The RCP also warned its 2019-20 annual census of consultant doctors in Wales found 40% of respondents reported daily or weekly rota gaps, and 23% said this caused significant patient safety problems in their hospital.
The report also found almost three-quarters of respondents said their work-life balance had been negatively affected by rota gaps and consultant vacancies.
The Royal College has called for an increase in the number of doctors in the medical workforce, investment in community medicine and social care, and a cross-government strategy to tackle health inequalities.
'Everyone really pulls together'
Dr Rengasamy was six months into starting as a newly qualified junior doctor on the frontline when the pandemic hit.
She worked and lived on site at the Princess of Wales Hospital in Bridgend, alongside other junior doctors.
"It has been really tough at times, and challenging, but I think they key thing from it is everyone really pulls together," she said.
"Myself and my other junior doctor colleagues, we worked and lived on site, so it was really important they thought about our mental wellbeing, because you put everything into your work, emotionally and physically, so it can be quite difficult."
Dr Rengasamy also said that "sometimes it has been tricky to access things", such as counselling to support NHS staff mental wellbeing, because of their shifts.
She added that everyone had "pulled together so well" and that solidarity amongst NHS staff was "amazing to see".
Dr Olwen Williams, who is the RCP vice president for Wales, said that the pandemic had thrown the NHS workforce into "sharp relief".
"Long hours, rota gaps, unprecedented stress - many doctors have been living on the edge for more than a year now," she said.
"It's not enough just to offer resilience training to individuals, we must change the wider system."
She said the NHS "must be a better employer" by offering flexible working arrangements, investing in new technologies, improving recruitment, and training more doctors.
A Welsh Government official said it was "vitally important" that NHS staff were able to take "meaningful breaks and can spend much-needed time with family and friends".
"We recognise the enormous efforts the incredible NHS workforce makes year in, year out, but particularly over the last year of the pandemic," they said.
"We are working hard to improve access to support for NHS staff who are struggling with their mental health, including investing an extra £1m into the Health for Health Professionals Wales Service and improving access to free health and wellbeing resources."
Related Internet Links
The BBC is not responsible for the content of external sites.