Brithdir care home inquest: Residents 'dehumanised' by staff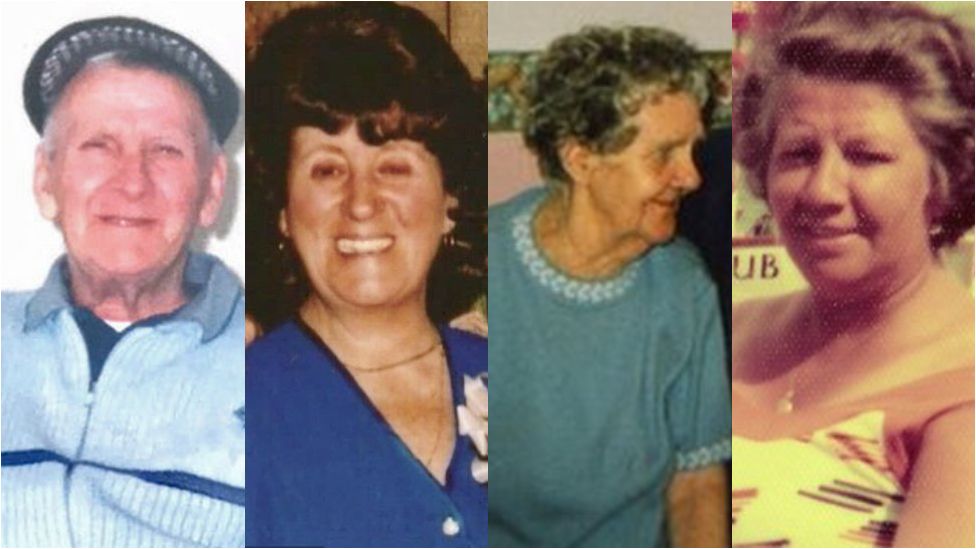 Residents at a care home were "dehumanised" by staff and the standards of care were "wholly inadequate", an inquest has found.
Coroner Geraint Williams said residents were "warehoused", meaning they are "simply kept, fed and watered".
The evidence suggested "even the feeding and watering was inadequate".
Stanley James, 89, June Hamer, 71, Stanley Bradford, 76, Edith Evans, 85, Evelyn Jones, 87, and William Hickman, 71 were all residents at the home.
The coroner said their families were "deliberately" kept in the dark about the existence of pressure sores, and families were "deceived"
"This was a gross betrayal of the trust relatives placed in Brithdir," he told the court.
However, a lack of available evidence and multiple staff looking after residents meant he could not reach a conclusion of unlawful killing in any of the cases.
Documentation, including care plans and feeding charts were "in some cases clearly fabricated".
The coroner said the "lowest point" was how residents were "dehumanised", including when incontinence pads were changed in the home's lounge in front of other residents.
The manager Peter Smith's statement said he believed they would not have realised because they had dementia.
Geraint Williams said the points outlined "contributed significantly" to the deaths of the six residents.
At the start of the inquest, which began in January, Mr Williams said: "It is a matter of regret that so many years have passed, with the consequence that the families have been denied justice for so long."
In relation to the six residents, the coroner gave the following conclusions:
Stanley James developed "multiple" pressure sores during his time at Brithdir but the coroner said that expert Malcolm Hodkinson had told the inquest he could not say that Mr James died of the ulcers.
The coroner said he accepted the cause of death given for Mr James by a GP at the time. But he added: "The lack of care did cause the pressure ulceration. He was not being turned in accordance with his care plan."
Referring to a former nurse at the home, Daphne Richards, he said her failings in relation to Mr James were "truly, exceptionally bad".
The coroner said June Hamer had a "painful and uncomfortable death".
"Mrs Hamer received an incredibly poor standard of care in Brithdir. She was frequently left in wet clothes. Generally her personal hygiene was neglected by staff and pressure sores were allowed to develop," he told the court.
Geraint Williams said he believed an infected pressure sore played a part in her death, adding: "It is clear that Mrs Hamer needed prompt and appropriate medical care. I find the the failure was gross and directly contributed to her death."
The coroner said William Hickman had 17 areas of pressure damage to his skin while at Brithdir.
When he was admitted to hospital, he had a pressure sore 3.5in by 2in (9cm by 5cm) in size and was in an "awful physical condition".
Considering the evidence, the coroner said he considered there to have been "gross failings in the care provided which were a direct cause of his death. Further I find it was obvious that Mr Hickman needed basic care".
The coroner said he found the evidence of Mr Bradford's daughters "powerful and completely believable" and he agreed Mr Bradford had been "forgotten about" by staff at the home.
"In my opinion the evidence demonstrated overwhelmingly the standard of care was grossly deficient and was a significant contributory factor to his death," he said.
"It was abundantly clear that Mr Bradford needed care and this should have been obvious to the most inexperienced of staff."
His daughters Pam Cook and Gaynor Evans were appalled by what happened and believed action should have been taken against Dr Prana Das sooner.
"We can't believe how it was left to just go on and on," Mrs Evans said.
"They knew what was happening and the risks to residents, and he was still allowed to have his homes open. They should have been shut down.
"It makes me think now how many other residents, before this all came out, how many others suffered and died from neglect?"
Mrs Evans said "someone" should have been jailed "especially Dr Das".
"He got away with it all," she said.
Mrs Cook said: "We've shed a lot of tears and had a lot of upset but besides that it has made us very, very angry.
"This was left to go on and no-one stopped it and everyone blames each other."
Mr Williams said there were "gross failings at every level" in the "haphazard and slapdash" care of Edith Evans which contributed to her death.
Mrs Evans's family had raised concerns about the cleanliness of a feeding tube into her stomach, known as a PEG.
When taken to hospital, staff were shocked at the level of care. Her appearance was described as "unclean, with dirty and matted hair, incontinent and dirty with faeces". Her feeding tube was infected with the superbug MRSA.
Staff at the home said they were not aware of a problem with the PEG, which Mr Williams found "inconceivable"
Senior nurse and manager Phil McCaffrey had denied any knowledge of the poor state of Mrs Evans's PEG, which the coroner called "simply untrue" adding he had showed "gross failures that contributed to Mrs Evans's death".
Mrs Evans, did not have any children, but was survived by nieces Gail Morris, Gaynor Williams and Betty Williams.
"We were horrified," Gaynor Williams said.
"There's more come out and we thought we knew everything, we knew so little."
Mrs Morris said: "I think we have been angry since October 2005 when Edie went into hospital and that's when we found out how bad things were."
They said they had learnt their aunt contracted MRSA twice.
Like other families, they only found out Dr Das ran Brithdir after the death of Mrs Evans.
"When they said Aunt Edie was going into Brithdir and we said 'didn't Dr Das own it?' and they said 'no, he's not there now'," Gaynor Williams said.
Mrs Morris said: "It would be nice to say it won't happen again, but I think it could easily happen again."
The coroner said that the details he heard in relation to Evelyn Jones amounted to "institutional abuse".
A 50cm (20in) pressure sore on Mrs Jones's back was described by doctors as "the worst they had seen".
"It is clear that failure was a direct cause of Mrs Jones's death - the totality is overwhelming - and there was a flagrant disregard for her obvious need for medical attention," said Mr Williams.
'Aggressive to all who opposed him'
The coroner also assessed evidence from the owners and managers at the home, as well as the state agencies.
He found Dr Das, the owner of Puretruce Health Care Ltd which owned 22 homes including Brithdir, was "aggressive to all who opposed him" and his "sole concern was making money from his businesses".
The coroner said Paul Black, the chief executive of the company, was an "unreliable and dishonest witness" who played an active and direct part in deceiving the state agencies".
The state agencies, including Caerphilly Local Health Board, Caerphilly council and Care Inspectorate Wales, were often "too focused on systems and processes".
Giving his formal conclusions, the coroner said given the fact that many staff were involved in the care of residents, and that some evidence was not available, it was "not safe to reach a conclusion of unlawful killing" for any of the residents.
For Stanley James he gave conclusion of natural causes.
For June Hamer, William Hickman, Stanley Bradford, Edith Evans and Evelyn Jones he recorded narrative conclusions and said all five deaths "were contributed to by neglect".
The coroner ended by thanking the families of the six residents.
He said: "I wish to pay tribute to the families for the honourable and dignified way that they had conducted themselves.
"It is a considerable regret that it has taken so long and I hope the families now feel that justice has been done for their loved ones."
An inquest into the death of a seventh resident, Matthew Higgins, 86, will be held now this hearing has concluded.
'We must never be complacent about care standards'
The author of a review into the alleged abuse at nursing homes in south east Wales said people must "never be complacent" about levels of care.
But Dr Margaret Flynn said she did not believe there was anything of the same scale at present in Wales as that seen at Brithdir.
She said there had been significant changes, but there still needed to be more scrutiny of private companies running care homes.
"Changes did result from this dreadful time in health and social care, in regulation and in policing, because these poor people's injuries and their experiences were made visible and what was once tolerated is no longer tolerated," she said.
"We have reason to be hopeful but we may never, ever be complacent. Care homes can change with every shift and it's important we remain attentive to that.
"I share the disappointment of the families that it is very unlikely there will ever be prosecutions."