Care leavers 'should be told about' their social services file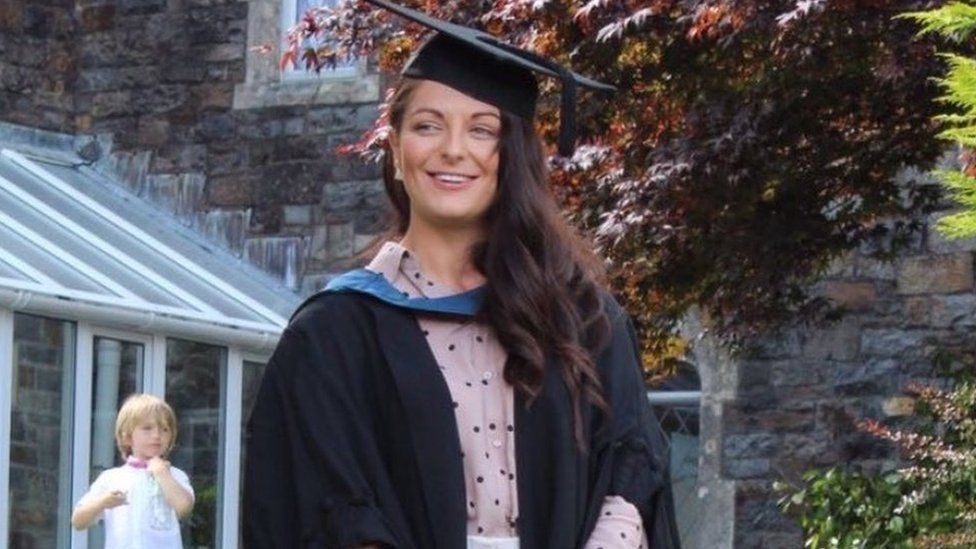 A woman who was mistreated as a child is campaigning for a change in the law to notify care leavers of their right to view their social services file.
Victoria Pritchard, 37, had not realised she had the right to claim the file when she turned 18.
When she finally accessed it, she felt let down by those involved in her care.
But she says she was told it was too late to pursue a legal claim - despite not previously knowing the details.
Carmarthenshire council has since launched an investigation into Ms Pritchard's care and said as this was now active, it would be "inappropriate" to comment.
As part of a series looking at the issues people in Wales would like to see tackled by politicians after the Senedd election, BBC News spoke to Ms Pritchard about her campaign.
She said she only found out her file existed when she studied a degree in youth and community work.
"My lecturer told me I could see this file and I just thought 'oh, that might be interesting', I didn't think much of it but when I went to get it, I was like 'wow', just because I realised how much I hadn't been helped.
"I had to seek psychiatric help, I felt like a nobody."
Ms Pritchard has gone on to win the Carl John memorial prize at University of Wales Trinity Saint David for her youth work, has volunteered at orphanages abroad and now works with children's mental health.
She has started a petition calling for care leavers to be contacted when they turn 18 and made aware of the existence of their file and their right to collect it if they wish to.
"I have already spoken to someone who said 'I remember being in care but there are things I don't remember, there's a file just sitting there? You can just get it?'
"People don't know, they aren't aware, some might want it and others might not, but I think it should be law that they are made aware they have the option.
"And if social services know when that child grows up they will know what's in that file, they will work to the highest standards."
Ms Pritchard said being able to access the file would also help people who might be carrying childhood trauma they do not understand to seek proper help.
"This is so important for children's well-being and how they grow up.
"I had attachment issues and if I'd had therapy sooner through reading that file sooner, I would have far more confidence and ability to deal with people loving me.
"Now, with my husband, I'm totally different.
"I don't want any other child to go through it, I don't want this to happen to anyone else - I'm done."
Social services were involved with Ms Pritchard's family when she lived with her parents and she also spent time in two foster homes.
She said her file, extracts of which have been seen by the BBC, includes details about her self-harming in order to be able to stay in a hospital ward and no family member wishing to take responsibility for her.
It references her asking social services for food, and being told it was not their responsibility.
"I know I'm a good person, I'm a functioning adult. I go to work, I clean my house, I walk my dog but I'm not fine, I know what happened to me was wrong.
"So I just want to change this law so other people can get their hands on the file because it's just not fair on kids.
"It's made me a different person, I'm putting money into my children's Isas because I am so scared of them not having things, the way I worry, I know it's not normal but it makes me so anxious.
"I look at things differently. I was denied the right to wash so I'm obsessed with cleanliness."
'I'm one of the lucky ones'
Ms Pritchard said her work helping children with mental health felt like a natural fit because of the level of empathy she was able to feel with their circumstances.
"I had to pick something like that," she said.
"It's the only thing I knew I would be good at. I can tune into the children.
"I feel I'm one of the lucky ones and I managed to turn it around. But it's important to me to seek this change in the law to help the children out there now.
"Those children deserve a voice and this will allow individuals to have a better understanding of what they have experienced or been exposed to, and if they require any help which could improve their quality of life later on."
UK law gives every person the right to see personal information held about themselves by children's services in their social work records. But care leavers are not automatically notified of its existence.
Ms Pritchard said while there is no legal requirement to tell care leavers of their right to view their file, it is considered good practice to do so - and she wants that good practice to be set in legislation.
Carmarthenshire council said: "We already ask our staff to be proactive in doing ongoing life story work with children as they go through their time in care so that they are able to continually have the opportunity to reflect on and comment about their experiences and understanding of the issues that led to them being in care as well as their experiences in care."
Related Internet Links
The BBC is not responsible for the content of external sites.