Covid: LGBT teenagers 'isolated and lonely' in pandemic
By Lola Mayor
BBC News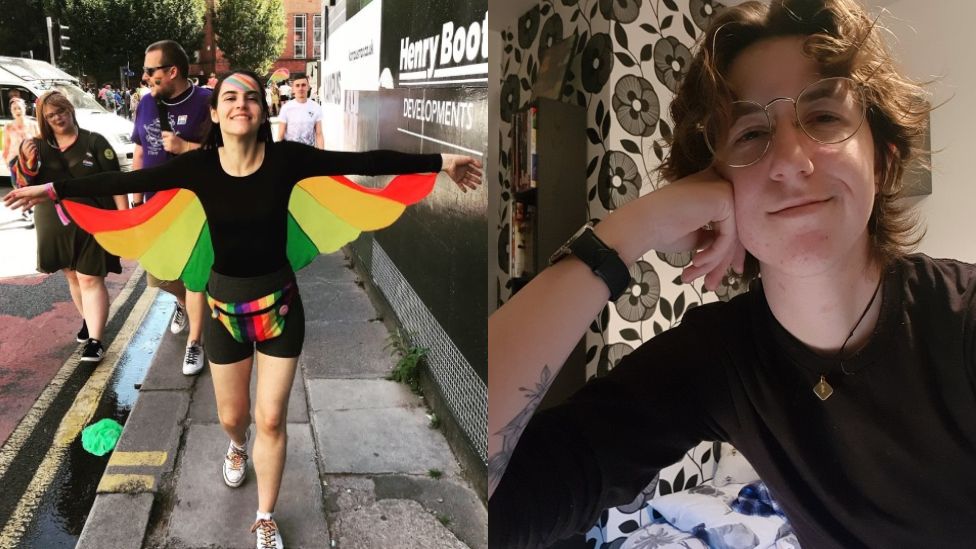 Schools and families can do more to tackle young LGBT people's loneliness during the pandemic, a charity says.
A survey of more than 1,100 young LGBT people by Just Like Us suggested a higher proportion from Wales felt lonely than anywhere else in the UK.
LGBT teenagers who were black, eligible for free school meals and/or have a disability were the worst hit.
Chief Executive Dominic Arnall, said teenagers needed a "positive message of acceptance" from authority figures.
The Welsh government said schools were given guidance which recognised that "some young people are more likely to require more support for their wellbeing, including those from the LGBT community".
Mr Arnall said young people in the LGBT community often turned to people from outside their family for support, which had been difficult with lockdown restrictions, and that schools should "step in" to become support networks.
"We work with schools that do fantastic work towards LGBT inclusion but we're not quite there yet. It can look like 'does it even matter whether or not you're LGBT plus anymore?' and I think what the data shows us is that, yes, it does.
"We're asking schools to step up and play that role and that otherwise might have been played by friends. We know that nowadays an awful lot of LGBT+ young people are coming out to teachers before they come out to their parents, so the school plays this phenomenal role in the socialisation of young people and that's obviously been made even more difficult."
The charity commissioned the survey of 2,934 secondary school pupils (including 1,140 LGBT+ young people) in Years 7-13 (ages 11 to 18) across 375 UK schools and colleges (including 26 in Wales) in December 2020 and January 2021.
It found 60% of LGBT young people in Wales said they were feeling lonely and separated from the people they're closest to on a daily basis - versus 51% in England, 56% in Scotland and 59% in Northern Ireland.
That is compared with about 26% of non-LGBT+ young people in Wales.
Some 80% of LGBT+ young people in Wales who responded also said their mental health had got worse since the pandemic began
'Transitioning during a pandemic'
One person who can understand why the pandemic may have been harder on LGBT young people in Wales is 22-year-old Ben Gamble who has been transitioning during lockdown.
He is an ambassador for the charity and in his role has spoken to young people in schools throughout the pandemic.
He said he has found a "big part" of young people's LGBT identities was connected to coming out and that would "often be done in a social setting around people".
"Not being able to express your identity in that way can feel quite alone," he added.
"As an LGBT+ person, I have experienced that and for me during this time I've been transitioning, which is again something you do around big social circles and you have your social transition, and not having that can be really jarring and quite lonely.
"There is a lot of young teenagers at the moment that have had time to explore their gender identity and their sexuality and doing that on a closed online space can make it sometimes feel like it's not real - that's really added to many people's mental health taking a dip during this time."
Ben, who lives in Pontypridd, Rhonda Cynon Taf, said Wales being more rural than other parts of the UK could be a reason why more LGBT teens had highlighted loneliness in the survey.
He said: "I grew up in London and then I moved to Wales and found that a lot of my friends have had generally less accepting families here in Wales.
"Being in Wales, in quite a rural area compared to Cardiff, it can feel quite lonely and there's not much visibility about LGBT young people and LGBT people in general.
"Quite a lot of them can feel isolated in general, even without a pandemic, so it just heightens that degree of loneliness and being in your own little bubble."
'People are discovering their identity'
Rebecca Pinder, 25, from Cardiff, who is also a young ambassador, agreed.
"I think one of the things that differs Wales from the rest of the UK is that geographically it is a lot more rural and if you live in north Wales you've got a much longer journey to get to Cardiff or bigger cities than someone who lives in, say, rural Yorkshire has to get into a major city."
She said that the teenage years were often when people begin to explore their identity, and that lockdown restrictions had meant people had been without the networks to do so.
She added that people who are not open about their identity within the home find it harder to hide online socialising with people in the community.
"We do know that a lot of LGBT young people consider the people closest to them and their biggest supporters, as friends and peers, rather than family.
"If you've got a family that you're not out to, or if you just want to do something a bit private and explore your identity, it's quite difficult to do that online, if you are stuck at home with parents that can hear you all the time, or you are around family members that you don't necessarily want to have to come out to immediately."
A spokesman for the Welsh government said living under lockdown had not been easy and "some have found it harder than others", but they said schools had remained open as "support networks for vulnerable children and young people".
"We know many schools have embedded inclusive culture into the heart of learning, and we're doing more to ensure all teachers are able to develop the practical skills and understanding needed to establish a caring, high-quality learning environment.
"We've recently launched statutory guidance for schools on embedding a whole school approach to wellbeing. The guidance recognises that some young people are more likely to require more support for their wellbeing, including those from the LGBT community."