Covid weddings: 'No light at end of tunnel' for wedding businesses
By Catherine Evans
BBC News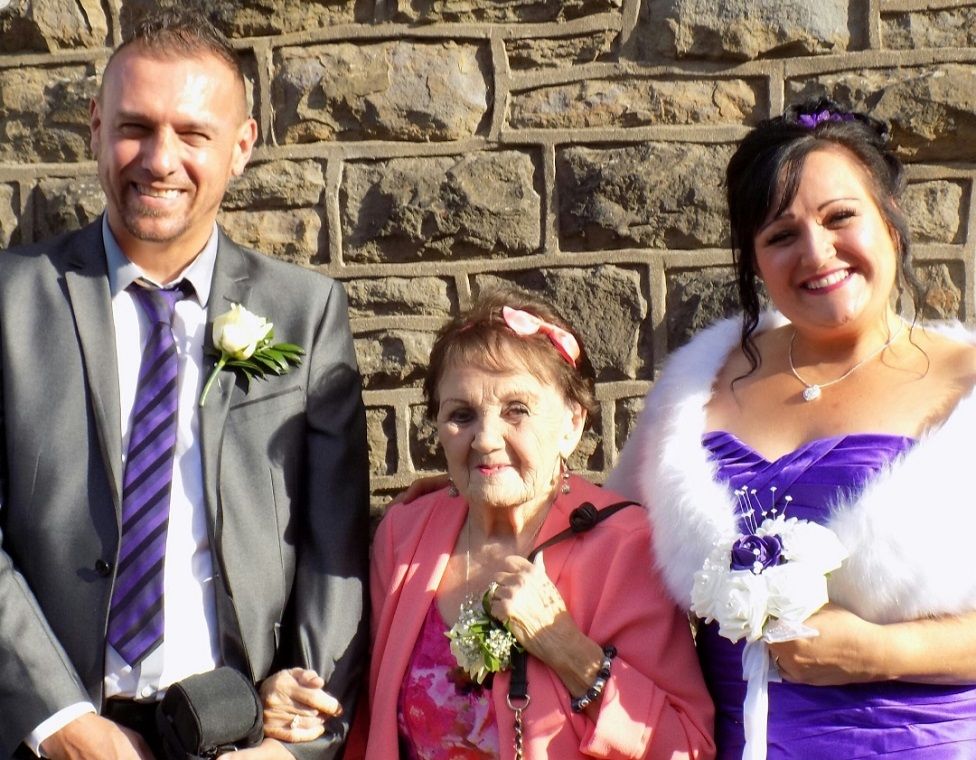 Wedding businesses say there is "no light at the end of the tunnel" and are relying on personal savings to survive.
Couples who have planned, cancelled, then re-planned their special day say they are hoping to say "I do" instead of "what can I do?" as lockdown eases.
But with no date set for wedding receptions, there remains confusion over whether plans for 2021 will fall foul of future guidelines.
The Welsh government said the law had changed to expand the range of venues.
A week ago First Minister Mark Drakeford set out how various sectors in society would be reopened - like non-essential shops, hairdressers and outdoor sports - but weddings were not mentioned in his plans.
On Friday the Welsh government said as long as case rates remained low and vaccination numbers continued, weddings would be "considered" from 22 April.
Kris Agland, managing director of venue St Peter's Hall in Cardiff, said the guidance around weddings was "being handled appallingly" and called for more dialogue between the hospitality industry and those in power.
"There's no clear guidance. It's been a kind of one-size-fits-all approach," he said.
"Come and see what we're doing - do you feel safe? Why can't someone from the trade be part of their conversations?"
He said he spent about £10,000 making Covid-compliant additions to the venue, which usually hosts 50 to 60 wedding receptions each year.
"No-one will book anything until they know what the guidance is," he said.
"Everything is based on what-ifs. Financially as a business it's crippled it. Personally, it's just got me further and further into debt just like everybody else who owns hospitality businesses.
"When things do come back they're going to come back with such a boom that you've got to see yourselves through to that position. But at what stage do people say, 'well I can't see it through'?"
Wedding photographer Mary Watler-Thomas, from Llanelli, Carmarthenshire, said some ceremonies had been "surreal", including couples being told to wear masks during the ceremony.
"Last year I was set to cover 20 [weddings] but I had quite a few postponed so ended up doing 10. But this year I'm set to do 27, fingers crossed," she said.
"When people want to postpone they're worried they won't be able to have all their guests there, they want to postpone but I'm not available for their new date.
"Because they haven't given a date for hospitality [couples are] reducing the day to just the ceremony. I've had to reduce the time to two hours where I used to cover 12 hours so it's had a massive impact on income because you're reducing the day by 10 hours.
"There's been so much confusion... a lot of questions in the minds of those planning what it'll look like in Wales, so it would be very helpful to have a roadmap in Wales."
Claire Vessey, 46, from Treboeth, Swansea, and her fiancée David McQueen, 54, from Morriston, have been together for nine years and put off getting married while caring for Claire's elderly mum, Maureen.
When Maureen, 86, died at the start of the first lockdown, the couple - who had previously had a blessing at the Sacred Heart church in Swansea - decided to make her dream come true.
"The wedding would be one thing she would want us to do," said Ms Vessey, an administration manager for fire protection services.
"Us being happy together, that's what she would have loved.
"We incorporated what she would want too, so we can feel like she's there. She loved butterflies so that's part of our theme. She's a massive part of the day."
But Covid restrictions meant the couple had to plan for various outcomes. They still have not confirmed their guest list.
"We booked it for 15 May. It has been so hard with all the restrictions and so many obstacles put in our way," said Ms Vessey.
"It's like we have been planning two weddings. One for original plans - church wedding with a late reception - and also back-up plans if restrictions do not lift, which is looking like what we will have to go with.
"But these plans are all still not confirmed. Everything is up in the air and the weeks are flying by - we never thought it would be so stressful."
Despite the stress, the couple said there were benefits to keeping the wedding simple.
Ms Vessey said: "When people planned weddings in the past, they planned this big wedding with all these people, but when you break it down it's about two people that really love each other. He's my first real boyfriend and my first love.
"It's about David and I now. We've concentrated on what's important for us two, which is what it's really about."
Wedding ceremonies in Northern Ireland are currently limited to 25 people and receptions are banned. But dates for lockdown easing reviews are set for 15 April, 13 May and 10 June.
From 29 March in England, weddings can be attended by a maximum of six people. This will rise to 15 after 12 April if Covid rates remain low, increasing to a limit of 30 after 17 May. Receptions are included in the plans, but only in certain venues.
Helen Pembridge, who runs a bridal boutique in Abertillery, Blaenau Gwent, said many brides who had already had to cancel appointments three or four times were "desperate" to get dresses in case there was another lockdown.
"Brides I'm getting calls from are not even getting married until October 2022, but they want to get their dresses now because they're afraid they won't be able to if we have to shut again for a couple of months," she said.
At alert level four, for instance, receptions are banned but at alert level two a maximum of 30 people can attend an indoors reception and 50 outdoors, and venues are still subject to any additional rules set at that time on hospitality.
A Welsh government spokesperson said: "We know many couples have made the difficult decision to postpone their wedding because of the ongoing pandemic.
"The current restrictions allow for the legal marriage ceremony to take place and we have changed the law to expand the range of venues where ceremonies can be performed.
"These are challenging times for everyone, especially those working in the events and hospitality sector, but with everyone's help, better times are ahead of us."